Katharine Moody on Zui communities, PGF contributing to community, was innovation crowded out? communing with microbes and locking down with #blacklivesmatter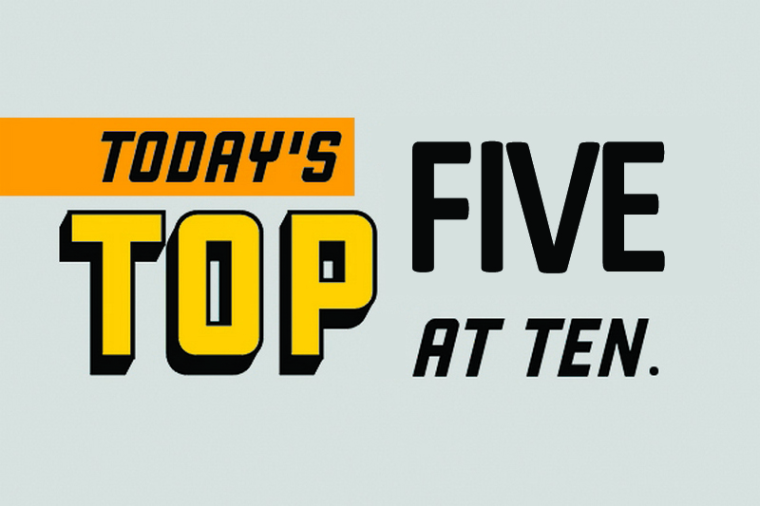 This week's Top 5 is from Katharine Moody, a senior tutor at Massey University's College of Humanities and Social Sciences in Palmerston North, who comments on interest.co.nz as "Kate".
As always, we welcome your additions in the comments below or via email to david.chaston@interest.co.nz.
And if you're interested in contributing the occasional Top 10 yourself, contact gareth.vaughan@interest.co.nz.
---
Lockdown had a profound effect on me. Most of us have never before experienced the act of sheltering in place from an enemy – being restricted to venturing out no further than our local community.  
From the perspective of a planner, I found the notion of community we teach in planning theory, became that much more 'real', or relevant from my cloistered COVID environment.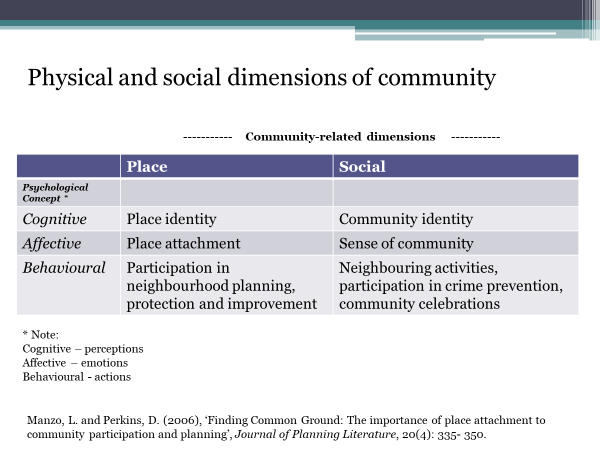 1. Zui communities.
I attended a lot of Zuis. One stood out in terms of community decision-making on so called 'Glory Projects'. Over four hours, I listened to public views on a proposed application to the Provincial Growth Fund for part-funding of a Kāpiti Island Gateway building. The application and its accompanying business case proposed a 50/50 funding split between the Provincial Growth Fund (PGF) and the ratepayers of Kāpiti. No financial contribution was forthcoming from either DOC or the two private sector tourism business operators to the island.  One of those tourism operators opposed the proposal, the other (who had received funding from the PGF a year earlier) was in support.
The concept design is for a single storey 235m² building, with decking and a small footbridge over the Tikotu stream at an estimated cost of $4.46 million. The land is already owned by the Council, so no land cost in that project budget.
Chairman of Gateway Governance Group and former New Zealand Tourism Board chief executive, George Hickton, said, "This will be a shot in the arm for Kāpiti providing jobs, supporting the domestic tourism sector in the short-term and setting us up well in preparation for the return of international tourism once travel restrictions have been lifted…

"The concept from Athfield Architects was selected because it best met the criteria," Mr Hickton said.

Council place and space acting group manager Alison Law said, "It's important that this building works for our community and if we are successful in securing funding, further refinements will be made through the detailed design process in consultation with iwi, key stakeholders and community representatives."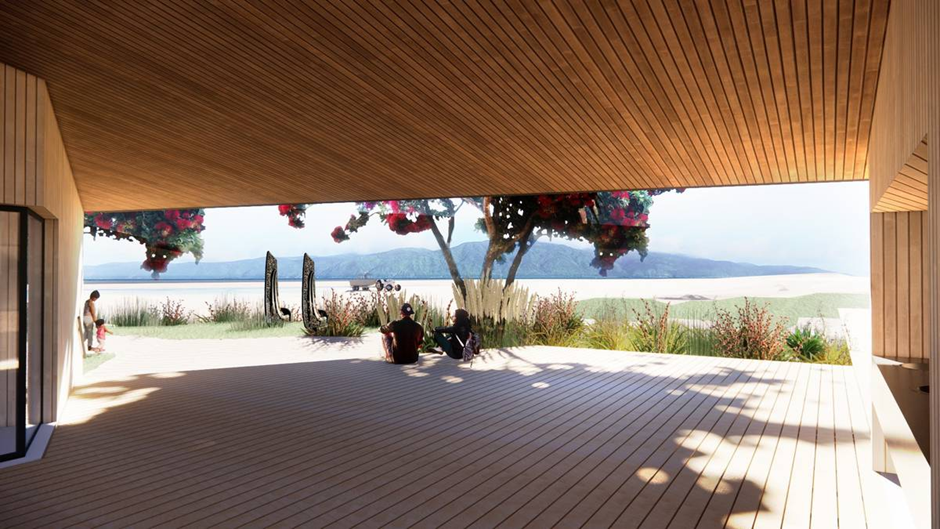 The Gateway proposal did not receive the public enthusiasm the Council had hoped for. A Beach FM poll reported only 30% support from just under 1000 votes.  A number of speakers raised very valid concerns about the inflated optimism of the business case.  This Zui was the first (and only) opportunity for consultation with the wider community once the business case and concept design had been released.  Nevertheless, the Council approved the application for partial funding from the PGF.  Their decision is pending.
Such projects should add to both the physical and social dimensions of community, but often the 'grand designs' burden ratepayers for years. 
2. PGF contributing to community.
That Zui got me wondering about the potential effects of the Provincial Growth Fund pūtea on the notion of community.
The fund provides a spreadsheet for download which contains the projects announced to date (the linked version is up to 31 May 2020).  You can search by region, sector, funding and project type.  So far, over $2 billion has been allocated.
They specify 19 sectors (plus other). In order to get a big picture snapshot, I grouped their sector categories under what I determined to be the most appropriate industry headings and then summed the funding to these sector groupings.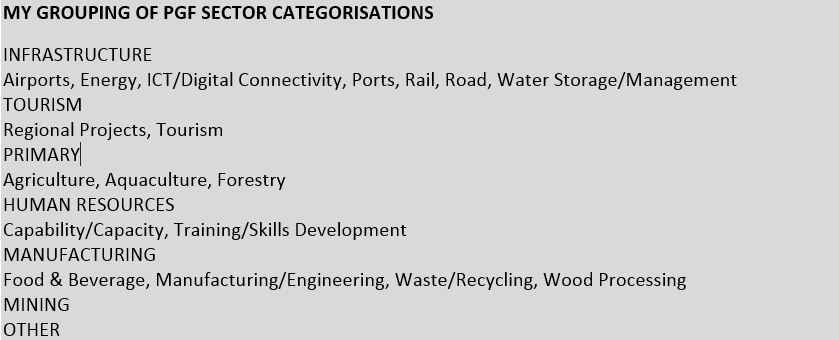 And the winners are: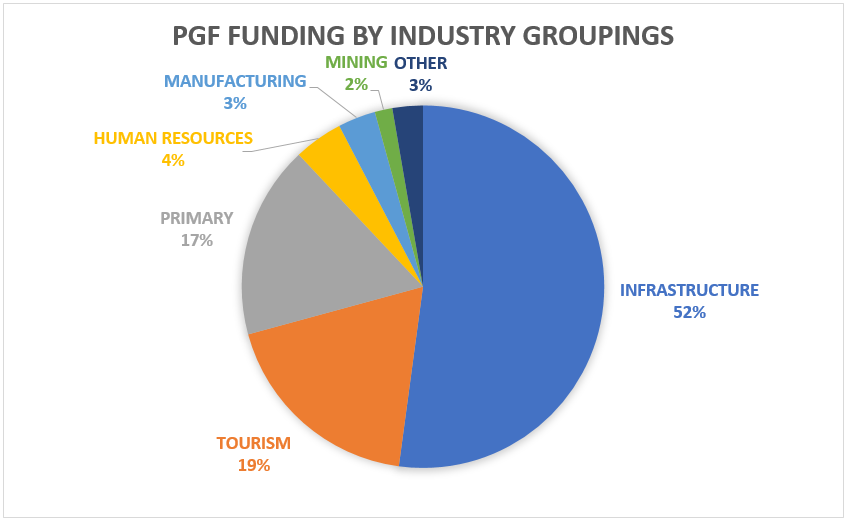 On first blush, it appears when the government offers 'free' money, our communities see little future in making stuff (manufacturing). Instead, we appear to follow the old adage that, if we build it (infrastructure) - they (tourists) will come and help pay for it.  Adding to concern, the forestry sector made up 75% of the funds spent in primary industries. 
The fund has a number of objectives outside of job creation, one of which is increasing social inclusion and participation.  And I wondered how I could measure the success of that objective from the spreadsheet data?
3.  Was innovation crowded out?
The value of entrepreneurship/innovation in creating a sense of community goes well beyond the jobs that such enterprising ideas create.  David Hughes' Swazi brand to Horowhenua; the Whittaker's chocolate brand to Porirua; or Peter Beck's Launch Complex to Tairāwhiti/East Coast – are a part of the cognitive and affective elements of those communities.
No matter what size a community might be, these three levers distinguish whether it thrives and flourishes, or decays and struggles. Good quality education and training suited to the needs of enterprise; alongside modern, well maintained infrastructure are vital. 
But it is the innovators – whether they are private sector for-profit businesses, or non-governmental (social/environmental sector) actors – that deliver vibrancy, future hope and 'sense of place' in our communities.
Hence, did the PGF fund distribution crowd out the innovators?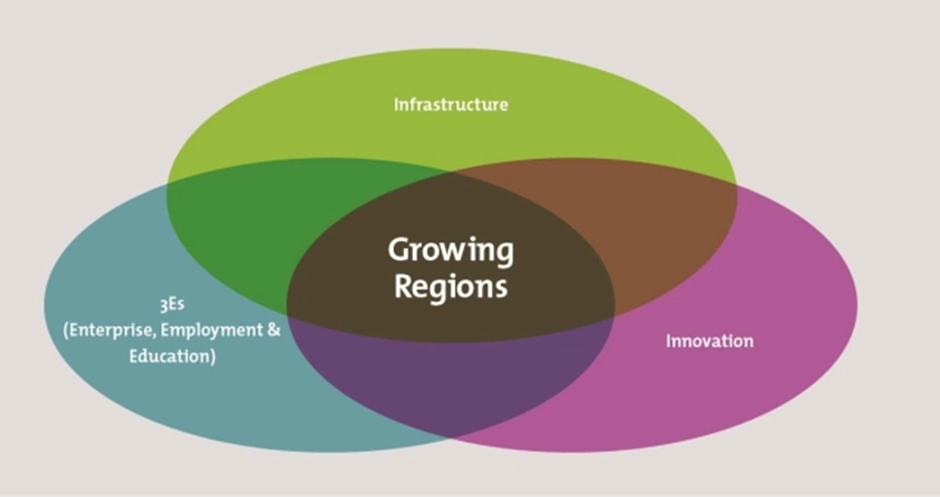 To answer this question, I first filtered out the forestry sector investments, as they merely follow a government lead, as opposed to innovate.  Then, I filtered out local authority funding recipients (district/city, regional councils and unitary authorities).  Then, central government agencies (e.g., DOC, NZTA), educational institutions and SOE (e.g., Kiwirail) recipients.  The reason being, these entities are most likely operating in the infrastructure and 3E's areas, delivering public goods as opposed to innovation.
I did leave quasi-government economic development agencies and other Council-controlled Organisations (CCOs) in the innovation count.
This produced a total funding allocation of just over $719 million to potential innovators – which equates to roughly one-third of the total monies allocated.
An excellent balance, considering the above framework, although I did not look further to determine whether there was good regional spread of projects funded in this innovation area.
Also, during lockdown, I Zuied in on a number of presentations on regenerative agriculture.  Pure Advantage ran a webinar series on the subject, and Newsroom did a three-part set of articles following it.
All of them, including this excellent article by New Zealand Geographic point to the 'sense of place' benefits associated with conversion to these practices, as evidenced by one of the farmers interviewed:
"It's quite overwhelming. But we're actually farming again. We're not just middlemen chucking stuff on hairy-mary… [the last three years of converting to regenerative practices] "have put a lot of joy back into farming".
The article points out that "regenerative" and "conventional" farming practices are not opposites, but rather different points on a continuum of approaches.  And although the natural sciences are in a nascent phase investigating the potential ecological benefits (such as improved soil carbon sequestration and animal health), the social-science literature finds there are considerable benefits to farmers themselves; including stronger relationships, and greater resilience and optimism.
And the article asks:
Could these more intangible human benefits be one of regenerative agriculture's greatest contributions? For years, farmers in New Zealand have felt beleaguered and misunderstood, persecuted for their cows' farts and blamed for the state of the waterways. Switching to a kind of farming that places the well-being of land, people and animals at its heart helps farmers feel like they're part of the solution.
I think so.  As one of the agricultural consultants working in the area explains:
"The number of ranchers that come to me in a big cowboy hat and want to talk about how much they love their cows—there's a tear in their eye. There's something that's starting to awaken in them that they previously couldn't talk about." And it's not just in the United States, but here, too. "They say things like, 'I sat there and I watched the cow, and she ate this type of plant and then she ate that kind of plant, and I wonder why that is?' They've never actually sat down and watched what the cows were eating before, because why would you? They're just eating ryegrass. It just brings a spark of creativeness that I think agriculture had lost."
5.  Locking down with #blacklivesmatter.
I Zuied a lot with my son living in the US during lockdown - more so, oddly enough, than with the one living just up the road in his separate family bubble.  In our bubble, we had been bingeing on Al Jazeera's reporting of the BLM protests – they were on-the-ground everywhere – delivering live, captivating, extensive and uninterrupted coverage.
Our son is an essential worker – so, he didn't get the chance to take in any wall-to-wall viewing.
But he has become fascinated by the US Constitution and in particular, the reverence he finds the people hold with respect to its Amendments. He was outraged by the President's trampling of 1st Amendment rights to freedom of assembly, in using force on the crowd to clear a path for his photo-op.  
I thought, yes, we were there for every hour/minute/second of it, while locked down half a world away. Profound experience, for sure.
He recommended we watch the Netflix documentary, 13th.
We did – and I commend it to everyone.