Chris Trotter argues the cannabis 'Yes' Campaign refraining entirely from extolling the intrinsic virtues of cannabis tells us a great deal about how deeply ingrained the puritanical 'anti-pleasure principle' remains in the New Zealand character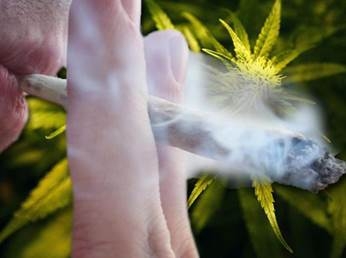 By Chris Trotter*
What's eating Andrew Little? His curt dismissal of the 46% of New Zealanders who voted to legalise cannabis for personal use seems strange.
These voters are, when all is said and done, among the Labour Party's most loyal supporters. Young New Zealanders and Maori New Zealanders represent the bedrock of Labour's electoral base – the foundation of the foundation, if you will.
Casting aside their votes, and hopes, with such inflexible finality is difficult to reconcile with the fact that these voters constitute the party's future. The biggest block of the "No" vote, the over-65s, represent a generation of voters which is, quite literally, passing away. This coddling of the old and conservative by the Justice Minister makes even less sense than his contempt for the young and progressive.
A politician of Little's seniority and experience can usually be relied upon to take a rounded view of a referendum result as close (and likely to get closer when all the Special Votes are counted) as this one. Asking himself, for example, why the numbers supporting cannabis law reform fell-off so sharply over the past three years. As a Labour politician, he might also be expected to query the influence of conservative organisations such as the Maxim Institute and Family First. Investigating, in passing, the influence of far-right American lobby-groups on the strategy and tactics of the "No' campaign.
Most of all, however, Little might have been expected to factor-in the impact of the raw manipulation of public opinion by the NZ Medical Association. This latter factor is likely to have played a critical role in shaping the referendum result, influencing the choices of Gen-X and Baby-Boom voters over the course of the final, crucial, fortnight of the campaign.
Then, again, it is possible that Little's own views on cannabis are sufficiently strong to preclude any attempt to interrogate dispassionately and forensically the referendum result. Interviews with Little when he was Leader of the Opposition strongly indicated a generally negative attitude towards cannabis law reform.
For many years, the impact of the drug on the mental health of a small percentage of younger users has raised one of the highest hurdles to legalisation. This is particularly true in the case of parents directly, or indirectly, affected by the problem. The argument that legalisation offers the best hope of bringing effective treatment to younger users adversely affected by cannabis, all-too-often leaves these folk unmoved. The contrast with the 'No' campaigners' emotive "Will nobody think of the children!", and "First, do no harm", arguments could hardly be sharper.
A dispassionate analysis of the Cannabis Referendum result would not be complete, however, without referencing the curiously cerebral and, hence, rather pallid, character of the 'Yes' Campaign. From the outset, those favouring reform set out to anticipate and, hopefully, overcome the objections of their opponents. It was a touchingly rational approach which, almost by definition, was bound to fail.
For a start, the proposed legislation was so ringed around with health safeguards; and the regulatory framework erected to control users so stringent; that the 'Yes' Campaign ended up virtually reinforcing the 'No' campaigners' case against legalisation. To focus upon limiting the potential harm of cannabis use is to pretty much concede the point that cannabis is harmful. This crucial concession allowed the 'No' Campaign to mount a propaganda effort based almost entirely on telling New Zealanders how harmful. No prizes for identifying which of these was the easier sell!
At no point did the 'Yes' campaign make the slightest attempt to "sell" cannabis on its own merits. There is a reason, after all, why generation after generation of human-beings – stretching back thousands of years – have used the drug. Like alcohol it is powerful mood-changer, but, unlike alcohol, cannabis soothes and relaxes its users, heightening all their five senses, and inducing feelings of almost biblical peace and goodwill. While booze makes people want to fuss and fight, dope makes them want to do something else than begins with F – and do it better!
That the 'Yes' Campaign refrained entirely from extolling the intrinsic virtues of cannabis tells us a great deal about how deeply ingrained the puritanical "anti-pleasure principle" remains in the New Zealand character. Ours is, after all, the country which, in 1919, came within a whisker of beating the United States to legislating nationwide alcohol prohibition. (It was only the votes of the soldiers returning from World War I that defeated the "wowsers".) Kiwis above the age of 60 will recall the triennial "liquor polls" which, for 70 years, were held in conjunction with every general election. In these polls, voters were asked to choose between "Prohibition", "Continuance", and "State Purchase and Control". They were only finally discontinued in 1989!
We're a funny little country. How else to explain our willingness to vote in favour of people being allowed to seek medical assistance to escape a painful death, but against being allowed to use freely, and without the dubious assistance of 'Big Pharma', an easy-to-grow herb renowned for its analgesic and anti-nausea properties?
The irony, of course, is that even if the cannabis referendum had been won by "Yes", Parliament itself could still have said "No". Labour was pledged only to introducing the draft legislation which voters had been asked to consider. After that, it would be left to the tender mercies of the House of Representatives. There is absolutely no guarantee that the bill which eventually emerged from the select committee process, let alone from the Committee of the Whole House, would be worth voting for.
It was with this very real possibility in mind, that I was moved to dig out, from a box in the garage, a 1972 example of "underground" comic art exploring this very question. Namely,  what might happen "After Prohibition"
"Exploitation", warned the artist, Gary Frutkoff, "might be just a toke away from legalisation." Frame by frame, he went on to explain how "They" would "Fertilise and subsidize it, then package and manage it … obviously advertise and industrialise it … most likely truck it … and then all we'll have to say is f**k it. Maybe it was better when we wouldn't, shouldn't and couldn't."
With the stern father-figure of Andrew Little, New Zealand's Wowser-in-Chief, standing guard, it would appear that Cannabis Sativa's yea-sayers are not going to be given any other choice.
---
*Chris Trotter has been writing and commenting professionally about New Zealand politics for more than 30 years. He writes a weekly column for interest.co.nz. His work may also be found at http://bowalleyroad.blogspot.com.