Brendon Harre wonders if housing is undersupplied and poor quality, but KiwiBuild shows that buyer demand isn't there, perhaps the Government just needs to build its social housing requirements aggressively - as a previous Labour Government did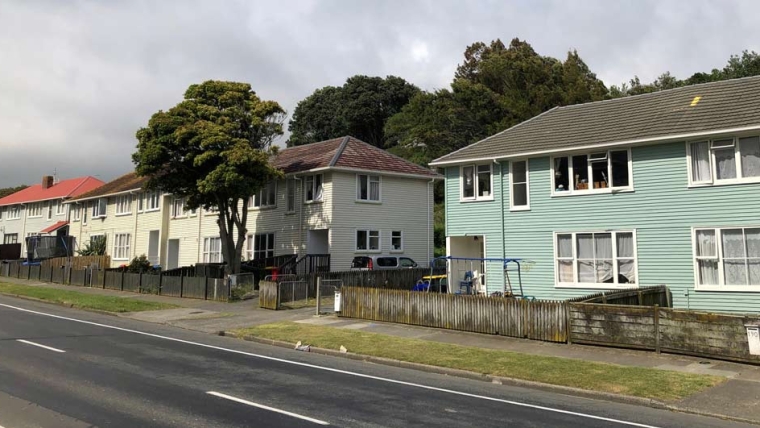 By Brendon Harre*
"We might make mistakes but we will make other things too"– Michael Joseph Savage
$170 a week for a converted sunroom (note the brick walls), in a flat with seven other people in Wellington. In Austria the average rent of a social house is $177 per week.
Renting in New Zealand is bad. The bottom 20 per cent of income earners spend a greater proportion of their income on rent than anywhere else in the OECD. For many decades New Zealand's housing market has failed low-income earners due to rents inflating faster than wages.
For the bottom 20 per cent of households by income, housing costs as a proportion of income have increased from 29 per cent to 51 per cent since 1988.
Source OECD -Affordable Housing Database, Figure HC1.2.3.
Too much of New Zealand's economy is rack-rent, where those with market power exploit those without. Effectively, wages are confiscated.
Rack-rent is described in Winston Churchill's 1909 speech about land value taxes. Churchill spoke about a bridge over the River Thames that gave a poor neighbourhood access to work in London. The bridge was tolled, but in an act of civil kindness the toll was removed. However, the workers did not benefit because rents rose by the amount the toll fell.
Rack-renting is a problem for the Covid economic recovery because the stimulus is not evenly distributed across 'the team of 5-million'. The biggest stimulus — $128 billion of nearly interest-free credit provided by the Reserve Bank — is giving the 'haves' a wealth-effect of lower mortgage interest payments and higher property values, while the 'have-nots' are still experiencing rents inflating faster than wages.
This raises the question: how much kindness does New Zealand give to the essential workers who did the hard yards during the Covid lockdowns? Not much is the answer if they are low-income workers — like cleaners or supermarket employees — living in rental accommodation.
Landlords are not passing on their lower costs to tenants. Instead, property investors are going on a buying spree. Reserve Bank figures show the share of house buying by landlords with high loan-to-value ratio (LVR) borrowing doubled to 16% in the period between the removal of LVR rules in May and the end of October (H/T Bernard Hickey). House prices are rising as a result. First home buyers (FHB) with a fear of missing out (FOMO) are adding to the demand effect.
/p>
Source: REINZ & Tony Alexander Real Estate Survey — November 2020
As former Finance Minister Michael Cullen says in his paper titled Time for a Monetary Policy Rethink the ladder between the haves and have-nots is getting additional rungs at the top while the rungs at the bottom are being removed.
Political commentator Ben Thomas is correct to state the reason that housing "is so visceral is that it represents a fundamental break from the middle class egalitarian creation story of New Zealand (and elsewhere) — you can work hard, value education, and — even if you have a humble life — you can give your kids something better".
What to do?
The government needs to define what its housing affordability goal is. Is it aiding the sons and daughters of the middle class into homeownership? Or is it ensuring the powerless can make gains without being exploited by the powerful?
In practical terms, is the goal returning the median house price to median income ratio back to three to four, so more first home buyers can afford a home? Or is the goal returning rent as a proportion of income back under 30 per cent for the bottom 20 per cent of households by income so that the high cost of rent does not cause those households to suffer poverty — something which is recorded far too frequently in New Zealand's statistics. Both of these housing targets were in the affordable range up until the 1990s, and since then both have become steadily worse.
Former Prime Minister John Key seemed to have restoring the middle class home ownership dream in mind when he called the RMA a "self-imposed straitjacket" that needed reform in his 2002 maiden speech to Parliament and in his 2007 speech to the National Party Conference where he outlined a housing affordability plan.
The problem with fixing housing affordability for middle-income earners is the goal is defeated from the get-go.
For New Zealand to restore median house prices back to three to four would require house prices to roughly halve. In other words, to give the 'future middle class' the opportunity of home ownership requires much of the stored asset wealth of the 'current middle class' to be destroyed. No prime minister or finance minister in the modern era, at least since Helen Clark and Michael Cullen, has been willing to publicly announce that is their intent. This includes John Key and, of course, Jacinda Ardern. Yet they both campaigned on housing affordability prior to becoming prime minister.
I cannot find any evidence from around the world that restoring housing affordability for middle-income first home buyers in the way that it is talked about in New Zealand is possible. It might have occurred in Japan after their 1980s property bubble. But it wasn't an explicit policy agenda as is demanded in New Zealand.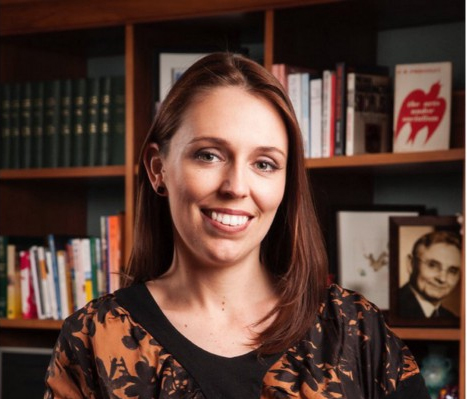 Current Labour Party Prime Minister Jacinda Ardern has long had a picture of the first Labour Party Prime Minister Michael Joseph Savage in her various Parliamentary offices.
Yet there is plenty of evidence that it is possible to restore housing affordability for low-income households if the government builds a good proportion of new housing stock (about a quarter or more) as affordable housing (affordable rentals and progressive home ownership houses) targeting a wide band of low-to-middle-income households in schemes that prevent speculative capital gains. New Zealand under Michael Joseph Savage did it in the 1930s and 40s. Austria has been doing it for nearly a century and Singapore has done it since WW2.
In the 1920s, after WW1, New Zealand experienced a housing crisis, especially once the Great Depression halted villa-suburb building. Rents were inflating and housing conditions were poor. The newly formed Labour Party campaigned to fix this housing situation.
Note the mention of rack-renters in the final paragraph: "The Government does nothing to stop this exploitation. It will do nothing. It represents the rack-renters. If you want Good, Clean, Commodious, Cheap, and Sanitary homes for all, at fair rent, you must — Vote… Labour
The Labour Party came into power in 1935. The next year it started a large, broad-based state house build programme that targeted not just the destitute but also low-income workers. By 1940, state land development programmes accounted for 45 per cent of all housing construction in New Zealand.
The first Labour government (1935 to 49) built 30,000 state houses over about a 10-year period once the construction stoppage of WW2 is accounted for. It took four years to ramp up — by 1939, 5000 state homes had been built. New Zealand's population at the time was about a third of what it is now.
This historic policy agenda should be a lesson for the current government and the Reserve Bank. In 1936, the Reserve Bank provided credit with interest rates as low as now. This meant the government could fund infrastructure and its house building programme — this connected monetary policy with the real economy, thus aiding economic recovery.
Despite the government undertaking a large housing supply programme, targeting rental house affordability, there is no evidence this negatively affected the asset wealth of the 1930s middle class — something our current political leaders fear doing. And the 1930s monetary policy stimulus did not cause the inequality effects that New Zealand is currently experiencing.
This monetary/fiscal spending effect wasn't a one-off or unique to a certain time and place in New Zealand's history. The UK also successfully used housing construction and infrastructure provision (the expansion of the London Underground, for example) as a link between monetary stimulus and the real economy. It escaped a liquidity trap in the 1930s through a combination of cheap money combined with a house building boom.
This approach could be used now. The IMF issued an unusually blunt warning in November that the world was in a "global liquidity trap" where monetary policy was having limited effect. In this situation the advice from the IMF is further interest rate cuts will do little to stimulate growth and the only way forward is a coordinated global effort focusing on large government spending programmes rather than monetary stimulus.
The current Labour government would also do well to learn the lessons from the failure of KiwiBuild. The policy failed because the government committed too little capital and the goal was to aid middle-income earners into home-ownership rather than low-income earners into good quality yet affordable rental accommodation. Unfortunately, the numbers for KiwiBuild did not stack up.
The Ministry of Housing and Urban Development's (MHUD) 2019 assessment of first home buyer demand showed only 162,000 out of 588,000 rental households had the financial means to purchase a KiwiBuild priced home (see graph below). Of course, the number who would actually consider buying a KiwiBuild home would be much smaller due to various non-financial or personal reasons.
Source -MHUD Information on First Home Buyer Demand 5 July 2019. Note the house prices the KiwiBuild financial calculation is based on averages at $615,000 in Auckland and $425,000 in the rest of New Zealand. It also assumes a 15% deposit and 85% mortgage.
If it was properly configured, a government build programme could supply the rate of house building promised — 10,000 houses a year. New Zealand governments have built at that per capita rate in the past. Singapore and Austria do it now. The problem — specific to the proposed KiwiBuild pipeline, but not to government build programmes in general — was a lack of demand to buy even a small number of KiwiBuild homes. Since the start of the build programme in 2018 only 955 KiwiBuild houses have been successfully sold.
Lack of demand was fatal for the KiwiBuild scheme because its internal logic was reliant on building at scale. Creating more affordable housing types via investment in innovation, standardisation, specialisation, economies of scale, prefabrication, more and larger competitive construction firms, integrating housing with transport, using land more efficiently by building a range of housing types/sizes, improved land assembly and master planning — these all suffered because the lack of demand generated insufficient scale.
This meant per unit housing costs could not be reduced.
Overall, the problems KiwiBuild encountered means it is a failed experiment in restoring housing affordability for middle-income earners.
If the government had invested more capital in KiwiBuild they could have increased the build rate into the economies of scale part of the production system. But that would have meant significantly subsidising build-to-own KiwiBuild houses. This would have caused all sorts of problems that providing capital subsidies for social housing does not face because the rental housing sector is already subsidised.
Switching government housing support from being income based (the Accommodation Supplement etc.) to being capital grant based would be a significant shift; it would take time, but it is a viable option. New Zealand has run that sort of system before. Other countries like Austria have very well developed systems for issuing housing capital grants to their social housing sector — something that has architectural, economic, social and environmental advantages.
I have no doubt that improving housing supply by way of reforming the RMA and infrastructure financing can help maintain housing affordability. New Zealand from the 1950s to the 1990s had relatively affordable housing due to private sector developers being mostly free in how they built New Zealand towns and cities — mainly outwards (the Kiwi dream of a quarter-acre pavlova paradise as John Key described it in his 2007 speech). Other cities around the world — in the US, Germany, Japan and so on — are affordable because housing supply responds to demand.
I am less convinced housing supply can quickly restore housing affordability to middle-income first home buyers. No prime minister or finance minister will publicly support that course of action. Without their full support, interventions will always be half-hearted. Proposed housing accords cannot be undertaken. There can be no common cause.
With the prime minister's hands effectively tied, action on housing inevitably degenerates into the various involved parties acting at cross-purposes to each other, blame-shifting and finger-pointing. We have already seen this with the finance minister and Reserve Bank Governor.
The better course for the prime minister would be to acknowledge political reality — housing affordability in New Zealand cannot be resolved by addressing middle-income needs first.
Politically, that might seem unpalatable. Being a centrist, the prime minister may have a vague contention that she should deliver housing affordability to middle class swing voters. Hopefully it is becoming clear to her that this is not possible — at least not in one electoral cycle, or even several.
This means housing affordability inequality should be addressed as the highest priority. The prime minister should state that the government's housing goal is to get rent as a percentage of income below 30 per cent for the most vulnerable socio-economic groups, and that this target is what her government will aim to achieve first.
If housing inequality becomes the clearly articulated priority, it creates a common cause. A housing accord is possible. Actions from the various parties can be aligned and progress can be made without it being undermined by finger-pointing.
Over time, after a decade or two of government-led house building, the median house price relative to median income ratio may stabalise back to affordable levels. In the meantime, progress will be made by reducing housing inequality.
In the past, the Savage Labour government built state houses for the lower end of the housing continuum (see the below two videos). It was this house building effort that provided the foundation for the Kiwi housing dream of the 1950s through to the 1990s. New Zealand's most successful housing policy agenda achieved its success by focusing on helping lower-income households first.
To re-establish the Kiwi home owning dream may require Jacinda Ardern to look at her photo of Savage and think: 'what would Michael do?'
---
This is a repost of an article here. It is here with permission.