A deep dive into what's causing wholesale electricity prices to soar and manufacturers curtail production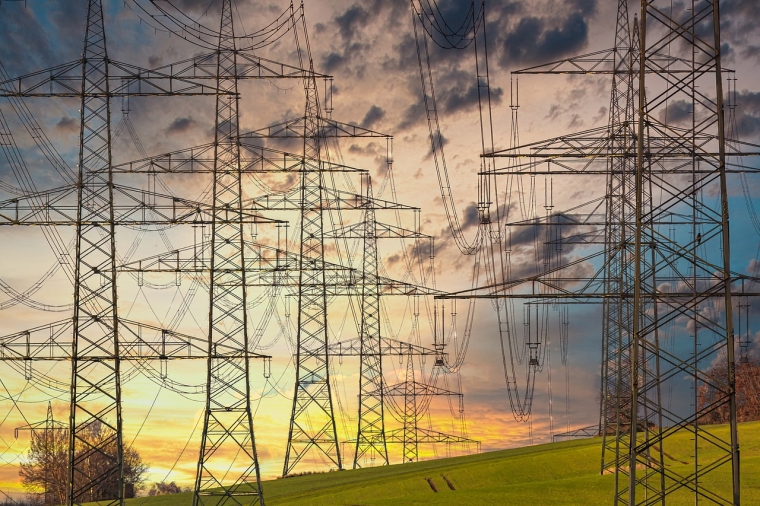 Low lake levels and constrained gas supply have again pushed wholesale electricity prices up, causing some large manufactures to curtail production.
The Norske Skog Tasman Mill has been stopping and starting production since March, and running at reduced capacity.
New Zealand Steel has also had to cut production at a time demand for steel within New Zealand is at a record high.
Electricity providers are watching closely. Transpower, which owns and operates the national electricity grid, is issuing daily security of supply reports and will start holding bi-weekly industry briefings. It's also developing an "outage watchlist" it intends to publish shortly.
The Government has set up an "inter-agency response group" to monitor the situation.
Energy and Resources Minister Megan Woods on April 8 warned the industry she had asked officials to assure her prices were commensurate with the "level of scarcity in the market and risk of a shortage later this year".
She also said she wanted to know what, if anything, could be done to "moderate wholesale prices without increasing the risk of a power shortage".
Woods: 'There is no need to panic'
Yet Woods, while being questioned in Parliament by National's Barbara Kuriger on Thursday (see video at the bottom), reassured the public there was "no need to panic".
She noted, "we are not even at the 1% risk on the curve yet", meaning there is still just less than a 1% chance of New Zealand facing an extended electricity shortage, according to Transpower.
New Zealand's hydro storage is half full. This is equivalent to 66% the average level it would normally be at this time of year.
If we don't get more rain, and the likelihood of a shortage reaches 10% (the black line hits the red line in the graph below), an emergency would be declared and a national electricity conservation campaign would start.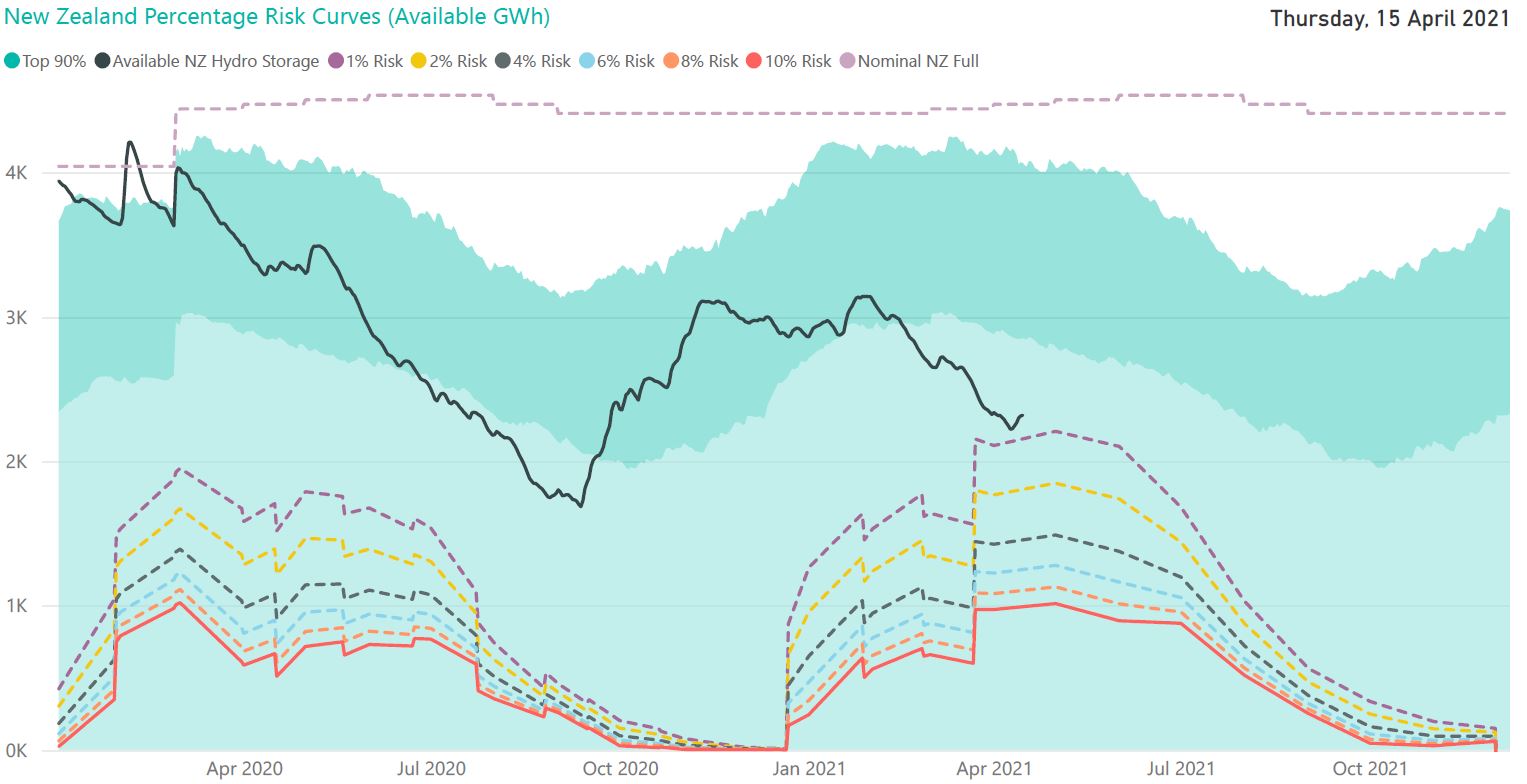 Put another way, if the black line in the graph below reaches the yellow line, that emergency level will likely take eight weeks to reach.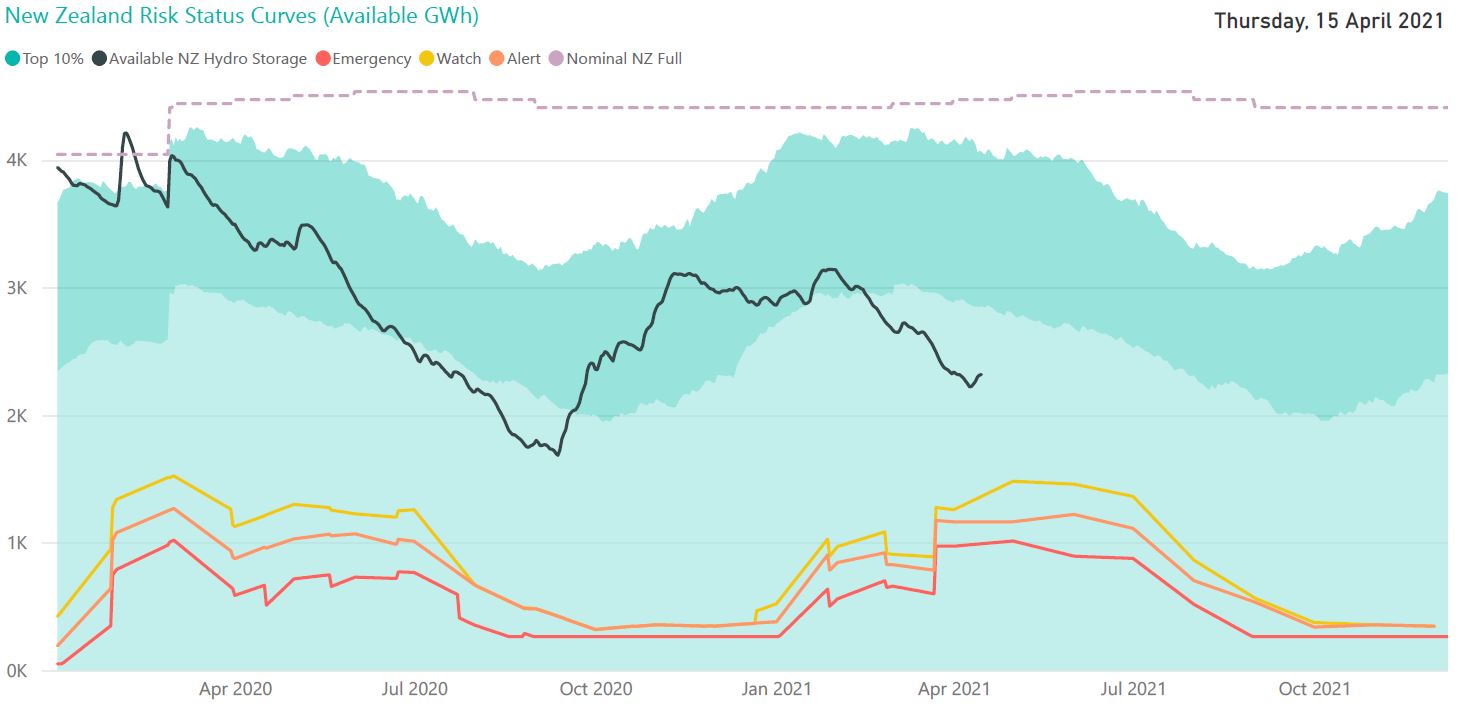 History suggests it's highly unlikely that emergency level will be hit.
Coming back to the prices, Woods said: "The market is behaving as it is expected, as it did in other dry years. For example, in 2008, wholesale prices were at $475 per megawatt hour, while in 2012 they were at $310. We're currently seeing spikes in excess of $350 per megawatt hour."
Indeed, the wholesale price peaked at $497/megawatt hour on March 24.
Woods' question around whether prices truly reflect scarcity is a fair one.
Back ups limited
Enerlytica director and head of research, John Kidd, said the problem is the vulnerability of the electricity sector.
Low lake levels and outages at the aged Pohokura gas field mean imported coal is keeping the system kicking along (coal is included in the thermal segment of the Transpower graph below).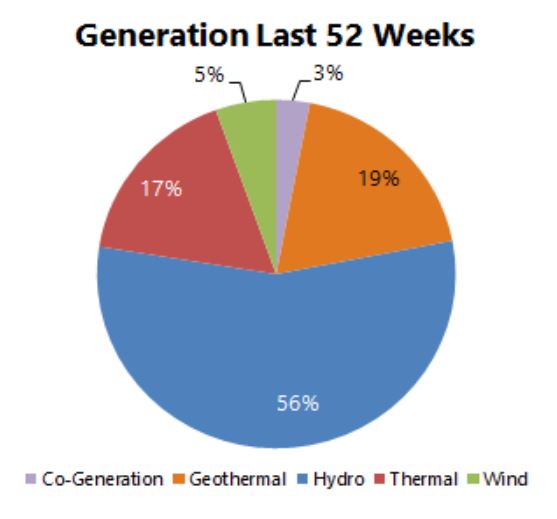 But should there be a problem at the Huntly Power Station, or should another part of the network falter, we could be in trouble.
Kidd said these risks were being priced into the wholesale electivity market.
Regulatory risk
What's more, it would appear the Government is yet to regain the energy sector's trust after banning new offshore oil and gas exploration in 2018.
The system would probably still be under strain if oil and gas companies were still able to get new exploration permits.
If a new permit resulted in a find, the chances of it being commercially viable to move to production are slim. The chances of a decision to move to production resulting in material amounts of additional gas being available quickly are even slimmer.
What's more, New Zealand was always going to have to work hard to attract big oil money. Existing fields are reaching the end of their life, and investing in infrastructure to extract oil and gas from new fields is costly.
The oil and gas industry is also at a sunset phase. It needs to innovate to prevent investors, increasingly conscious of climate change, walking away and leaving its assets stranded and creditors exposed.
The Government could've consulted with the sector and worked on a transition plan, rather than pulling the pin and hoping for the best.
Tiwai Point uncertainty
In addition to the regulatory risk, there's been uncertainty for some time over the future of New Zealand Aluminium Smelters (NZSA) at Tiwai Point.
However, in January, its majority owner, Rio Tinto, confirmed Meridian Energy had cut it a deal so it would remain operational until the end of 2024. The future of the smelter beyond then is still up in the air.
Woods claimed some major electricity users were being stung by this decision, as they'd betted on NZAS closing (and an excess electricity supply pushing prices down) by increasing their exposures to the spot market.
She said the portion of very large industrial users (excluding NZSA), with some direct exposure to the spot market had increased to around 60%, from 40% in a "normal" year.
Woods was also advised by the Electricity Authority, "some of this demand may be managed by hedge contracts that have not been disclosed" in accordance with Electricity Industry Participation Code obligations.
Households could suffer
Major Electricity Users' Group chief executive, John Harbord, didn't buy this explanation, saying most businesses recognised a closure of the smelter would take some time and would only change tack when it comes to their exposure to the spot market once a closure was completely confirmed.
He worried high wholesale electricity prices would eventually flow through to higher retail prices.
Harbord said competition among electricity retailers were keeping prices down. But this could change if some retailers couldn't remain competitive and were forced to close.
In the meantime, some industrial users are struggling.
A spokesman for Norske Skog Tasman Mill said: "The current power prices mean that running a business like ours is problematic. We need certainty around our key inputs so we can take orders and deliver on commitments to our customers.
"Large scale manufacturing is a complex operation. You can't just flick a switch, turn off the incoming raw materials and send everyone home. Everything we do requires detailed planning.
"The current situation is clearly not sustainable, not just for us but for the broader New Zealand economy".
NZAS on a good wicket
Meanwhile, at $35/MWh, the deal NZAS struck with Meridian is seeing it pay about a tenth of what some other industrial users exposed to the spot market are paying.
Yet if the hydro storage situation gets much worse, Meridian will be able to curtail NZAS's usual draw by the equivalent of 250 GWh over a period of 130 days.
Kidd said: "The reduction equates to 14% of NZAS's usual draw and will increase liquidity into the market by the equivalent of 1.9% of total demand.
"While at least something, its extent is unlikely to assuage those industrials that are already responding to price stress by curtailing production, particularly given that the price NZAS will continue to pay for more than 85% of its normal load will not change."