Gareth Vaughan on a parody of a parody; Viktor Shvets, crypto-mania & leverage; Grant Robertson & Jacinda Ardern's CGT 'rift'; Biden's bond vigilante demons; and how the 1% live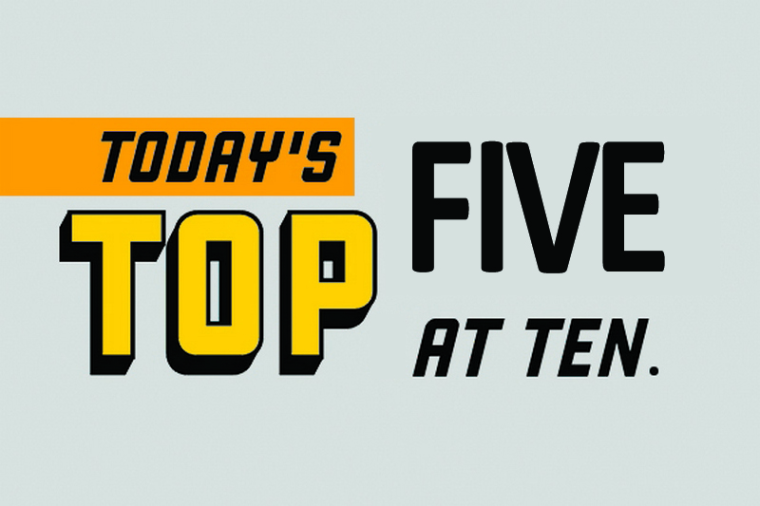 This Top 5 comes from interest.co.nz's Gareth Vaughan.
As always, we welcome your additions in the comments below or via email to david.chaston@interest.co.nz. And if you're interested in contributing the occasional Top 5 yourself, contact gareth.vaughan@interest.co.nz.

At the end of last week I wrote about Dogecoin, the cryptocurrency started as a joke that's taking the world by storm. I wasn't aware at the time that there's effectively a parody of the parody. It's known as Shiba Inu, as in the Japanese dog associated with Dogecoin, or the SHIB token. According to Coindesk, it's currently popular in Chinese cryptocurrency circles. Whatever next...
The new SHIB token has unabashedly coopted the name of the Shiba Inu dog breed whose image has come to represent the joke cryptocurrency dogecoin. Perhaps as menacing, SHIB has just garnered fresh listings on the three most popular cryptocurrency exchanges among Chinese users, Binance, Huobi and OKEx. 

And this puppy is all of a sudden garnering astonishing investment from Chinese traders, even though they seem well aware that the project appears to have no earnest technological promise. On Monday, when Binance launched trading in the SHIB token, the price nearly doubled on Huobi, where it was already trading. 

That's despite Chinese traders being as likely to call it "s**tcoin" in their local language, as SHIB coin.    

The new obsession shows the extent to which the recent dogecoin phenomenon – where money seems as playful as a slobbery toy – has spread to denizens around the world. Traders seem happy enough to go along as dogecoin's price pumps and dumps repeatedly, often timed to a fresh tweet from the billionaire Elon Musk. Over the past weekend, Musk mentioned dogecoin multiple times when he hosted the long-running American TV comedy show "Saturday Night Live." The DOGE price has tumbled 29% in the past two days. 

"SHIB's price performance over the weekend clearly shows that the crypto industry hasn't had its fill of canine-themed memecoins just yet," Rick Delaney, senior analyst at OKEx Insights, said.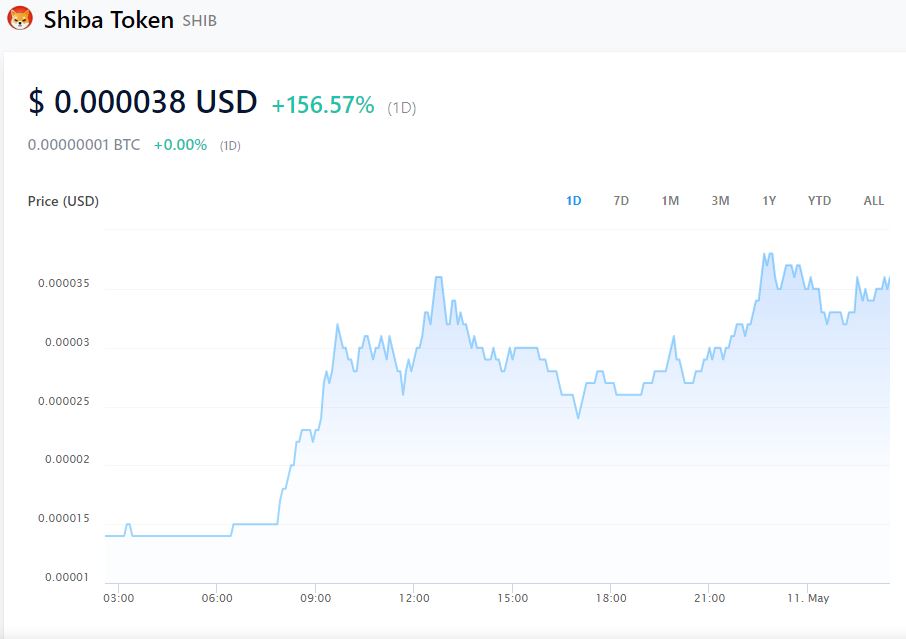 The chart above, courtesy of Crypto.com, shows how SHIB's tracking at the time of writing. Things might, however, be very different by the time you read this...
2) Viktor Shvets, crypto-mania & high levels of leverage.
Regular interest.co.nz perusers might remember Viktor Shvets. A very interesting thinker, Shvets is Managing Director and Head of Asia Pacific and Global Strategy at Macquarie Group in Hong Kong. I did a Zoom interview with him last year.
More recently he featured on Bloomberg's Odd Lots podcast in a wide ranging discussion with hosts Tracy Alloway and Joe Weisenthal. Shvets talks about why, even though he sees some short-term inflation, he expects disinflationary trends to return. He also suggests banks have no future. And Shvets says the economics profession is "still largely functioning in an industrial age that has no relevance" to today's world. He sees the current period as the information age.
Shevts says the US Federal Reserve is focused on the likes of mortgages, banks and the Nasdaq as it watches for signs of the next financial crisis. However, he thinks crypto-mania may be where the next financial crisis emerges.
...is it more dangerous if those digital assets go up another 100%, or is it more dangerous if we go down 50% from the current levels? And clearly going up another 50-100% will be far more dangerous. Because what is happening right now is that the world is becoming incredibly interconnected, and increasingly leveraged. It's a little bit like the mortgage market in 07. There was nothing horribly wrong with individual mortgages, it's how you packaged it and collateralised it and leveraged it that created the GFC.

And what you see today is exactly that. People who are buying bitcoin also buying Tesla. Tesla buying bitcoin. People who buy dogecoin will buy NFTs [non-fungible tokens]. Some of the exchanges now allow you three, five, up to 100 times leverage on some of those transactions. The whole universe is now at least $3, $4 trillion and is growing. So the way basically to describe it is if you lose a couple of billion dollars, it's like a bad day in the office. But if you lose a trillion, that's systemic.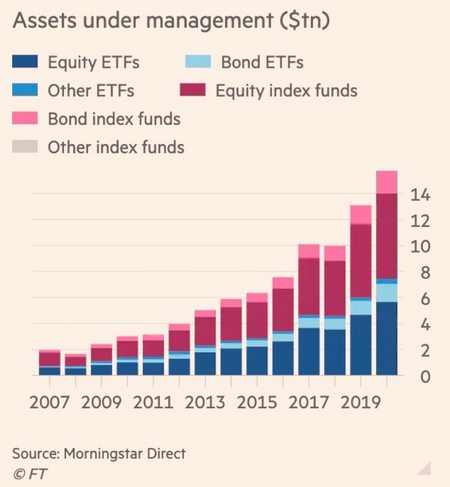 Chart above from Robin Wigglesworth of the Financial Times, author of a new book on index funds, (including ETFs or Exchange Traded Funds).
3) Grant Robertson and Jacinda Ardern's CGT 'rift.'
The latest issue of North & South has a feature on Finance Minister Grant Robertson by Madeleine Chapman. It includes an interesting bit about how Robertson apparently disagreed with Prime Minister Jacinda Ardern's decision to rule out a capital gains tax while she's PM.
 The article quotes ex-Labour MP Marian Hobbs who Robertson formerly worked for as an advisor. Hobbs maintains Robertson was always more enthusiastic about a capital gains tax than Ardern, and that her decision to kick the tax into touch caused a rare rift in their close working relationship.
"He wanted it. He lost. He lost the argument," says Hobbs. "They had to cool off their thing for a while."

When I next see Robertson, I ask about disagreements between the prime minister and her deputy. He laughs at my suggestion that he brings the metro perspective and Ardern represents the small towns. And laughs again when I cut to the chase and say I'm asking specifically about the capital gains tax decision.

"Possibly this won't be unexpected," he begins. "But first I'd like to slightly challenge the premise." He goes on to explain that while he is a city voice, decisions are made as a team — "I'm not shying away from the fact that I'm a forthright person within that team" — and that there are other city and rural voices within Labour's team.

But that's not what I asked and he knows it. He takes a deep breath and for the first time I can see him thinking before he answers. "Jacinda and I are friends. We share a lot of political values and a lot of ideas about how to get things done. But we aren't going to agree on every single moment or response. So there is a dynamic that takes place, and I'm not commenting on any specific issue, but there is a dynamic that takes place that inevitably will do that." I wait for him to play another forward defence shot but he doesn't.

"I also really believe there's a danger in believing there are silver bullets, in anything, just about, but especially in housing. So the idea that one particular policy is no longer available to us is not the end of the road or the end of the world. There are a range of things we can, are, and should be doing to address housing affordability. It's more, now let's work out what those other things are."
Greetings from Moscow
May 9, 2021 pic.twitter.com/W9EQYgium6

— Khodorkovsky Center (@mbk_center) May 9, 2021
4) Biden's chance to exorcise the bond vigilante demons.
Writing for Business Insider, Alex Yablon argues President Joe Biden and his fellow Democrats should shake off fears of bond vigilantes and pay for their big climate, infrastructure and jobs bill with deficit spending instead of higher taxes.
For all the economic and political hand wringing over Biden's plan, the bond vigilante scare mongering flies in the face of political and financial reality.

It's true that federal interest rates have risen in the Biden era. But that doesn't mean borrowing costs are about to eat up the budget or that credit will become scarce. Throughout much of 2020 the world economy seemed like it was on the brink of another Great Depression, so investors flocked to safety, buying government bonds and driving yields down. Now with the vaccine rollout going better than expected and the Democratic federal trifecta sidestepping obstreperous Republicans to provide far more generous pandemic relief, many mainstream financial analysts agree the rising rates are more a sign that investors expect the economy to finally return to health, not that they are worried about runaway spending. There's less need to hunker down with no-risk assets than there was last year.

And even after the rise in treasury yields this year, inflation-adjusted rates remain ludicrously low – negative, in fact, for everything except 30-year bonds, which hovers barely above zero percent. Investors are effectively paying the federal government to lend it money.
Yablon argues that sometimes the easiest route is also the most responsible one.
The Biden administration should seriously rethink its commitment to financing a green infrastructure package with taxes rather than the deficit. Whatever the merits of putting the squeeze on unaccountable corporations or ending giveaways to rich coastal property owners, with low interest rates and no real threat of the supposed "bond vigilantes" showing up anytime soon, it's not at all clear that all those pay-fors are needed or justified. Given that the new taxes come with political costs in Congress that Biden cannot pay, deficit spending is eminently affordable and solves an important political problem.

More importantly, by limiting the scope of green investment to solely what taxes can cover rather than using freely available money to avoid a massive downside risk, Biden will effectively force our grandchildren to pay the price for the appearance of "responsibility."
Fancy buying an island in the Bahamas? CNBC has a story about "country music power couple" Faith Hill and Tim McGraw's island getaway being on the market for US$35 million. The story features lots of photos, of course, and the obligatory spruiking from real estate agents. Known as L'ile d'Anges, it certainly looks nice, especially to anyone hanging out for a tropical holiday.
Hill and McGraw renamed the paradise they dreamed up together, L'ile d'Anges, which is French for isle of angels. The couple transformed what was an undeveloped 19.77 acre island into a resort-like compound that includes a 6,517-square-foot main residence, two beaches and hundreds of imported palm trees.

"This was a 10 year-plus exercise," said Edward de Mallet Morgan, the London-based luxury real estate broker and partner at Knight Frank who represents the listing.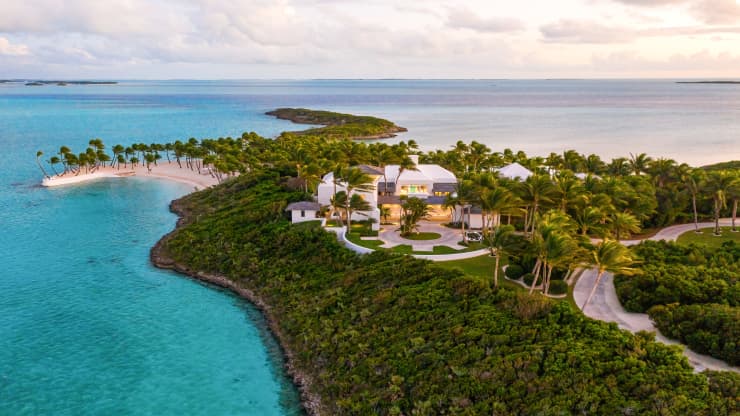 L'ile d'Anges. Photo by Brett Davis / Knight Frank.