Grant Robertson goes into Budget 2021 with options. The questions are: Will he boost benefits and how much more infrastructure investment can the economy deliver on?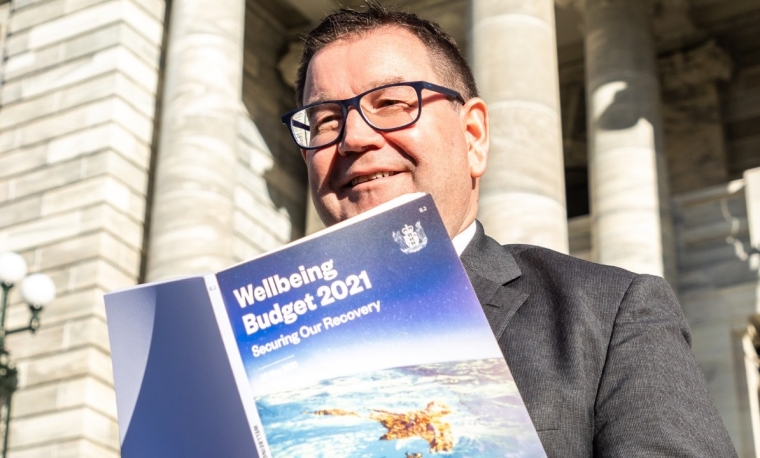 By Jenée Tibshraeny
Finance Minister Grant Robertson is going into Budget 2021 with options.
Looking at a highly uncertain future this time last year, the Government and Reserve Bank (RBNZ) prepared for the worst.
The Government allocated a whopping $62 billion towards the COVID-19 response and the RBNZ completely loosened monetary conditions.
They took extraordinary measures to hit COVID-19 with a big stick on both the health and economic fronts. And it worked - on an aggregate level.
The Government's tax take is higher, and expenses lower than expected.
Robertson has already committed to increasing both the operational and capital allowances he pencilled in, in his Budget Policy Statement released in February.
He has done so, all the while indicating the Government will issue less debt than planned in December, when The Treasury released its Half Year Economic and Fiscal Update.
Indeed, The Treasury is widely expected to further revise down its forecast bond issuance programme.
Balance 
We prepared for the worst. Things aren't great, but are better than expected.
As Westpac economists said, Robertson can have his cake and eat it.
But exactly how he will strike the balance between more spending and less-than-planned debt issuance, is unclear.
Robertson has been walking a tight-rope between being "kind" and "transformational" and "fiscally prudent".
On Budget-eve he told interest.co.nz he believed the economy still needed fiscal stimulus. But a couple of weeks ago he announced a pay freeze for the bulk of public servants who earn more than $60,000 a year.
Increasing people's pay as per usual is surely a fair, clean and easy way of stimulating the economy.
Robertson talks a lot about "keeping a lid on debt", but strongly rejects any suggestion he'll take an austere approach or leave people behind in the economic recovery.
Will benefits go up?
Robertson has dropped few hints around new initiatives that will be included in the Budget. But all eyes are on whether he will increase benefits.
Economically, this would make sense. Rents have been rising (albeit not nearly as fast as house prices).
The most vulnerable in society have been hit disproportionately hard by COVID-19 through job losses - particularly in the services sector.
They arguably haven't benefited as much as the wealthy have from the RBNZ's efforts to boost asset prices and lower debt servicing costs through lower interest rates.
What's more, Robertson knows giving the lowest income-earners more cash is stimulatory, as they'll spend it.
The challenge of course will be tweaking welfare in a way that doesn't simply line the pockets of landlords.
Politically, now is also a good time for benefit increases.  
National voters, who turned to Labour at last year's election, are happy enough. Life is normal for most people, who feel cocooned while the pandemic wreaks havoc abroad.
The Government could pass off benefit increases as a response to COVID-19, and a way to balance out some of the support that's been provided to asset owners.
But should Robertson increase benefits, he's unlikely to go as far as the Welfare Expert Advisory Group advised in 2019.
Politically, he doesn't need to.
He will also want to keep some powder dry for Budgets he'll deliver closer to the next election.
He will need to use these Budgets to try to lock in the support of those swing voters.
Capacity constraints remain an issue
While increasing benefits now seems logical, it's difficult to know where the Government will go on other new initiatives at the Budget.
It has been a bit unpredictable of late. No one expected the effective public sector wage freeze and the removal of interest deductibility from investment property.
The Government also arguably went further (in a pro-union direction) than expected on Fair Pay Agreements by agreeing to fund up to four of these a year.
What one can have a bit more certainty around is the fact the Government's ability to increase its capital allowance to build more houses, infrastructure, classrooms, etc is limited by capacity and capability constraints.
As ANZ economists said, "The Government is facing many of the same materials and labour supply disruptions that the private sector is, and in some cases (such as building residential social houses) the Government is in direct competition for resources with the private sector.
"We expect delays will continue to push spending out, possibly more so than is typical for Government investment."
It's one thing borrowing and allocating money. It's another actually getting it out the door.
Robertson said that when putting together the Budget, he factored in the reality that a number of sectors have already received boosts in funding, which is still being spent.   
The Government knows delivery is its weak point. So it best focus on this before making more big promises.
Wealth creation
Finally, while the distribution of wealth is a pertinent issue, so is the creation of wealth.
This is the tricky part that involves the Government creating the environment for innovation and productivity growth via the right regulatory, tax and immigration settings.
The Government has already committed to paying for trades training and investing in various initiatives aimed at reducing New Zealand's carbon emissions, for example.
It'll be important for Budget 2021 to play a part in setting a pathway for the New Zealand economy to grow sustainably post-pandemic.