BNZ's Stephen Toplis says house price inflation must fall and house prices could too. Supply growth exceeds demand growth and property returns are under pressure. He says the construction boom will moderate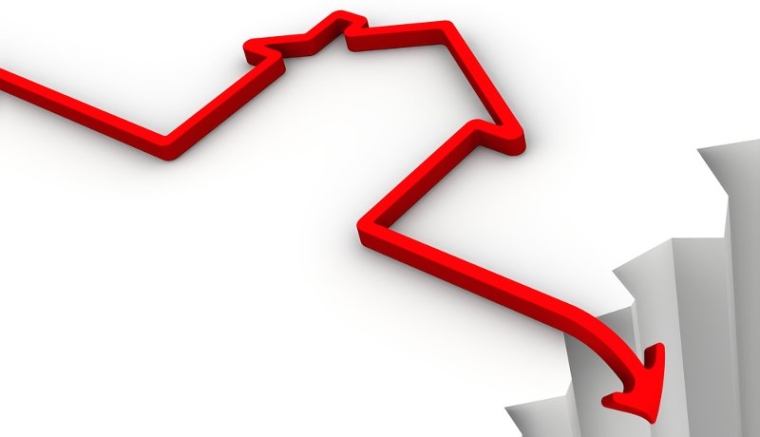 By Stephen Toplis*
The RBNZ has every right to be worried about the potential for a house price correction. It is a moot point whether house prices, per se, can be sustained at current levels. But while levels might be maintainable, we are convinced that current house price inflation is not. Indeed, the longer inflation remains at current elevated levels the greater the chance that the housing market will be forced into a major correction.
At the same time, we are increasingly concerned that the pace of house construction cannot be supported either. While we think there is further room for expansion in the residential building sector in the near term, we are very aware that an oversupply could start developing in some areas in the not too distant future.
The common themes for both house prices and construction are:
Population growth has weakened considerably
House prices are simply becoming beyond reach
Both the Reserve Bank and Government are on a mission to remove overheating in the sector
Interest rates are likely to start drifting higher.
Moreover, it is very hard to justify current housing valuations on the basis of current prospective rental returns.
There are multiple ways of analysing whether or not house prices are justifiable. Some much more complex than others. But before doing the analysis you have to ask does what has happened in the housing market really pass the sniff test?
Does it really make sense that the value of the housing stock has risen six fold since the beginning of 1990?
That prices have doubled in the last eight years?
And are up a third since the outbreak of COVID, especially when pre-COVID the view was that the combination of moderating immigration and rising supply would soften the housing market.
We are very sceptical that the price movement does pass the sniff test and we certainly do not believe the current momentum in house prices can be justified in any way, shape or form. And if the starting point is not exaggerated enough, we are now looking at growth in demand for housing fading at the same time that new supply is exploding.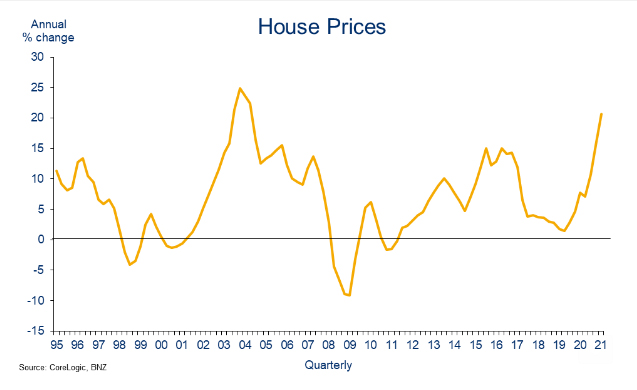 On the demand front, the migration-driven slump in population growth is a key factor. With annual net migration inflows falling to around 7,000, from a peak over 90,000, New Zealand's annual population growth has fallen from 2.4% to just 0.7%. Roughly speaking, this means we only need to build around 12,000 houses a year to house our "new people" whereas the requirement was more like 44,000 houses a year as recently as 12 months ago.
We are projecting that net migration should start to pick up slowly next year. However, we caution that there is a very real risk net migration turns negative. Was this to be the case then demand would be even weaker than we are currently projecting.
At the same time as physical demand growth is moderating, the possibility of purchasing a house has become an impossible dream for some. Sure, low interest rates have eased the repayment burden but the level of debt and deposit required is simply prohibitive for an increasing number of people. The price of an average house is over 11 times an individual's average earnings. The average for this relationship is 6.2 times. Put another way, it now takes two people on the average income to afford the same house as one person could purchase back in 2003!
Investor demand must also be seriously adversely impacted by reduced returns on investment as landlords' costs rise, tax deductions fall, compliance requirements increase, effective P/E ratios rise and now capital gains diminish as a result of lower likely house price gains and the imposition of a high capital gains tax on short-held property.
To cap things off, both owner occupiers and investors have been benefitting from a trend decline in interest rates. It is highly unlikely mortgage interest rates will fall much this year and there is now a very real chance rates start to rise within twelve months.
It is, nonetheless, true that the fall in interest rates does justify higher asset prices of all types, but we are wary that New Zealand house price levels have pushed much higher than our counterparts offshore.
But, while demand comes under pressure, supply is going bonkers. In the year ended April 42,848 consents were issued for new dwelling units. On a per capita basis this is now surpassing the 2004 building boom. And, yet, there is no sign of this coming to an end anytime soon. Accordingly, we think we are entering a multi-year period when the marginal supply exceeds the marginal demand which, in turn, should put downward pressure on house prices. We reach the same conclusion whether we compare actual supply with the increase in population or just by looking at new dwelling approvals per head of working age population compared to average.
At this stage we are not forecasting a price correction, as such. As it turns out, the RBNZ's latest house price forecasts are very similar to our own. Our view is a tad more inflationary but only at the margin. We are forecasting a 17.0% increase in house prices in the year ended December 2021 but the vast majority of this has already happened. Only modest growth is expected from here on in with annual inflation dropping to about 2.0% per annum over 2022 and 2023.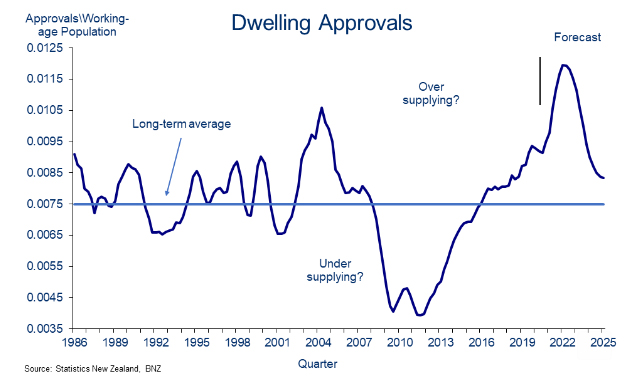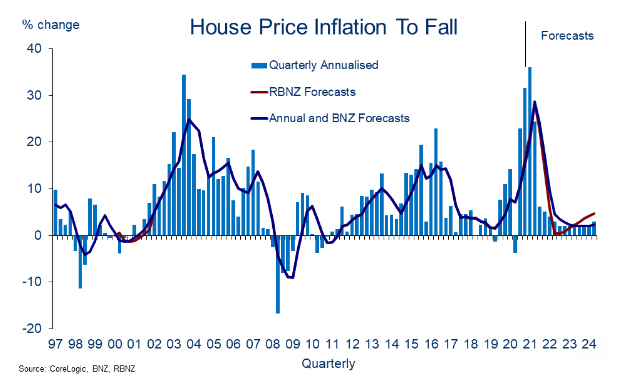 While we are not predicting a price slump, we certainly are not ruling one out. But let's put this in perspective. Even if prices fell 20% it would only take them back to where they were a year ago. For new buyers this would be problematic but for prospective new entrants a boon. For the majority (everyone else) it shouldn't really matter.
Eventually, the combination of weaker price growth, weaker demand growth and the current supply response is likely to result in a softening in residential construction too. We are forecasting a 17.8% increase in residential fixed capital formation across calendar 2021. This is the strongest pace of growth since 2003. Further modest expansion is expected across 2022 but we then expect a reasonable contraction in activity over the following two years.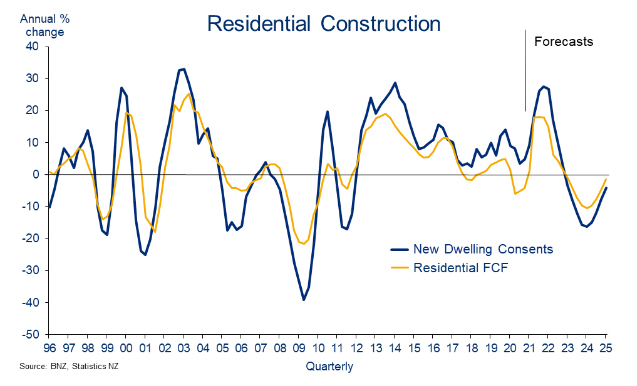 While the expected decline might look dramatic, the level of activity we are forecasting after such a correction will still be in line with 2019, which was considered to be a strong year, and it simply takes the path of activity back to trend.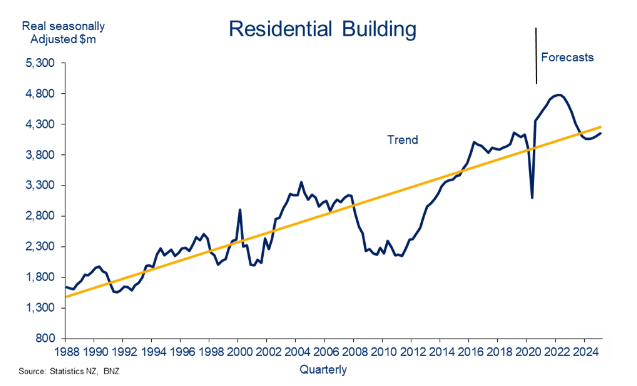 All the above might sound a bit dramatic to some but it really isn't provided the rest of the economy hangs together over the period. And we think it is likely to, as strengthening global growth, massive infrastructure needs, post-COVID euphoria, improving tourism flows, ongoing fiscal stimulus and continued monetary policy support all underwrite the economy. Be that as it may, the likely course of the housing market over the next few years will be a harsh reminder to some that economic and financial cycles are not a one way bet.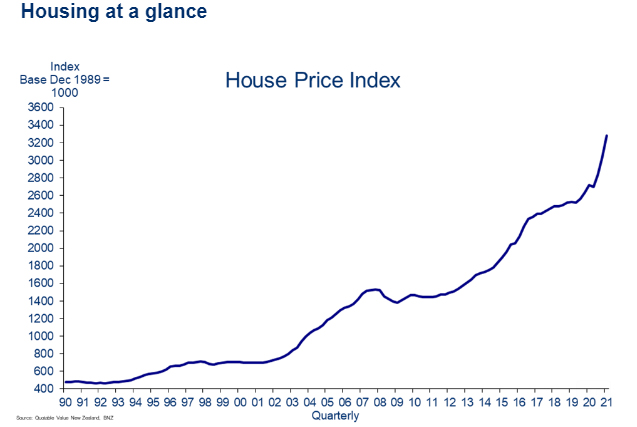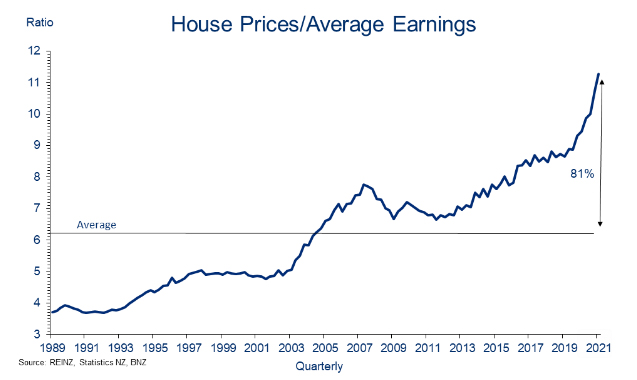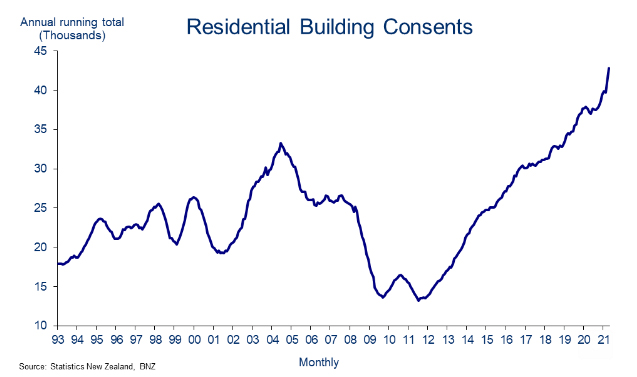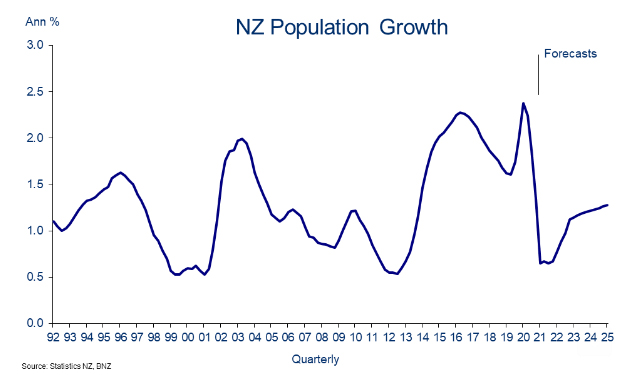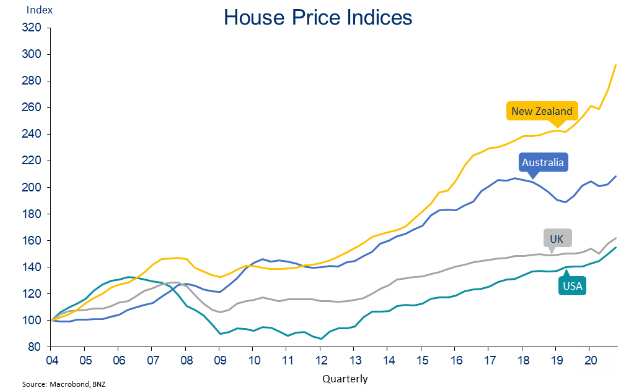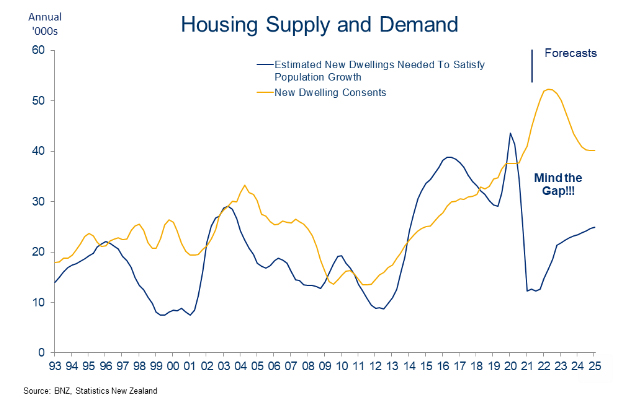 ---
Stephen Toplis is the Head of Research in the Institutional Banking division at BNZ. He is based in Wellington.