Worries about global growth weigh on NZ dollar around 70 USc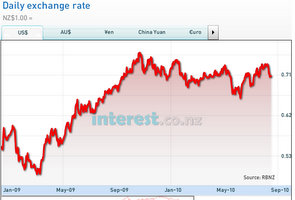 By Mike Jones*
The NZD/USD has spent the past 24 hours trading choppily inside a 0.7000-0.7100 range. For the most part, the NZD/USD spent the night tracking gyrations in global risk appetite as investors' outlook for the global economy swung between optimism and pessimism.
The mood was soured initially by yesterday's terrible Japanese GDP figures. Against expectations for a 2.3% annualised increase, Japanese GDP limped in at just 0.4% in June. Of note, the poor result means China leapfrogs Japan as the world's second largest economy.
With the softer data aggravating global growth concerns, investors sought refuge in "safe-haven" currencies like the JPY and USD, initially pushing the NZD/USD down to 1½ month lows around 0.7000. However, the NZD/USD didn't hang around these lows for long. A plunge in global bond yields (see opposite) boosted the relative yield advantage of the NZD.
This, combined with a modest recovery in equity markets and risk appetite, helped the NZD/USD recoup its early losses. It's worth noting, NZD/USD "fair-value" as estimated by our short-term valuation model fell over 2% last week. Based on the current combination of NZ commodity prices, NZ-US 3-year swap spreads and risk appetite, the model currently suggests a short-term "fair-value" range of 0.7050-0.7250.
This suggests any bounces in NZD/USD towards 0.7250 will be short-lived in the near-term. Looking ahead, we suspect this week's selection of largely second-tier local data will cast little influence over the NZD.
Offshore, it's a fairly quiet week for event risk as well, albeit with plenty to watch across the Tasman for RBA watchers. Yesterday, we said a convincing break through support at 0.7030 would suggest a deeper pull-back towards 0.6800-0.6900 is on the cards for the NZD/USD.
With the dip towards 0.7000 having proved short-lived overnight, we suspect more rangy trading in NZD/USD is likely today.
Keep an eye on the August RBA Board minutes due at 1:30pm (NZT).
Majors
A further fall in US bond yields dragged the USD lower against most of the major currencies overnight.
Yesterday's undoubtedly disappointing Japanese GDP figures added to mounting concerns the global economy is entering a slowdown phase, bolstering demand for "safe-haven" assets. Japan's GDP grew at an annualised pace of 0.4% in Q2, well shy of the 2.3% analysts had expected. Perversely, the JPY actually climbed in the wake of the data, owing to its "safe-haven" status. USD/JPY fell from 86.20 to below 86.00. Other safe-haven currencies like CHF and the USD also headed higher.
Along with renewed demand for "safe-haven" assets, market chatter weak global growth could eventually give way to outright deflation saw global bond yields continue to slide. US 10-year government bond yields slipped a further 9bps to 2.58% – the lowest since March 2009.
Japanese 10-year bonds fell to 7-year lows and German 10-year Bunds were down 5bps to a fresh all time low of 2.3%. US data continued its recent lacklustre tone.
The NAHB housing market index revealed home builder sentiment fell for a third straight month in August to a near 1½ year low (13 vs. 15 expected), and the New York Fed's Empire Manufacturing index similarly undershot expectations (7.10 in August vs. 8.00 expected).
Expectations US economic momentum is slowing faster than elsewhere, not to mention tumbling bond yields, saw investors add to USD short positions.
USD/JPY finished the night around 1% weaker at 85.30, while EUR/USD climbed from around 1.2760 to above 1.2800.
Investors are now cautiously awaiting a rumoured meeting between Japanese PM Kan and BoJ Governor Shirakawa for possible hints on whether intervention to weaken the JPY is likely.
A mild recovery in risk appetite and equity markets late in the session also encouraged investors to ditch the USD in favour of 'growth-sensitive' currencies like GBP, AUD and NZD.
After a weak open, the S&P500 clawed back to finish around unchanged for the night, and the VIX index (a proxy for global risk aversion) managed to end the night lower. Contributing to the less pessimistic mood, the ECB revealed it had kept its government bond purchases roughly unchanged at €10m last week, despite market chatter about it buying Irish bonds.
Looking ahead, tonight's US housing data for July and the August German ZEW survey will provide the next checks on the underlying pace of global activity. Near-term support on the USD index is seen on dips towards 82.2. Initial resistance will be found towards last night's 83.00 high.
* Mike Jones is part of the BNZ research team. 
All its research is available here.