Why housing is still the safest investment option for most people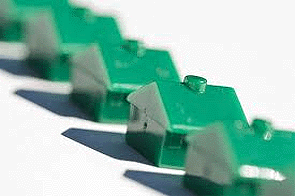 By Olly Newland
Hopefully all of you were untouched by the recent events surrounding South Canterbury Finance - let alone all the other finance houses that have collapsed over the last few years.
These events are a nightmare, even to witness.
As details painfully slowly emerge it quite takes your breath away to learn of the shonky lending and the unbelievable decisions made by these supposed leaders of finance.
Despite the unending use of high-powered computers, and access to top accountants, economists, lawyers coupled with bottomless pockets, they still got it wrong.
I have had to deal with many clients who have been caught by the fall-out of some type or other, either directly or indirectly, and upon hard examination we almost always find that something that can be done to lessen or sometimes completely solve any unintended consequences.
Dealing with a problem directly and not burying your head in the sand, will almost always find the solution. Life has taught me that the thinking is almost always worse than the doing.
Taking control of your future
Now is the time to take responsibility for your own financial future and stop relying on others taking your hard earned money and making crazy decisions with it.
The last five decades full time in the property business has proved to me one thing for sure:
Investing in land and buildings are, in the long term, the only sure way to go.
I take comfort from the fact that what worried me five years ago doesn't worry me now - so in five years I won't be worrying about what is happening today.
You too can take this attitude and derive some comfort from the thought - but action is still required. The alternative is to remain sitting - staring at the wall - doing nothing and letting events roll over you.
Developers v investors
Just to be make myself clear: I am referring to investment in existing income producing real estate and NOT development projects.
Many people get the two confused.
Property development is the highly risky speculation of digging a hole in the ground and erecting a building on it in the fervent hope that maybe one day it will sell for a profit.
This notion was the Achilles heel of finance companies and the prime reason for their collapse and subsequent massive financial losses.
To learn about the loony dreams of property developers makes one gasp and one's eyes to widen.
You would think that New Zealand has the population of China, with millions seeking homes when in reality, as I have said before, New Zealand is only Fiji on Steroids.
We must accept that fact and make the best of it and instead enjoy the benefits of living in a clean green country where every one can go to the beach and the air is fresh all year round. (Those of you who have been to main urban centres overseas will know what I mean.)
Property investment, on the other hand, is the almost risk free art of carefully researching and purchasing an existing income producing asset - in effect buying a business supported by bricks and mortar.
Land and buildings do not run away.
They cannot be stolen.
They will generally be under your total control.
Nobody can cheat you out of them.
They provide the hope of capital growth over time.
And better still they will produce a secure, albeit modest income 52 weeks a year, mostly, every year, forever.
Now is the time to consider buying sound income producing, property whether residential or commercial, to secure your future and that of your children and grandchildren. I'm serious ( and I'm not trying to sell you a property!)
The heady days of buying anything and watching it shoot up in value are over. Now you must create your own wealth.
To do this successfully requires some learning. I have been educating and advising people on the subject for decades and derive enormous pleasure when I still get Xmas cards and greetings from people I helped over 30 years ago.
My first book on property investment was 'The Coming NZ Property Boom' (1978) remains a collector's item to this day.
This was followed by a few more books on the subject all of which were very successful, some out of print, sadly.
Why The Reserve Bank has got it wrong
While I respect the credentials of the Governor of the Reserve Bank Dr Alan Bollard, I do believe he has got it wrong in putting up interest rates while the economy is still so fragile. (On its knees, some say, gasping for breath, like a punch-drunk boxer.)
He is equally wrong when he extorts us to save more and spend less (the Minister of Finance Bill English says the same).
The problems with this theory are:
a: The vast majority of us can't save because we are a low wage economy.
It only needs a set of tyres for the car, and urgent dental job, or new clothing for the kids to blow any chance of saving out of the window.
b: If everyone saved, hundreds if not thousands of businesses would immediately go out of business. It is spending by us that keeps businesses going.
If we don't spend all we do is to put ourselves straight into the unemployment queue.
c: To take it to its logical conclusion if savings are the answer, then banks will become stuffed with money and borrowing will stop resulting in a threat to the banks of going broke.
If no one borrows because they do not want to spend then what other outcome can there be?
Banks make their profit by taking in money and then lending it out again for a profit.
(d: Buying houses contrary to what Messrs Bollard and English say - provides jobs and work to tens of thousands of carpenters, plumbers, painters etc.
It is no wonder that unemployment is rising as these gentleman and some myopic cheerleaders run the property market down.
People being frugal is a sure fire way of creating joblessness. We can see this happening before our very eyes right now today.
While it is heartening to learn that exports are growing well, does that mean the 'trickle down' effect will benefit us all? Somehow I doubt it.
Time and again we have seen the disconnect between farming and exports and the rest of the economy. Many times we have seen farming on its nose while the rest of the economy is booming, and vice versa.
And even if exports do help, will they replace the financial losses that tens of thousands of Kiwis have already suffered? Will exports bring back the thousands of legitimate businesses that have gone under or gone offshore? Will those who lost their homes through mortgagee sales or the leaky homes disaster, suddenly be given new homes?
I doubt it. The scars will remain for decades whatever exports manage to achieve.
While I derive great heart from the good export story, too many times have I seen it fizzle out through the effects of drought, floods, exchange rate distortions and politics.
Let us hope this time it will be better -- but the jury is still out.
A developer's story
Much as I think that all developers are out of their minds doing what they do, I do concede that developers are necessary to build homes in an orderly manner to house the increasing population and replace houses that have worn out or been demolished.
One of my developer friends (who by the way, is irritatingly sane) has just had an experience with a bank - the ANZ to be precise - that shows quite clearly how skewed the market has become.
My developer friend had a very large sum of cash on deposit after 20 years of successful developing.
He found an ideal section on which to build two good homes in the $1.5 million dollar range (for Auckland that is nothing unusual). He approached his bank with whom he had been from the very beginning seeking a small mortgage to complete the task.
He was putting up $1.5 million of his own cash, and needed a mere $750,000 from the bank to get started. The ANZ turned him down.
Why?
Because he needed a 'take-out' - in other words a 'pre-sale' before he turned the first sod. The Bank would only lend if he had a buyer lined up before hand.
My friend turned the bank down as this method of developing was not his style and he has now 'retired' for the duration.
In one blow the bank deprived the market of millions of dollars that was going to spent on timber and house building materials, and further deprived the market of scores of jobs for the suppliers and work force.
Instead they now pay him interest while he does nothing.
Now you know why we have a recession and why getting out of it will take such a long time so long as this sort of mind-set prevails.
A speculator's story
Just to show you that millions can still be made out of the market, this story comes from my recent files - and I must say I am mouthwateringly envious -- especially as I helped a client pull off a great deal as his advisor.
My client was a tenant in a large building from which he ran his business and was paying $150,000 pa. in rent - making the building worth a notional $1.75 million or thereabouts.
Some months before his lease came up for renewal, his (understandably) nervous landlord approached him seeking confirmation that his lease would indeed be renewed.
Under my guidance, my client refused to commit himself one way or the other citing the recession and business nervousness in general.
The landlord got very nervous indeed as the thought of losing $150,000 a year loomed ever closer.
My client then found another investor who was looking for a good property, so my client entered into a deal with that investor that said in essence that if that investor bought the building for $2 million then he, my client, would re new his lease for a further term.
Then my client went back to his landlord and said that he was seriously thinking of vacating, but if his landlord would consider selling the building he would buy it for $1 million and become his own landlord.
Faced with the threat of an empty building and no rent the landlord sold out at $1 million and my client promptly on-sold the property to the investor and picked up a cool $1 million profit during the process.
A nice little earner if you can do it and more importantly if you have learnt how to do it.
Alternative investment
If you study the history of the super rich one thing stands out. Almost without exception they all made at least a great part of their fortunes by investing in property. And that has always been the case.
We may never reach the giddy heights of these major players but we can earn a valuable lesson. If they think that property is a good part of their portfolio so should you.
We are constantly extorted to invest in a business, especially export. That's all very well but what are we to export?
New Zealand's main export is grass in one form or another and some among us are 'experts' in the cultivation of grass or its downstream products, such as meat and dairy.
Alternative investment is fine and should be a part of everyone's portfolio but grass is not every ones cup of tea.
It doesn't hurt to invest a little in the share market -- but do it yourself. The so-called experts are no better than monkeys throwing arrows at a dart board in a undisciplined guessing game.
Maybe a little more in local government stock or treasury bonds -- but be prepared for dismal returns and maximum taxation.
Then there is always gold, antiques, art and collectibles which are enormous fun, can make huge profits and you can sit and look at them, and enjoy the experience. Much better than a computer-generated summary and even better have no definite value and can often turn out to be bargains.
Watch this video on YouTube and ask yourself: 'Now doesn't that beat dry-as-dust investments?'
And as I said in one of my previous books, buy a little gold and put it away for the future.
When I wrote that, gold was around $400 US an ounce. Now look at today's chart here.
The maximum of your portfolio in alternative investment shouldn't exceed 10% to 15% because of its speculative nature. But, as the saying goes: 'If you don't speculate you can't accumulate.'
I can give you some hints on these subjects having been an avid collector for just as long as I have been in property and I am even considering writing a book on the very subject - aimed at investors and collectors who wish to diversify and have fun and make profits at the same time. Don't say I didn't warn you when art and valuables skyrocket as governments print more and more worthless money, debasing their currencies down towards zero.
The Latest Statistics
Despite the best efforts of the media and biased commentators the property market stubbornly refuses to buckle .
While it is true that sales have slowed, prices for houses in the most centres remain solid with the median price gently bobbing up and down within the margin of error.
A year ago empty headed analysts and sundry 'property gurus' were predicting massive falls in prices, catastrophic losses for investors and general mayhem all round.
They continue to be spectacularly wrong as predicted by me 18 months ago when I said that the market would stay more or less flat and would remain so for a year or two longer yet.
I confidently predict that that the market will remain flat until the shortage of houses in the main centres reach crisis point (hardly any one is building new houses remember).
You cannot have a moribund building sector and a growing population at the same time without something giving in the end.
And then the shortages (read: 'rising prices') begin:
Smaller towns and villages will have to wait a little longer -- as will the cheap noddy boxes in Nappyville pushed by the spruikers to the unsuspecting.
Even as early as now we can see the early effects of a shortage in housing with rents increasing - and this is only the beginning.
Rents have hardly moved for years and were well overdue for a catch up.
Invest for the future in nice inner city or suburban homes or popular bite-sized commercial properties and you will come to little harm.
We are creating the perfect storm with a witches brew of slow economy, a slower building program and even slower politicians who hearken to the Reserve Bank pointy heads instead of the experts.
Sooner or later we will see a repeat of 1979-81, 1984-87 and 2002-2007 as to everyone's surprise (and the mortification of the analysts) prices begin to move up again.
Hard to believe as it is, the next boom is not that far away.

Olly Newland
September 2010
www.ollynewland.co.nz
© 2010 Olly Newland. Used with permission.