Rising prices and falling asset values gives us biflation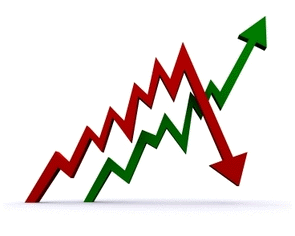 By Neville Bennett
I have mentally struggled with the inflation / deflation conundrum and have decided that the best working hypothesis for the future is "biflation" which explains how inflation and deflation exist simultaneously.
During biflation there is a rise in prices of commodity and earning-based assets and a contemporaneous fall in debt-based assets.
The global environment is flooded by money created by central banks. As many goods and services are essential, there remains strong demand for commodity-based goods: food, drink, clothing, gold, energy and infrastructure.
These goods attract high demand as there is too much money chasing them. Hence inflation.
At the same time, there is massive unemployment in the West, a change in taste towards frugality in consumers, and signs of mounting fiscal austerity. There is massive over-capacity in much manufacturing in the West. Consumers are also squeezed by debt servicing. As other bills rise, and confidence erodes, high end debt-based assets such as expensive jewellery, houses, even shares, lose attraction. Their price deflates as demand weakens.
Biflation's appeal
The concept aligns well with my inherent belief of a commodity supercycle, and that investment in commodities such as energy, food, and gold and metals should be part of portfolios.
The price of these has been increasing and no let-up is in sight.
Moreover, it is difficult to project a coherent view of the outlook without biflation, the simultaneous existence of inflationary and deflationary forces.
The alternative is to opt for one or the other, or perhaps suggest inflation phases will follow deflationary and then reverse.
These alternatives are not cogent.
As capitalism is a process of "creative destruction", there is always growth and decay. In modern states, IT and mining capabilities are growing while some industries are phasing out. Sometimes whole districts like Silicon Valley or parts of Australia are in a long boom (which creates inflationary pressures), whilst other districts are part of a rust belt with deflationary tendencies.
Biflation assists in understanding these market dynamics.
Deflation
Deflation has been a substantial part of the Japanese scene for a generation and it now appears that the US is vulnerable to the Japanese disease. Several members of the Federal Reserve voting committee have changed their position and now believe deflation is a possibility and have consequently voted in favour of more quantitive easing.
The best indicator is the bond market.
Through the earlier part of the year the market was indicating a recovery with a return to normalcy and realistic interest rates. The 10-year bond yield crept up to around 3.85%, but something went wrong, and the market reversed course in April falling to around 2.5%. The cause was the Greek Crisis.
Investors decided to quit the stock market. Small investors fled the market in droves. They felt that US Treasuries were the safest investment. This drove yields to levels previously thought inconceivable. The 2-year has dipped below 0.5%. Thus, many market participants thinks the future is deflation.
Small investors have pulled a staggering US$33 billion out of mutual funds this year. Since early 2008, Americans have invested US$559 billion in bond funds, and have pulled $235 billion out of equities. They have drastically rebalanced their superannuation 401(k) accounts from growth to conservative options.
The US already has collapsing housing and commercial real estate assets. It could look like Japan, where property also fell and the Nikkei dived from 39,000 to 9,200 presently.
The US situation changed in September when the Fed announced its QE2 package. Wall Street had its best months in history.
Inflation in New Zealand
Since 2000, inflation in NZ has been at a compound rate of 2.7% p.a. This is regarded as low, although it occurred at a time of the Great moderation and the Great Financial Crisis when international inflation was muted.
The Reserve Bank's Inflation Calculator shows how much fixed income people have suffered in a decade. The decline in purchasing power is 24%. The calculator also says that a basket of goods and services that cost $1 in 2000 now costs $1.32.
I wonder about the relevance of the basket of goods and services to households.
I notice that a lot of non-tradable services like rates and electricity are regularly much higher than the CPI. Rates increased by 8.3% in the September quarter yoy according to Alex Tarrant's story here.  I have also noticed a surge in food prices. My wife could give chapter and verse, but I have noticed that the outlay for a decent barbeque is astronomical. The Consumer Price Index may be cheated by changes in packaging. While a tin of beans might have been 450 grams they have been shrunk to about 300. The same has occurred for other items.
My reading of the outlook for households is for inflationary expectations.
The RBNZ will raise interest rates when it thinks their effect will not kill the recovery. Higher interest rates will translate into higher housing costs. Transport costs will definitely rise as oil supply is quite tight, but world demand is rising. Higher petrol prices are to be expected. Transport affects many other costs.
Clothing prices have been relatively cheap for some years owing to globalisation. But cotton has shot up in price, and sharp increases are in the pipeline. Bloomberg reported last month that Chinese clothing supply would increase by about 30% due to rising costs. Cotton futures have surged by 70% this year. 
My guess is that food prices will rise. This is quite complicated, and many readers will have expert views, but my impression is that fruit and vegetable growers are price-takers, and are beaten down by supermarkets. The growers will struggle with static prices but rising costs. Supermarkets may increase their profit margins. In the area of dairy and meat, it appears to me that prices are linked to international prices, and I expect an increase here. In groceries and beverages I expect increases, although competition may work in some areas like wine.
International push
Demand for food is rocketing world-wide.
There are many drivers. On the supply side, there is rapidly increasing completion for water, increasing transport and cultivation costs, uncompetitive seeds, competition for land from non-food crops (like cotton and bio-diesel) and rising land prices. Demand increase is also multi-causal, but I would pick the demand of the burgeoning middle-classes in the emerging countries as a prime mover.
US farm prices have had their biggest increase in a generation. Cotton surged 76% and wheat by 48%. The S&P GSCI Index added 27%.
Elsewhere, tea and coffee prices are going through the roof.
There is tremendous investment in mining and infrastructure which is very inflationary. Oil, coal, metals, fertiliser, lumber have enjoyed huge price rises and industries improving future supply are having to pay hefty prices for labour and materials to overcome bottlenecks. This Financial Times article gives a good impression of an inflationary commodity boom coming our way. 
--------------------------------
* Neville Bennett was a long-time Senior Lecturer in History at the University of Canterbury, where he taught since 1971. His focus is economic history and markets. He is also a columnist for the NBR.
neville@bennetteconomics.com