Here's my Top 10 links from around the Internet at 10:00 am today in association with NZ Mint.
Bernard Hickey is on vacation and won't be back until early May.
I welcome your additions in the comments below or via email to david.chaston@interest.co.nz. I am especially keen to get your suggestions for suitable cartoons. If you notice a really good one, please email me.
See all previous Top 10s here.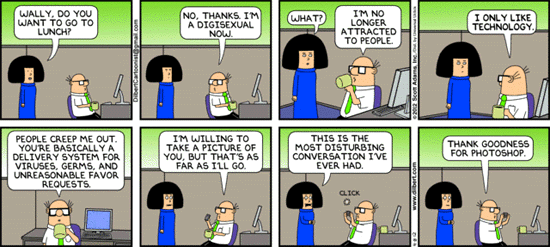 1. 'The greatest transfer of wealth in history'
In one night, an American company had all of its data from a 10-year, US$1 billion research programme copied by hackers. They were probably Chinese, and probably in the employ of the Chinese government. But the Americans have given no agency the power to counter the threat - it's currently up to individual firms to protect themselves from foreign attack. The US Congress won't act.
Yet the same Congress that has heard all of this disturbing testimony is mired in disagreements about a proposed cybersecurity bill that does little to address the problem of Chinese cyberespionage. The bill, which would establish noncompulsory industry cybersecurity standards, is bogged down in ideological disputes. Senator John McCain, who dismissed it as a form of unnecessary regulation, has proposed an alternative bill that fails to address the inadequate cyberdefenses of companies running the nation's critical infrastructure. Since Congress appears unable and unwilling to address the threat, the executive branch must do something to stop it.
2. What Jesus said about capitalism
Most churchgoers see no great conflict between their beliefs and life in a market economy such as ours. But proponents of the little-known "Sabbath economics" argue Christ's teachings have been reinterpreted over the centuries to make them fit with modern capitalism. 
"God's people are instructed to dismantle, on a regular basis, the fundamental patterns and structures of stratified wealth and power, so that there is 'enough for everyone.' " Ross Gittins from the Sydney Morning Herald explores the ideas.
''Privately controlled wealth is the backbone of capitalism,'' Myers says, ''and it is predicated upon the exploitation of natural resources and human labour. Profit maximisation renders socio-economic stratification, objectification and alienation inevitable.

''According to the gospel, however, those who are privileged within this system cannot enter the kingdom. This is not good news for first-world Christians - because we are the 'inheritors' of the rich man's legacy.

''So the unequivocal gospel invitation to repentance is addressed to us. To deconstruct our 'inheritance' and redistribute the wealth as preparation to the poor - that is what it means for us to follow Jesus.''
3. How Beijing chooses its leaders
The ousting of Chongqing boss Bo Xilai was 30 years in the making - a long, sordid tale of elite families and factions vying for the soul of the Chinese Communist Party.
Until last month Bo appeared to hold the cards, with his networks of princelings - the children of high cadres - and the gravitational force of his "Chongqing Model" pulling the nation toward him, while Wen's efforts had produced few practical results.

Bo earned his reputation as a rising star until Feb. 6 when his police chief and right-hand man, Wang Lijun, drove to an appointment at the local British consulate to shake his official minders and then veered off and fled for his life down the highway into the U.S. Consulate in Chengdu. He carried with him allegations of sordid tales of Bo family criminal behavior including in relation to the death of British businessman Neil Heywood, according to Western government officials.

In Beijing's eyes, this was the highest-level known attempted defection in 40 years, and it occurred on Bo's watch. Wang "betrayed the country and went over to the enemy," said President Hu Jintao, according to a Chinese intelligence official.
4. Brazil's economy slowing fast
Brazil is a leading member of the now-famous BRICs group of nations - a group that is supposed to be a fast-growing key segment of the global economy, one that will pull the dormant west out of its funk. But things are not going great for Brazil.
It's the seventh largest economy with a population of 192 million. However it only created 20,000 jobs in February (the latest data available). In contrast, the US with its 313 million population created 240,000 jobs in February, although that figure was halved in March. Still, the US numbers show how far behind Brazil really is.
According to the IBGE, the areas which suffered the biggest reductions were truck and automobile production, mining and quarrying (iron ore), textiles, apparel and basic metals. Employment statistics in the sector also confirm the downward trend.

According to data from the General Register of the Employed and Unemployed (CAGED), Brazil created just 19,609 new manufacturing jobs in February – a third of the number created for the same period last year – dragging the overall number of new jobs added across all sectors in February 2012 to the lowest levels in three years.
Acclaimed President Lula hasn't left a great legacy, it seems. (For comparison, NZ's employment data for Q1 won't be released until May 3, but in 2011 we generated 3,000 new jobs per month on a population of 4+ million - which interestingly is at about the same rate as for the US.)
5. How we spend
Actually, this item is about how Americans spend, but it is kind of unexpected and I wouldn't be too surprised to find similar data for New Zealand. Let me know if you are interested in equivalent local changes and I will look into doing that comparison. Click on the infographics here because that is where the good stuff is.
But such figures yield a surprising picture of how our economy works - and how it's changing. We take for granted, for instance, our much-discussed drift away from manufacturing. Advances in technology and education have created massive productivity gains, which have made things cheaper and easier to obtain. Consider necessities like food and clothing, which gobbled up 42% of our spending in 1947. Six decades later - even in the face of exorbitant spending on frivolities like high-end coffee and designer clothes—food and clothing accounted for only 16% of spending.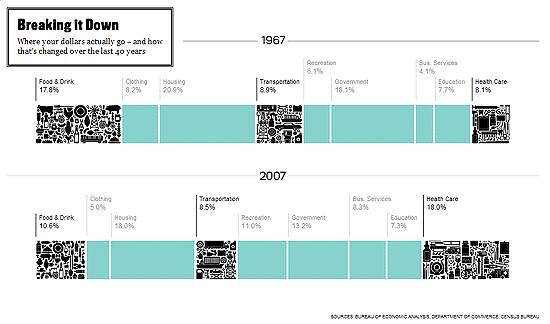 6. The Limits to Growth
When I was doing my MBA (way, way back in the late 1970s in San Francisco), the curriculum was full of the hot issue of that decade, the coming ecological, environmental, and population disasters. Malthus ruled. And I was convinced - all the way till I read Bjorn Lomberg but that's another story.
At that time, Rachel Carson's Silent Spring, and the Club of Rome's The Limits to Growth (Meadows et al) were central to the debate. But the core arguments in those original works are being rehabilitated and tested. The Smithsonian Magazine reports:
Recent research supports the conclusions of a controversial environmental study released 40 years ago: The world is on track for disaster. So says Australian physicist Graham Turner, who revisited perhaps the most groundbreaking academic work of the 1970s, The Limits to Growth.

Written by MIT researchers for an international think tank, the Club of Rome, the study used computers to model several possible future scenarios. The business-as-usual scenario estimated that if human beings continued to consume more than nature was capable of providing, global economic collapse and precipitous population decline could occur by 2030.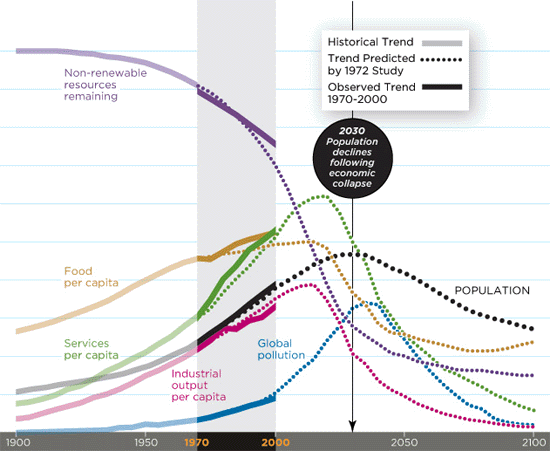 7. Australian fantasy
Australian policy on housing affordability is trapped with middle-class welfare. Like us, they have a big problem with unaffordability. But they won't do the obvious and necessary stuff.
The new Housing Minister Brendan O'Connor told the conference he was there to take suggestions about how to tackle Australia's housing affordability problems.

He said the Government needed to explore future options "with an opening and enquiring mind".

But his open mind closed quickly when it came to the question of reducing negative gearing and capital gains tax concessions.

"The fact is that there are some things that the Government will not, at this point, consider," he said.
It's a federal Labor government that has lost its way and connection to its constituency. They won't change a system where "the biggest benefits go to high-income households, lowest benefits go to lower-income households."
8. Nice weather as an 'extreme event'
When it comes to 'climate science', even good weather is bad. Presumably bad weather is really bad. We now all seem to hanker for a time when the weather just didn't change.
While it might be time to lie on a blanket in the park, climate scientists are worried. They say all these sunny days are actually an extreme weather event, one with local and global implications.
9. Japan guzzles more gas
To make up for its dwindling nuclear supply, Japan - the world's third largest economy - is on a frenzied but costly hunt for fossil fuels.
In recent months, to fill the void, Japan's imports of LNG, crude oil and heavy fuel oil have increased by 15 to 30 percent, compared with comparable periods before the disaster. A recent Deutsche Bank report calculated that Japan's power generation costs in February were $1.9 billion higher than during a typical month in which nuclear plants were in operation.

"The cost of generating electricity from oil is so far above that of nuclear," the report said, "that at some point the economics are likely to become a more important consideration in the ongoing political debate in Japan over whether, when, and by how much to start returning idle nuclear capacity to the grid."
10. The last laugh
Another cracker from John Clarke and Brian Dawe. How the Australian Labor Party is managing the threats to its wafer-thin majority.