Here's my Top 10 links from around the Internet at 10:00 am today in association with NZ Mint.
Bernard Hickey is still on vacation, but he will be back on Thursday.
I welcome your additions in the comments below or via email to david.chaston@interest.co.nz.
I am still keen to get your suggestions for suitable cartoons. If you notice a really good one, please email me.
See all previous Top 10s here.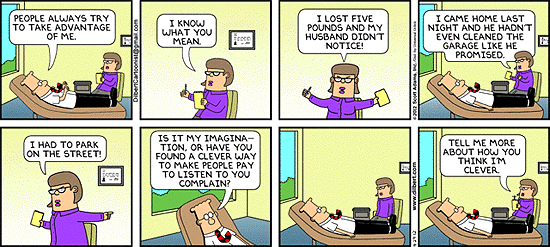 1. 'We're not just any country: we can change the situation'
The French-led counter-attack and rumblings of revolt through every branch of the EU institutions last week have brought the Merkozy phase of the eurozone crisis to an abrupt end. "It's not for Germany to decide for the rest of Europe," said François Hollande, soon to be French leader, unless he trips horribly next week. Strong words even for the hustings. "If I am elected president, there will be a change in Europe's construction. We're not just any country: we can change the situation," he said.
European allies are flocking to his cause from left and right, he claims. Not even Austria supports Germany's austerity drive any longer. Ambrose Evans-Pritchard reviews the fast-changing landscape in the eurozone:
This then is the birth of a Euroland growth bloc with well over 200m people and a commanding majority vote in the European Council, a defining moment in this saga. Mario Draghi at the European Central Bank is quickly bending to the new political dispensation with calls for a "Growth Compact". The Commission - liberated at last - is finding ways to "extend deadlines" on fiscal targets.
2. Euro's fate hinges on austerity in Madrid
Spain in recent days has taken center stage in the euro crisis. The country's banks are threatened with collapse and the government in Madrid has not been successful in efforts to get the national budget under control. Will the country be forced to request aid from the euro bailout fund? Germany's Spiegel has a handy review, but it is scary reading:
Spain's banks are widely regarded as time bombs, with portfolios of volatile loans on their balance sheets that could explode at any time. The country is sliding deeper into recession and international financial investors are slowly but surely withdrawing. Last week, the government in Madrid succeeded in selling new bonds on the markets. But the yields for these 10-year sovereign bonds are currently running at a crisis level of roughly 6 percent.

The fate of the monetary union currently depends on Spain's austerity policies. The experts in Brussels are convinced that if the country seeks aid from the rescue package, the crisis will reach the next escalation stage.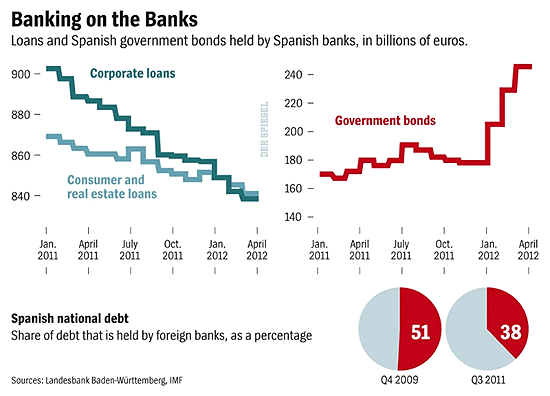 3. 'We need tax cuts'
Britain is back in recession. The wisdom of austerity is being debated as vigorously there as elsewhere in Europe. There is an election imminent in London for their "Lord Mayor". The incumbent, an engaging Conservative toff named Boris Johnson is widely expected to win handsomely, beating off for a second time a left-wing rival, Ken Livingstone. What makes it interesting from this far-away is that Johnson is calling loudly for tax cuts and spending cuts - so loudly in fact, he is aiming some of his barbs at the UK government. It looks like a winning campaign. More from the UK Telegraph:
The mayor sends a clear signal that he believes in a low-tax economy for all groups of voters, with the emphasis on lower council tax and pro-growth policies to help business.

"I certainly think London needs to be tax competitive," Mr Johnson says. "I've got to look what I can do to bear down on people's expenses … We have frozen council tax over four years, we'll have cut it by 10 per cent in the next four years."
4. Tailing off in Auckland
An obvious measure of how well the construction sector is doing is building consents - and these were at two year highs in March. But another measure is readymix concrete production, and that was not looking good at all for the Auckland region, the first of this regional data released. Consented projects don't all get built and you have up to two years to start. The concrete stats are a better current barometer. They don't look good: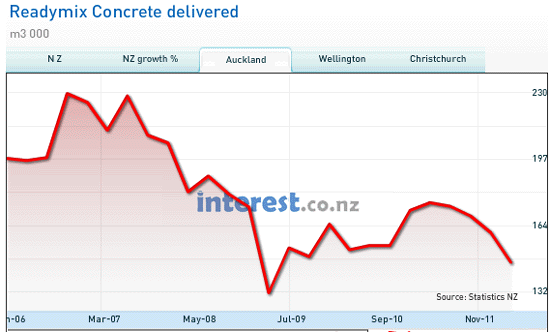 5. NAB can't sell its struggling UK business, so its retrenching there
It's a AU$700 million-plus retreat to Scotland and the north of England for National Australia Bank as chief executive Cameron Clyne turns his back on his predecessors' grand UK expansion. That's the outcome of a two-month review of NAB's British adventure, which has been hurting the Australian bank with a decade of poor returns. The Sydney Morning Herald has a useful summary:
The move will lead to the closure of dozens of branches in the south of England, shut down commercial lending and cut as many as 1400 staff there.

 It will also see NAB focus on its so-called heartland markets in Scotland under the Clydesdale banner and in the Yorkshire region as Yorkshire Bank.

NAB has tried to make the best of a bad situation with the UK and had been keen to engineer a sale. And with the bank battling the worst economy since the Second World War, including slipping back into recession, there is little prospect for a near-to-medium term turnaround.
6. "It was not until after the crash that everyone saw it coming"
An Icelandic court has ruled that former Prime Minister Geir Haarde was guilty of one charge related to negligence in connection with the country's financial meltdown in 2008 but gave him no punishment. Haarde was found guilty of failing to hold dedicated cabinet meetings ahead of the crisis. But he was cleared of the three major charges, including neglecting to deal with an overblown banking sector.
7. Saving $250 mln per employee
This is from the "It's not news, but it should be" department: large international tech companies use tax laws to minimise the tax they pay.
Hardly anyone will be surprised. Outrage leaked away a decade or so ago. But the New York Times has managed to piece together a story about how Apple works its tax arrangements. Perhaps its only relevant because of the sums involved: Apple pays a paltry US$3.3 billion in income taxes. If it paid the same rate as most other US companies (24.5%) it would pay $8.3 bln - so a small office in Reno, NV is highly effective; 20 people save them US$5 bln.

8. We have negative effective income taxes for some low-paid people
New Zealand is one of the OECD countries with the lowest tax burden on labour income and one of the two OECD countries, together with Australia, that do not levy compulsory social security contributions. Between 2000 and 2011, the average tax wedge (income taxes plus employee and employer social security contributions minus cash transfers as a percentage of total labour costs) was considerably below the OECD average for all households analysed an OECD Taxing Wages report.
In 2011, the tax wedge was 27 percentage points below the OECD average for average one-earner couples with 2 children; the lowest tax wedge rate among OECD countries.
If you are single and on the average wage, Chile is where you will pay the least tax on your income - 7% (NZ = 15.9%). Spare a thought for for single workers in Belgium, Germany and France where basically half their wages are taken in income taxes. (Sounds like 19th century indentured workers to me, where everyone had to shop at the "company store". No wonder they get grumpy.)
New Zealand single parents earning 67% of the average wage faced a tax wedge that was 35 percentage points below the OECD average. The tax wedges for these households are actually negative, which means that the cash transfers they receive exceed the taxes they pay.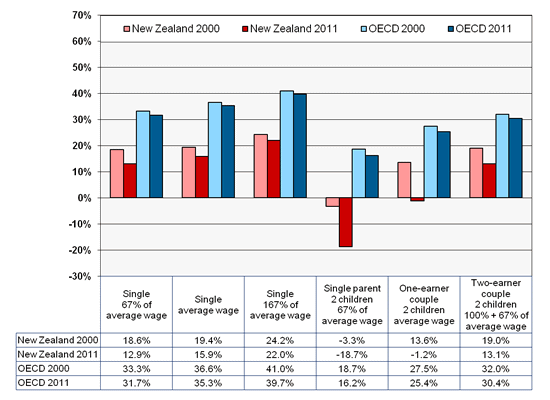 9. Dealing with inequality
I lived in the US for many years - 15 in fact. An old TV debate program I loved was CNN's Crossfire. Curmudgeon Pat Buchanan "on the right" and Michael Kinsley "on the left". Now Kinsely is a columnist for Bloomberg and he has been thinking about how to deal with wealth disparities. In his latest column, he uses the two bridges crossing Lake Washington in Seattle. Now Seattle was a city I lived in for a few years and I know it well.
One bridge attracts tolls (the 520), the other doesn't (the I-90). One is jammed, the other flows freely. He not only ponders the economics of this, but the social implications too:
But the big problem with the new toll is that it is another small chipping way of our shared life as citizens, and another area where money makes the difference. It used to be that no matter how rich you were, there were some things you could not buy your way out of. Rush-hour congestion was one of them. The law, in its majesty, allowed rich and poor alike to get stuck in traffic. I once heard Steve Ballmer, chief executive of Microsoft and worth many billions of dollars, talking about his strategy for outfoxing the dread 520. (I tried it. It didn't work.)

As explained by philosopher Michael Walzer, and somewhat more entertainingly by my friend Mickey Kaus, there are two ways to deal with wealth and income inequality (if it bothers you, that is). One is to reduce it, through the tax system. The other is to make money less important. Create national parks, open to everybody. Restore universal military service. And so on.

By this way of thinking, the two bridges side-by-side, one costly to use and one free, constitute a small step backward, toward making money more important. You might say: Wait a minute. What if there already was a toll on both bridges, and it was lifted on one so that people willing to put up with crowds could go across free? That wouldn't seem iniquitous, would it? But it's the same thing, really.

And I would say, Great point! Let's continue this discussion over a drink downtown. And you would look at your watch and say, It's too late. We'll never make it across the bridge before dinnertime.
10. The last laugh
Thought I would try an animated cartoon from The New Yorker.