Here's my Top 10 links from around the Internet at 2 pm today in association with NZ Mint.
As always, we welcome your additions in the comments below or via email tobernard.hickey@interest.co.nz.
See all previous Top 10s here.
My must read today is #6. I love a good Mr Creosote analogy.
1. Hoarding cash - FT Alphaville reports on a note from the National Bureau of Economic Research showing large US multinationals have more than doubled their cash holdings as a percentage of assets to 12% over the last decade.
The big question is: why aren't they investing it in new production/hiring/resarch (or giving it back to shareholders)?
This is one of the mysteries of the global financial crisis.
Why is all this cash being hoarded?
How can it be mobilised?
What happens if these companies won't or can't invest it in new capacity? The world has a problem where increasingly multinational firms (who often don't pay much tax) are taking a larger and larger share of the income pie and hoarding it in government bonds and guaranteed deposits. The cash is not circuulating to workers to consume or to other companies to pay for new capital goods. It's just sitting there, pressing down on interest rates.
2. Tensions in China - The New York Times reports on growing tensions between politicians and generals in China.
The details are extraordinary and unsettling. HT Bill Bishop.
During a holiday banquet for China's military leadership early this year, a powerful general lashed out in a drunken rage against what he believed was a backhanded move to keep him from being promoted to the military's top ruling body. The general, Zhang Qinsheng, vented his fury in front of President Hu Jintao, according to four people with knowledge of the event. At the banquet, he even shoved a commanding general making toasts; Mr. Hu walked out in disgust.

The general's tirade was one of a series of events this year that have fueled concerns among Communist Party leaders over the level of control they exercise over military officials, who are growing more outspoken and desire greater influence over policy and politics.
3. China's weapons of mass (financial) destruction - Further to the excellent Reuters report on 'Golden Elephant No 38' I linked to in Tuesday's Top 10, the Globe and Mail reports on the explosive growth of China's WMPs (Wealth Management Products).
This is not going to end well.
Some China-watchers see a striking resemblance between these risky syndicated loans and the mortgage-backed securities that caused the U.S. financial crisis. Collateralized debt obligations (CDOs) bundled together mortgages and other debts, then sliced them into tiered levels of debt to appeal to different buyers, many of whom had little idea of what they were purchasing.

"Like in the United States, these [wealth management] products ultimately maximize lending to the property market," writes Andy Xie, an independent economist formerly with Morgan Stanley. "The [packaging] techniques are really marketing ploys to suck in financial investors with [the appearance of] low risk. I'm afraid something bad will happen in this market soon."

Wealth management products appeal to the average Chinese saver because the country's government has kept interest rates artificially low to spur the nation's economy. Bank deposits typically pay 3 per cent interest, far below the 6 per cent rate of inflation. In contrast, wealth management products pay 6 to 8 per cent a year.
4. They should know - Slate's Matthew Yglesias reports Brazil's central bank staff are going on strike because they say their wages are falling behind inflation.
Irony aside, the broader issue here is that on the one hand the Brazilian government is trying to reduce the amount of inflation in the economy while on the other hand Brazilian public employee unions writ large are trying to get higher wages in order to stay ahead of inflation. If they get their raises, it'll be that much harder to contain economy-wide inflation. But if inflation isn't controlled, it'll be that much harder to contain militant labor action.
5. Unintended consequences - The New York Times reports on how a UN plan to reduce damage caused by a particularly nasty form of greenhouse gas (HFC 23) used in the production of air conditioning coolant has instead encouraged even more production of other dangerous greenhouse gases. HT @samfromwgtn
Since 2005 the 19 plants receiving the waste gas payments have profited handsomely from an unlikely business: churning out more harmful coolant gas so they can be paid to destroy its waste byproduct. The high output keeps the prices of the coolant gas irresistibly low, discouraging air-conditioning companies from switching to less-damaging alternative gases. That means, critics say, that United Nations subsidies intended to improve the environment are instead creating their own damage.
6. Yum cha economics - Michael Feller writes well at Macrobusiness.com.au about China's strangely mixed economic model and what might happen next. He seems to like writing about food.
China's shadow banking system – made up of under-regulated wealth management firms, opaque trust companies, local government investment vehicles, commodity-collateralised loans and informal credit networks – hosts a huge amount of off-balance sheet debt, economist like Pettis affirm, and the rescuing of these liabilities by China's government may eat up the resources that would otherwise be deployed to stimulus; a concern also expressed by Tsinghua professor Patrick Chovanec on Bloomberg television recently.

Further, China has challenges that Europe and America either don't have or are already in the process of solving. China is a poor country with rich-world levels of resource dependency. China is also a relatively unequal economy with few social safety nets and a degree of environmental degradation that even Dickens or Blake would find difficulty in comprehending. Finally, its centralised and undemocratic political economy – for all its abilities to make quick decisions and generate rapid results – is vulnerable in an age of social media and globalised youth culture. As Japan found before Meiji or Russia before Glasnost, the Great Firewall of China cannot keep the world out or the Chinese in forever.

For as much as China has enjoyed economic policy flexibility, as Singapore-based academic Gang Chen has written, it suffers from social policy paralysis. And although optimists can point to a kind of reform by stealth – including attempts to devalue the Yuan or relax controls in the capital markets – China is still ultimately pursuing rescue rather than rebalance and for as long as one part of the policy dynamic remains rigid, flexibility in the other part will count for less. Small, trade-based economies like Singapore and South Korea may have been able to achieve this balancing act (though not without their share of crisis too), but it is unlikely that China will be able to do so forever.

With yum cha economics and plenty of liquidity to wash it down with, China is likely to stimulate where Europe and America fear to tread, meaning that growth in Asia will continue for at least another year. But like Monty Python's Mr Creosote, the voluminous quantities of caviar, quails eggs, jugged hare, Chateau Latour and Grand Mariner may work for a while, but if offered a wafer-thin mint at just the wrong time, it could all blow up.
7. Divisions in Germany - FT.com reports there may be a rift opening up between the Bundesbank and Angela Merkel's coalition government over whether to support ECB bond buying and ultimately form a Euro-zone fiscal union. It also reports there are also gaps opening up inside the coalition. This is crucial because Germany will decide the future of the euro. The common currency needs the Germans to guarantee everything for it to survive. The trouble is the German public are in no mood to do it.
Battle lines are opening between the leading political parties in the country over the need for the largest economy in the eurozone to play a more generous role in supporting its debt-laden partners, as the main contenders seek to break a stalemate in the polls 13 months ahead of next year's general election.

The Social Democratic party has floated proposals for a European fiscal union that would require changes to the German constitution, ratified in a referendum, in exchange for the introduction of jointly guaranteed eurozone bonds or some other form of German-backed debt.

The liberal Free Democrats and the Christian Social Union, the two junior partners in the centre-right coalition government of Angela Merkel, German chancellor, have countered by issuing stark warnings against plans for the European Central Bank to return to buying sovereign bonds, in order to reduce interest rate spreads for countries such as Spain and Italy.

They have denounced Sigmar Gabriel, SPD leader, as a "danger to society", hell-bent on introducing "debt socialism" by making German pensioners and other taxpayers finance the borrowing of its spendthrift eurozone partners.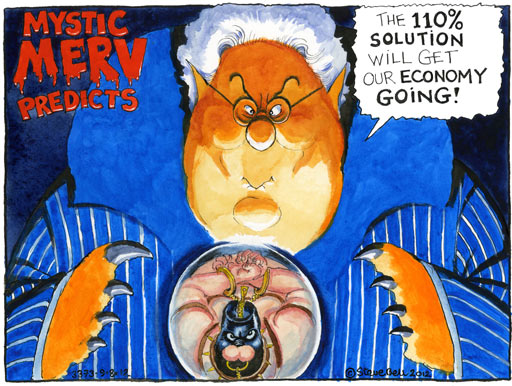 8. Caterpillar starts exporting Chinese-made equipment - Reuters reports Caterpillar's sales of Chinese made construction equipment are so weak it has started trying to export them to the Middle East. This isn't a good sign the Chinese construction sector is ramping up investment, as many had hoped would happen again.
9. A chart for everything - I love this one from The Economist on the average times of 100 metre sprinters over the last 120 years or so. It puts Usain Bolt's amazing efforts into context.
10. Totally Jon Stewart on Mitt Romney's amazing deal for Bain and Co in Italy. Bain bought yellow pages company PagineGialle from the Italian government and sold it two years later for 25 times more. It seems he then funneled the profits through Luxembourg to avoid paying taxes...
Mitt Romney's business practices are seen as too sharp, even by the Italians...