Bernard Hickey wonders why New Zealand is not printing money and thinks we are being severely disadvantaged by not following the crowd. Your view?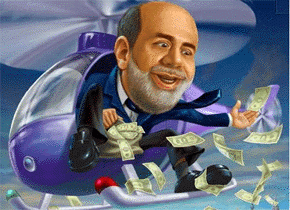 By Bernard Hickey
Thinking of buying a flat screen television this weekend?
Planning an overseas holiday?
Wondering if you should employ more people for your export business?
Thinking of producing something that competes with imports?

Wait for a bit because our currency is set to become a lot more powerful for importers and disastrous for exporters, and those who compete with importers.

The New Zealand dollar seems set to rise towards US$1 if the current trends continue. That seems an outrageous thing to say, but consider the evidence presented this week.

The US Federal Reserve announced an essentially unlimted plan for money printing on Friday morning. It pledged to print US$40 billion a month and buy US mortgage bonds until unemployment was reduced to an unspecified level. This money printing, on top of more than US$2 trillion worth of money printing between 2008 and 2012, has already devalued the US dollar substantially and looks set to push it lower still against those currencies that aren't printing money.

Immediately after the announcement the New Zealand dollar rose to a six month high of over 83 USc, despite commodity prices being 11% below where they were 6 months ago. It has also risen to almost 79 Australian cents in the last week as signs emerge of a slowing Australian economy. Economists are now expecting the Reserve Bank of Australia will cut its interest rates through 2013, while our interest rates remain on hold until late 2013, when they are expected to start rising.
This would put even more upwards pressure on our overall currency measure known as the Trade Weighted Index (TWI), which is also near a 1 year high.

All this is happening as the world's other big central banks are also stimulating and devaluing in an unlimited fashion.
This month the European Central Bank unveiled its own programme of unlimited bond buying. This is the 'Big Bazooka' that many had been hoping for to save the Euro-zone and try to stimulate the Euro-zone economy. This too is devaluing the Euro vs the New Zealand dollar, which has strengthened 64% vs the Euro since March 2009.

No wonder new BMWs, Audis and Mercedes seem so cheap right now compared to Holdens and Fords.

Even the Bank of Japan, which has been printing and stimulating with 0% interest rates for almost 20 years, is considering fresh money printing to try to drag its yen lower. The Swiss National Bank has been printing francs in unlimited fashion for months to cap a rise in its currency against the euro. The People's Bank of China is also on the verge of its own fresh stimulus.

Think about this for a moment. The rest of the world is printing, stimulating and cutting interest rates to protect their own economies. They are all engaging in beggar-thy-neighbour competitive devaluations to stay alive.

Yet we are standing aside from this giant game of musical chairs and scratching our chins, wondering why the world is so unfair. We point to the skies and say there is nothing we can do about this bad economic weather.

All this chin-scratching and finger waving in the air is having very real world consequences. In recent weeks we have seen hundreds of job losses at Tiwai Point, Spring Creek, Huntly, Kawerau and at a fish processing plant in Tauranga. The Reserve Bank's own Monetary Policy Report noted a slump in manufacturing, particularly the import-competing type in the last year.

Just imagine how much of an export sector we will have left with a currency at US$1. Just imagine how cheap the iPhones will be. Just imagine how much we can borrow to buy those iPhones with our strong currency.

Meanwhile outgoing Reserve Bank Governor Alan Bollard reiterated in his valedictory news conference and parliamentary appearance that there was nothing New Zealand could do about these acts of economic gods.

When has New Zealand believed it was so helpless on the world stage? This inability to fight for our own economic corner shows a lack of strategic nous, an incredible naievety and a stunning lack of confidence in ourselves.

This unwillingness to fight our own corner is a national act of stupidity we will reget in years to come.

But at least the iPhones will be cheap, eh?