Bernard Hickey argues we will need to reunite monetary and fiscal policy under co-ordinated control if we are to find a successful path through the global 'financial repression'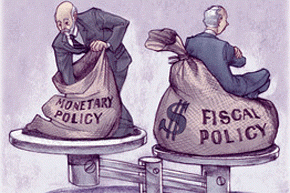 By Bernard Hickey
Committing heresy is unfortunately becoming more common in the world of central banking.
The world's most important central banks are printing money like there's no tomorrow.
Interest rates in the world's biggest economies have been near 0% for almost four years and look like staying that way for another four years.
Central bankers are increasingly thinking about how their policies are being offset or are working in partnership with governments to fund their spending.
The old days of central banks being able to stand aside from governments and run policy independently are ending.
In the rest of the world they are having to 'get down and dirty' and talk and act in concert with governments over how to run economies and banking systems.
Yet here in New Zealand the belief that the Reserve Bank should be utterly independent appears a non-negotiable.
Even Labour, the Greens and New Zealand First are not suggesting the Reserve Bank should be stripped of its independence. They want to change the Reserve Bank Act and set a different set of monetary policy targets for an independent Reserve Bank Governor to pursue, but ultimately they want to keep their hands off the day to day running of the Reserve Bank.
Many would say that is a good thing, regardless of the state of the economy. A whole generation of bureaucrats and policymakers who are now in their 50s and 60s will immediately point me back to the bad old days when the Prime Minister and the Finance Minister, Robert Muldoon, ruled both fiscal and monetary policy with an iron fist.
And it's true, an independent central bank using one tool, the official cash rate, to target one target, inflation, seemed to keep things simple and pure in the days when inflation had to be beaten and there was room for the central move interest rates up and down.
But what happens when interest rates hit the 'zero bound' and central banks have to start using unconventional measures such as government bond buying, often referred to as Quantitative Easing?
Central banks then become much more directly involved in fiscal policy, either in the form of financing it directly by lending to the government, or by repressing interest rates to help governments fund their deficits.
New Zealand is wee way away from the zero bound, but not that far.
This week the Reserve Bank of Australia cut its official cash rate, Business NZ called for new Reserve Bank Governor Graeme Wheeler to cut our Official Cash Rate from its current record low 2.5% and financial markets started pricing in a 0.25% cut over the next 12 months.
As the global economy slows and the developed world struggles to deal with an ageing population and widening wealth inequalities we may get to that zero bound sooner than we think.
So it's worth then thinking about how our central bank would operate when it has to muddy its waters with those of fiscal policy. A combined Fiscal-Monetary policy commission to better coordinate RBNZ and Government activity has already been suggested at a Treasury conference last year.
The final Rubicon to cross is independence itself.
It's time to think the unthinkable. Just like all the other inthinkables we've had to think about since the Global Financial Crisis erupted four years ago and shattered the myth that orthodox economic policy actually made the economy more sustainable and stable.
-------------------------------------------------------------------------------
This piece first appeared in the Herald on Sunday. It is used here with permission.