Here's my Top 10 links from around the Internet at 10:00 am today in association with NZ Mint.
Bernard is on his summer break and will be back in late January 2013, probably from Wellington.
As always, we welcome your additions in the comments below or via email to david.chaston@interest.co.nz.
See all previous Top 10s here.

1. 'You can quote me on this' 
Investor Grant Waterhouse has had a win. He is part of an investor group that took on the promoters of the Credit Sails product.
Credit Sails was a complex derivative product put together in 2006 by French investment bank Calyon, a subsidiary of Credit Agricole, and lead managed in New Zealand by broker Forsyth Barr. See more here. Its key selling points were AA-rated capital protection and a high interest rate of 8.5%, but two years later the securities were worthless after a series of defaults decimated the structure. Estimated losses for investors were about $70m. As Tim Hunter from Stuff has reported, the investor group has gotten a settlement of $60 million from the promoters. And Tim then duly reported Waterhouse's parting shot. Good on you Tim.
Waterhouse said the firm had fed him "bullshit" about Chinese walls between the advisory and investment banking sides of the business. "You can quote me on this - the Chinese walls were about as thick as the condoms they used to shove it up the shareholders' arses."
Apologies in advance to the readers in institutions that who will block that excerpt. But these days, investor wins are rare things to report, investor 'celebrations' even rarer.
[Note: If the language in the item above had been in a reader comment, it would have been deleted. We will be strict in maintaining decorum and relevance standards in any comments readers may make on this issue. It is the publisher's preogative to include the item.]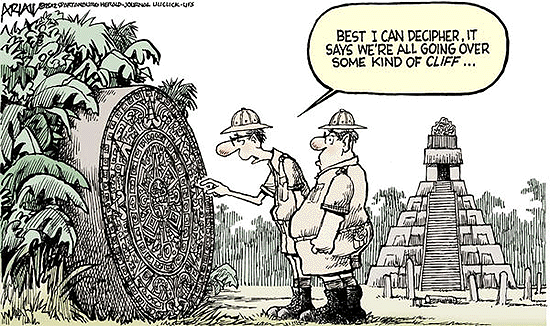 2. It's Mario Draghi
The Financial Times interviews its choice for man of the year, ECB President Mario Draghi, and asked him if 2012 will be remembered as the year the Euro was saved.
This year will in my view be remembered as the year when the long-term vision for the euro and the euro area was relaunched.

The June summit, especially, was a key event. It's also the year when euro area governments achieved substantial progress in adjusting their economies. And it's the year when the ECB has stepped in to remove tail risks.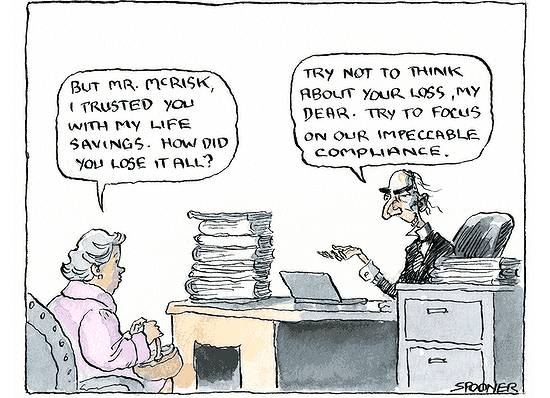 3. Junk bonds are for losers
Bill Gross at PIMCO looks ahread to what we expects will be their 2013 winners and losers. He is no fan of the Graeme Hart strategies, I see.
But if a 2% or lower real growth forecast holds for most of the developed world over the foreseeable future, then it is clear that there will be investment consequences. Shown below, as recently published in a TIME Magazine article by Rana Foroohar, is a PIMCO list of future Picks and Pans based upon these ongoing structural changes:

Picks

Commodities like Oil and Gold
U.S. Inflation-Protected Bonds
High-Quality Municipal Bonds
Non-Dollar Emerging-Market Stocks

Pans

Long-Dated Developed-Country Bonds in the U.S., U.K. and Germany
High-Yield Bonds
Financial Stocks of Banks and Insurance Companies

The list to a considerable extent reflects the view that emerging economy growth will continue to be higher than that of developed countries. Their debt on average will remain much lower, and their demographic age much younger.
4. Today's raw market data ...
A quick holiday update:
as at 11:10am

Today


9:00 am

Yesterday
Four
weeks ago
One
year ago
 
 
 
 
 
NZ$1 = US$
0.8421
0.8447
0.8066
0.7637
NZ$1 = AU$
0.7993
0.8000
0.7740
0.7649
TWI
75.04
75.26
72.85
68.47
 
 
 
 
 
Gold, US$/oz
1,694.00
1,695.75
1,615.00
1,598.00
Dow
13,323.66
13,235.39
12,795.96
12,103.58
Copper, US$/tonne
8005.50
8,001.10
7,496.00
7,340.00
Volatility Index
15.63
16.34
13.45
24.92
5. A new reserve currency?
China snuck a technical change out late last week that might end up being pretty significant. Its foreign exchange regulator has removed the US$1bn limit for foreign sovereign wealth funds, central banks and monetary authorities buying Chinese assets through the Qualified Institutional Investor Programme (QFII). All pretty technical, until you realise this will allow other governments to hold the Chinese currency as part of their foreign exchange reserves - that is, the yuan could become an international reserve currency.
That might take pressure off the AUD and others who are being used to diversify away from the USD and euro. And, if global central banks decided to allocate just 1% of their reserves to Chinese assets, there could in theory be a wall of US$75 bln of new investment in China.
6. Down, down, down 
ANZ is now saying that the RBA will embark on a big rate cut journey in 2013, down to record low levels for Australia.
ANZ's economists are predicting the cash rate will be cut to 2 per cent by the end of 2013 and suggest it may be a good idea for the government to step back from its budget surplus plans. In a monthly report ... they made the interest rate prediction based on weakness in the Australian economic and only a modest pickup in production in the rest of the world.

"Due to the further sharp weakening in mining business conditions in recent months, the tepid improvement in the non-mining sector, the deterioration in job advertising trends and the strong Australian dollar, we now expect a further one percentage point cut in the cash rate over the course of 2013,'' they said in the report.

Following a cut from 3.25 per cent earlier this month, the cash rate is now at three per cent, as low as it has been on a sustained basis since early 1960. A move to 2 per cent would put it below a level seen in any available records.
7. UK Conservatives challenge big banks
Watch out for a UK report from their Parliamentary Banking Commission, which is expected out just before Christmas. The chairman of this Commission is reportedly a fan of Paul Volker and 'separation'.
Parliamentary Banking Commission to call for banks to be broken up, rather than just ring-fenced. The Coalition's financial reforms could be seriously challenged this week by demands from the banking commission for a far more radical overhaul of British lenders. However business leaders have urged the Government not to put economic recovery above their reforms. Archie Norman, chairman of ITV, warned of "political indulgence" in pushing regulatory reforms. He told The Sunday Telegraph that "regulation and reserve capital does not come for free. It comes with a cost and the price of the attack on banks will be lower growth."
8. The fast pace of change
As usual, Dilbert nails it.

9. Ready to jump?
The fiscal cliff is mana from heaven for cartoonists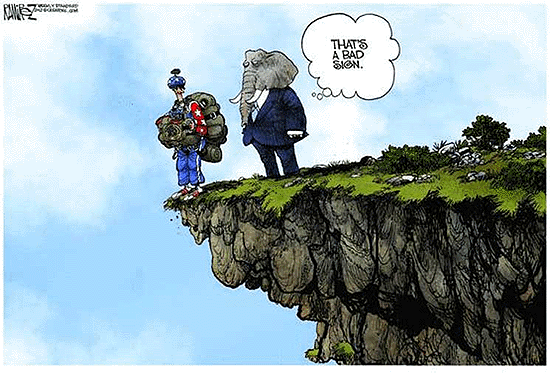 10. Today's quote
Money isn't everything but it sure keeps you in touch with your children. J. Paul Getty