Monday's Top 10 with NZ Mint: An impending bond crash; QE raises interest rates; deficit denial; junk is back; the latest Japanese quake; addicted to crisis; Dilbert, and more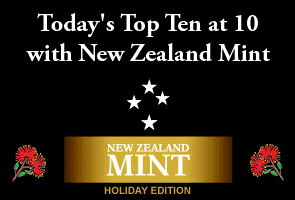 Here's my Top 10 links from around the Internet at 10:00 am today in association with NZ Mint.
Bernard is on his summer break and will be back on January 22, 2013, from Wellington.
As always, we welcome your additions in the comments below or via email to david.chaston@interest.co.nz.
See all previous Top 10s here.

1. On guard against a bond fall 
The preconditions for the mother-of-all bond market reckonings are sliding into place, says Christopher Joye in the AFR.
To properly understand the significant risks market insiders are seeing, you need to appreciate how extraordinary current circumstances are. When doing so, it helps to keep in mind a key principle: bonds that pay fixed, as opposed to variable, rates have prices that are inversely related to external interest rates. When interest rates go up, bondholders will see the face value of their investment fall.
Many are now saying that with a US and China-led global recovery now more likely, goverments will move to end QE and promote inflation as a way of managing the huge debt obligations they built up. Interest rate rises are now a significant risk. And it will be bondholders who take the losses. To see how this will play out, we only need look back to the last Great Bond Crash in 1994.
Indeed, there is "a significant chance safe-haven demand for bonds [will] evaporate". We could find ourselves in a position where Government overseas borrowing costs much more and refinancing the $49 billion we currently have becomes much harder.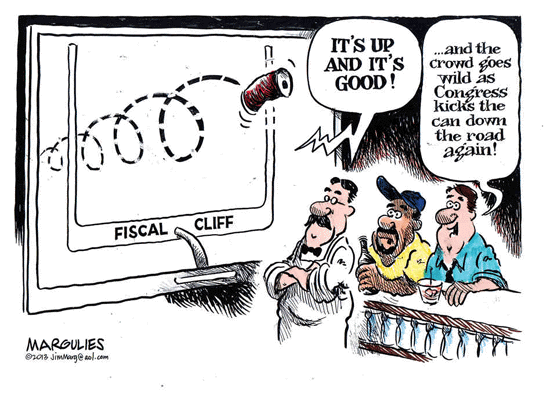 2. Expectations. It's all about expectations
Quantitative easing doesn't lower interest rates. It raises them. Or so says Matthew O'Brien at The Atlantic.
"You can see that plainly enough in the chart below. It looks at the yield on 10-year Treasury bonds the past few years, and annotates it with a guide of the Fed's unconventional policies. Borrowing costs rise almost every time the Fed buys bonds, and fall almost every time it stops."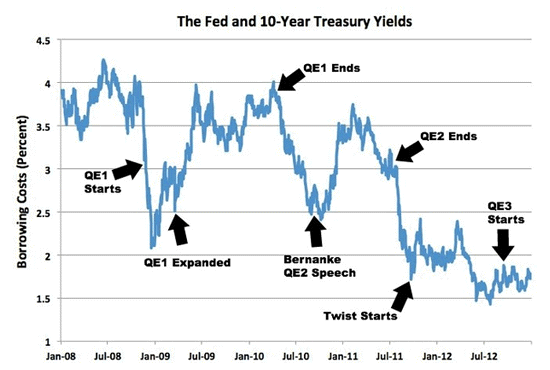 Welcome to the other side of the looking glass. Things will begin to make more sense once you realize monetary policy is more about expectations than interest rates. The latter just tell us about the former, especially when it comes to quantitative easing. Remember, buying bonds should lower interest rates, but it doesn't when it's the Fed doing the buying. It doesn't because the Fed isn't really buying bonds as much as it's sending a message that it wants more growth. That makes bonds less attractive - who wants a fixed return when business is booming? - and pushes up borrowing costs more than buying bonds pushes them down. In other words, the expectation of lower interest rates leads to higher interest rates.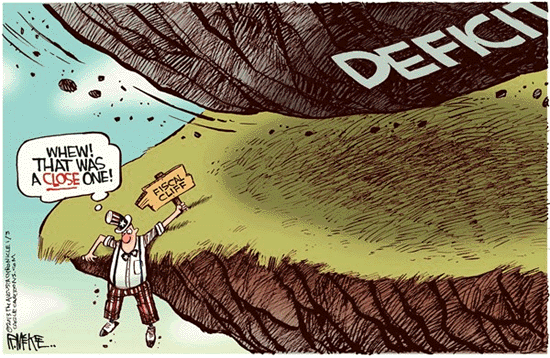 ​
3. Keynsian stimulus = supply-side economics = deficit denial
Anatole Kaletsky thinks that US politicians are actually very close to agreeing a bipartisan approach to their problems - the ultimate fantasy.
But suppose the president were to explain to voters that there is no real fiscal crisis and add that the extra revenues raised in this week's deal make the long-term budgetary position even more secure. The threat of a confrontation over the Treasury debt limit would quickly vanish. With this threat averted, business and consumer confidence would improve, economic growth would accelerate, and government deficits would shrink rapidly, without any further major tax hikes or spending cuts.

In short, suppose President Obama decided to become a "deficit denier," as described in this column last year. Liberals, such as Paul Krugman and Joe Stiglitz, could explain this denial as Keynesian stimulus. Conservatives could call it supply-side economics, as they did under President Ronald Reagan. Either way, deficit denial could help to avert future budget crises and accelerate economic growth.

If Barack Obama could make deficit denial a respectable position again for American politicians, as it was under Reagan, the success of his presidency would be assured.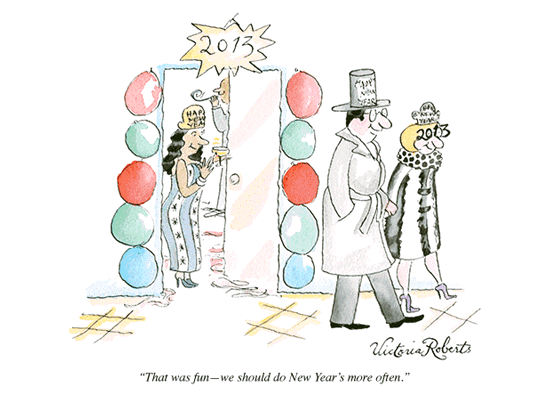 ​​
4. Today's raw market data ...
A quick holiday update:
as at 11:10am

Today


9:00 am

Friday
Four
weeks ago
One
year ago
 
 
 
 
 
NZ$1 = US$
0.8316
0.8284
0.8322
0.7794
NZ$1 = AU$
0.7940
0.7909
0.7934
0.7638
TWI
74.99
74.58
74.54
69.92
 
 
 
 
 
Gold, US$/oz
1,648
1,680
1,713
1,617
Dow
13,414
13,384
13,174
12,363
Copper, US$/tonne
8,026
8,140
8,112
7,515
Volatility Index
13.83

14.56

16.05
20.63
5. Junk is back
US corporate debt that is not investment grade has seen yields fall below 6% for the first time ever. In fact, the unabated demand for junk debt is also an indication of investors' growing comfort with companies with lower credit quality, and also with the riskier lending practices that were common during the credit boom.
Irresponsible exhuberance has returned, fed by a chase for yield. Unlikely to end well. Plan to get out before the music stops (again). More from the FT:
Companies took notice of the demand and sold a record amount of junk bonds in 2012, with the sales of triple-C rated paper – deep in junk territory – climbing 63 per cent, according to Dealogic.

The Federal Reserve's launch of another round of quantitative easing in late September provided an extra incentive to junk-rated companies to come to market to refinance or lock in new funding at low interest rates.

For 2013, sales of junk debt are expected to remain strong, even after minutes of the Fed's December meeting released on Thursday hinted at a potential end of asset purchases.

"If the Fed had come and unambiguously announced the end of QE3, then we could see a bigger impact on high yield," said Ben Burton, managing director in leveraged finance syndicate at Barclays. "But the indication is that the central bank will continue to stay behind markets for now.

Barclays estimates total sales of high-yield debt in the US may reach $300bn this year.

"Average high yields below 6 per cent is something these markets have never seen," Mr Burton said. "Issuers are going to take advantage of that. The environment is very favourable to them."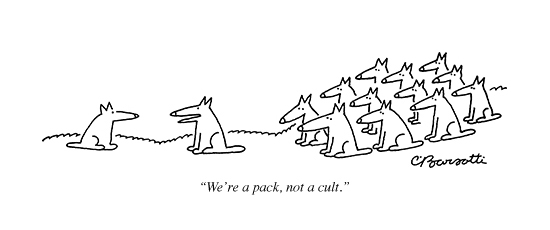 ​​
6. Japanese earthquake
Here's some big news you may have missed. The new Japanese government is determined to get some inflation into its economy. It needs that because its debt is so large it can't be repaid. But when QE fails, what do you do next? Apparently what you do is you buy up the country's industrial infrastructure directly. More from Ambrose Evans-Pritchard at the British Telegraph.
Premier Shenzo Abe is to spend up to one trillion yen (NZ$13.8 bln) buying plant in the electronics, equipment, and carbon fibre industries to force the pace of investment, according to Nikkei news. The disclosure came just a day after Mr Abe vowed to revive Japan's nuclear industry with a fresh generation of reactors, insisting that they would be "completely different" from the Fukishima Daiichi technology.

The industrial shake–up shows the ferment of fresh thinking in the third–largest economy after years of paralysis.
But not everyone thinks this is a good idea. The risks are enormous.
Japan was playing with fire by trying to reflate, warning that this could decimate the bond portfolio of Japanese lenders and set off a banking crisis. The banks hold government bonds worth 900pc of their Tier 1 capital. Mr Jen said the country would be the focus of attention this year as political fireworks shifted from the US and Europe to Asia. "There will be dramatic events in Japan," he said.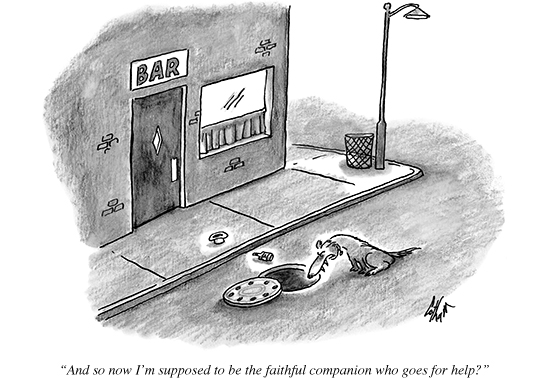 ​
7. The platinum coin solution
The weird idea we pointed to a few weeks back is now being talked about in polite company in the US. Is this solution any weirder than endlessly running deficits? Monetising deficits through direct presidential control of the currency, in lieu of borrowing, is also no way to run a country. It's silly, and it's perfectly legal. Agreeing not to do so is therefore the ideal "concession" for Obama to offer in return for Republicans agreeing to end the threat of a debt-default crisis.
I'm glad to see Representative Jerrold Nadler lending his support to the idea that President Barack Obama should avert a debt-limit crisis by issuing large-denomination platinum coins, as permitted by 31 USC § 5112.

In case you're not familiar with this idea: In general, the Treasury Department is not allowed to just print money if it feels like it. It must defer to the Federal Reserve's control of the money supply. But there is an exception: Platinum coins may be struck with whatever specifications the Treasury secretary sees fit, including denomination.

This law was intended to allow the production of commemorative coins for collectors. But it can also be used to create large-denomination coins that Treasury can deposit with the Fed to finance payment of the government's bills, in lieu of issuing debt.

What the law should say is that the executive branch may borrow to pay whatever obligations the federal government has, but may not print. Unfortunately, when we hit the debt ceiling, the situation will be backwards: The administration will not be allowed to borrow, but it can print in unlimited quantities. This points toward an interesting solution.

If Republicans start issuing a list of demands that must be met before they will raise the debt ceiling, Obama should simply say that he will issue platinum coins as necessary to pay government bills if he cannot borrow. But, to avoid causing long-term inflation expectations to skyrocket, he should pledge that he will have the Treasury issue enough bonds to buy back all the newly issued currency as soon as it is allowed to do so.

And then he should offer to sign a bill revoking his authority to issue platinum coins - so long as that bill also abolishes the debt ceiling. The executive branch will give up its unwarranted power to print if the legislative branch will give up its unwarranted restriction on borrowing to cover already appropriated obligations.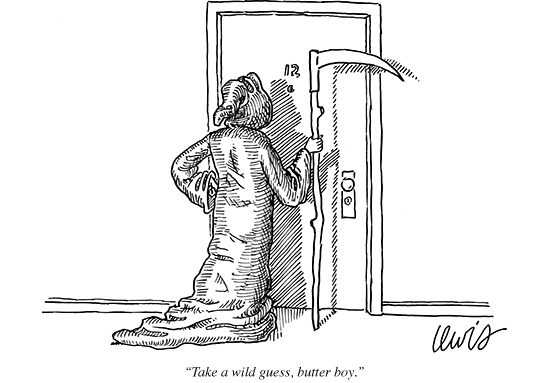 ​
8. Addicted to crisis
Zachary Karabell is an 'edgy optimist' and this is his take on the fiscal cliff crisis.
You might think that news of the deal – however imperfect (and let it be stipulated that, indeed, it is that) – would be greeted with a measure of relief and a degree of satisfaction that worst-case fears did not come to pass. But no. Instead, we get a chorus of criticisms combined with darker intonations that even worse lies ahead, with the looming debt ceiling debate in Congress, austerity in the form of new taxes, and general economic malaise being unaddressed.

A vibrant, outspoken and self-critical citizenry is a necessary and vital element of a thriving democracy. But when the public conversation becomes so relentlessly fixated on the disaster porn of political and economic challenges, an invisible but significant line has been crossed. Myopic focus on the next crisis and the battles that loom ahead with nary a sense of balance isn't a recipe for collective action; it's a formula for collective paralysis.

Our craving will be amply supplied in the coming weeks, with the debt ceiling debate and economic data that will likely remain less robust than we hope or need. The crisis maw will be fed.

But until we start putting our travails in perspective, until we start nourishing the better angels of our nature and recognizing what is working alongside what is not, we will remain stuck in place, unaware of our self-fulfilling prophecies, still wondering how things can ever change.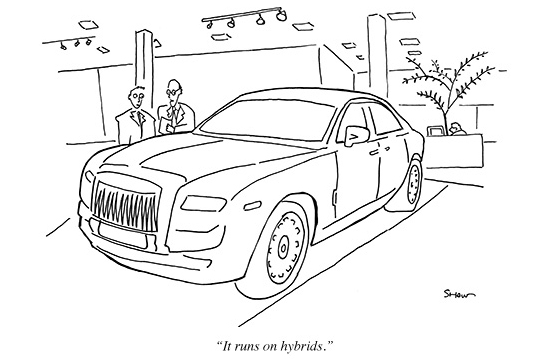 9. Signs of life?
Manufacturers around the world reported strong gains in new orders for much of 2011, but those gains slowed in 2012 and by Q3 many were saying that orders were shrinking. Orders improved late in the year in some countries, although not in most euro zone countries. We have added New Zealand to this NY Times graphic. Where would you rather be a manufacturer?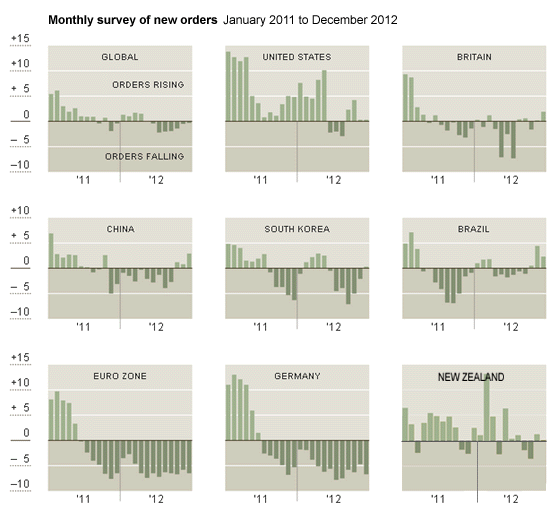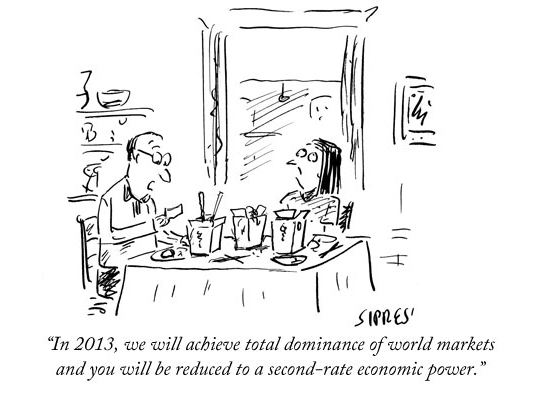 10. Today's quote
"Finance is the art of passing money from hand to hand until it finally disappears." - Robert W. Sarnoff