Here's my Top 10 links from around the Internet at 10:00 am today in association with NZ Mint.
Bernard is on his summer break and will be back on January 22, 2013, from Wellington.
As always, we welcome your additions in the comments below or via email to david.chaston@interest.co.nz.
See all previous Top 10s here.

1. Why austerity works and fiscal stimulus doesn't 
As far as Anders Aslund is concerned, the debate is over. The two options have been tested, and one comes out a clear winner. Here is an extract from his recent opinion piece on Bloomberg.com: 
After five years of financial crisis, the European record is in: Northern Europe is sound, thanks to austerity, while southern Europe is hurting because of half-hearted austerity or, worse, fiscal stimulus.

The predominant Keynesian thinking has been tested, and it has failed spectacularly.

The starkest contrasts are Latvia and Greece, two small countries hit the worst by the crisis. They have pursued different policies, Latvia strict austerity, and Greece late and limited austerity. Latvia saw a sharp gross domestic product decline of 24 percent for two years, which was caused by an almost complete liquidity freeze in 2008. This necessitated the austerity that followed.

Yet Latvia's economy grew by 5.5 percent in 2011, and in 2012 it probably expanded by 5.3 percent, the highest growth in Europe, with a budget deficit of only 1.5 percent of GDP. Meanwhile, Greece will suffer from at least seven meager years, having endured five years of recession already. So far, its GDP has fallen by 18 percent. In 2008 and 2009, the financial crisis actually looked far worse in Latvia than Greece, but then they chose opposite policies.

The lessons are clear.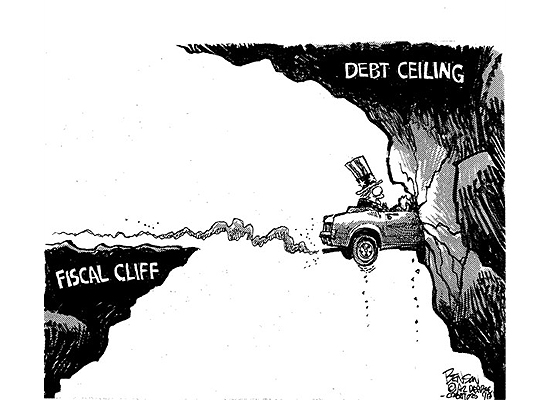 2. GM is the only way
One of the original crop-destroying anti-GM activists has had a change of heart. You can read about him here, and see his video and speech to the recent Oxford Farming Conference here. He now says the argument that we can only save the earth and feed its people by using organic food as "simplistic nonsense."
If you think about it, the organic movement is at its heart a rejectionist one. It doesn't accept many modern technologies on principle. Like the Amish in Pennsylvania, who froze their technology with the horse and cart in 1850, the organic movement essentially freezes its technology in somewhere around 1950, and for no better reason.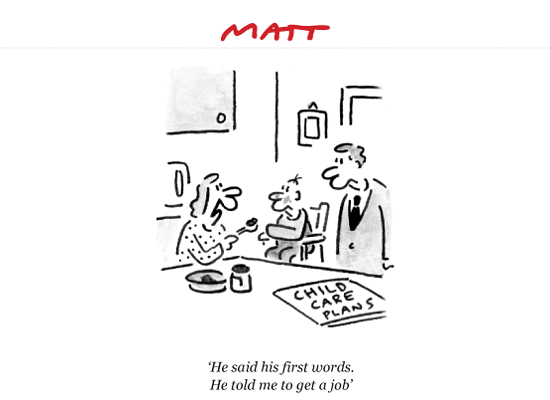 ​
3. 'Clean' nuclear power
Is the future nuclear power from thorium? Ambrose Evans-Pritchard thinks it may well be. And he thinks China is developing the skills necessary to control the technology.
The aim is to break free of the archaic pressurized-water reactors fueled by uranium -- originally designed for US submarines in the 1950s -- opting instead for new generation of thorium reactors that produce far less toxic waste and cannot blow their top like Fukushima.

"China is the country to watch," said Baroness Bryony Worthington, head of the All-Parliamentary Group on Thorium Energy, who visited the Shanghai operations recently with a team from Britain's National Nuclear Laboratory.

"They are really going for it, and have talented researchers. This could lead to a massive break-through."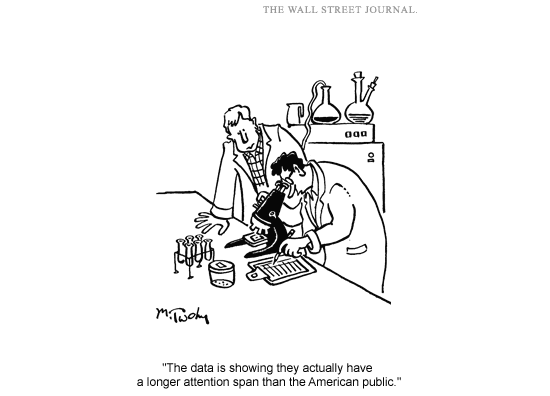 ​​
4. Today's raw market data ...
A quick holiday update:
as at 11:10am

Today


9:00 am

Tuesday
Four
weeks ago
One
year ago
 
 
 
 
 
NZ$1 = US$
0.8340
0.8372
0.8392
0.7800
NZ$1 = AU$
0.7959
0.7971
0.7972
0.7637
TWI
75.08
74.56
74.91
69.95
 
 
 
 
 
Gold, US$/oz
1,645
1,645
1,701
1,615
Dow
13,332
13,378
13,122
12,385
Copper, US$/tonne
8,006
7,996
7,966
7,503
Volatility Index
13.84

13.79

15.90
21.07
5. Market shift
As usual, we bought more used imports in 2012 than real new cars - but it was a surprisingly close-run thing. Our love affair with used imports seems to be ending. We have bought less and less since 2010. But we have bought increasing numbers of new cars.
It could be because of the tighter emissions standards on the used imports, or it could be because new cars are actually pretty inexpensive. One thing is for certain, we are not financing them in the way we once did - the consumer credit data clearly shows that.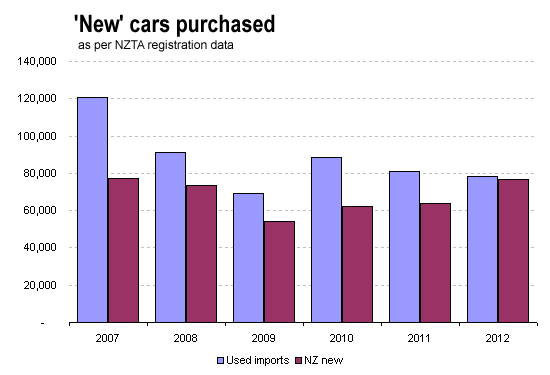 ​​
6. The post-crisis crisis
Joseph Stiglitz warns against focussing on current crises and ignoring the bigger problems we face.
As we struggle with today's crises, we should be asking whether we are responding in ways that exacerbate our long-term problems. The path marked out by the deficit hawks and austerity advocates both weakens the economy today and undermines future prospects. The irony is that, with insufficient aggregate demand the major source of global weakness today, there is an alternative: invest in our future, in ways that help us to address simultaneously the problems of global warming, global inequality and poverty, and the necessity of structural change. 
​
7. Do credit ratings really matter?
Key countries have been downgraded and there has been little consequence. At least that is what William Pesek implies, and he points out that we are about to witness a major test of their relevance in Japan. The Japanese are going all-out to reinflate their economy, taking drastic measures.
Taro Aso, 72, sure is a busy man. While most Japanese of his vintage are happily ensconced in retirement, Aso has three new jobs: deputy prime minister, finance minister and minister for financial services.

This trifecta of responsibilities means Aso has been deputized to end deflation and weaken the yen once and for all. As he endeavors to do what no one has done before, Aso also will conduct an experiment of great interest to policy makers and investors: testing whether credit ratings matter.
​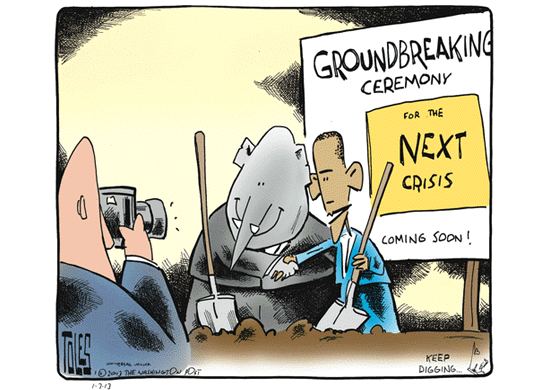 8. Cancer death rates
We noticed a story about US cancer death rates and how they were trending down encouragingly. A quick search for NZ equivalent rates turned them up easily, so here they are compared. Definite progress being made, and you are definitely better off in New Zealand.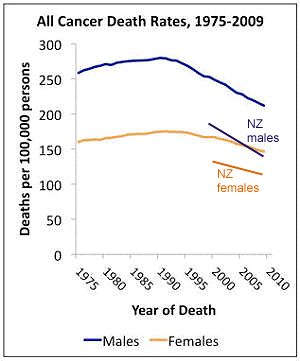 9. Cartoonists field-day
Yeah, I know - just too many cartoons about the US fiscal cliff and debt ceiling. Enough already, you say. Well we will scale them back, but some are still pretty good.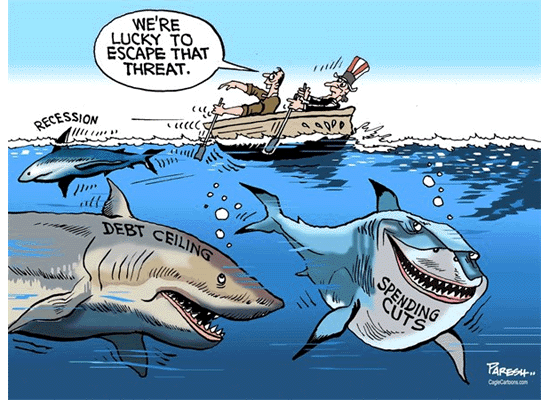 10. Today's quote
"If all the rich people in the world divided up their money among themselves there wouldn't be enough to go around." Christina Stead