Here's my Top 10 links from around the Internet at 10:00 am today in association with NZ Mint.
Bernard is back tomorrow with his version.
As always, we welcome your additions in the comments below or via email to bernard.hickey@interest.co.nz.
See all previous Top 10s here.

1. Making sense of market signals
What's going on? The data doesn't give great cause for optimism, and yet equity markets are approaching record highs.
Are observers only looking at selected data that 'proves' their own prejudice?
Anatole Kaletsky at Reuters thinks the current market optimism is likely to be justified, at least in the short term. He gives three reasons why, but also warns 'what could go wrong'.
The US economy has just suffered its first contraction since 2009, consumer confidence has plunged since November's election and Americans' paychecks are only just starting to reflect an increase in payroll taxes averaging $70 per month. Across the Atlantic, the euro zone and Britain seem to be sinking back into recession. And conditions in Japan have become so desperate that newly elected prime minister Shinzo Abe is openly devaluing the currency and threatening to take direct control of the central bank.

At the same time, stock markets around the world are approaching or exceeding records.

Money is flowing into equity mutual funds at the fastest rate since the end of the last bull market in 2000. And business sentiment, as reported from Davos, seems to be more optimistic than at any time since the global financial crisis of 2008. Is there a rational way to explain these contradictions? Will the business and market optimism be sustainable? Or is this sudden euphoria just another financial bubble, sure to be punctured if the grim message from recent economic indicators sinks in?

The likely answer to all these questions is yes.
Meanwhile, Gary Shilling at Bloomberg shows how markets could quickly shift to 'risk-off'.
The huge deleveraging in private sectors in the U.S. and elsewhere, the unresolved frictions between northern and southern nations in the euro area and the needed shift in China to a domestically driven economy suggest that the current "risk-on" investment environment may collapse.

Bullish investors will probably be forced into an agonizing reappraisal by a shock, as was the case in limited ways with the euphoria over the Federal Reserve's first two rounds of quantitative easing and its Operation Twist, which involved swapping short-term debt for long-term securities.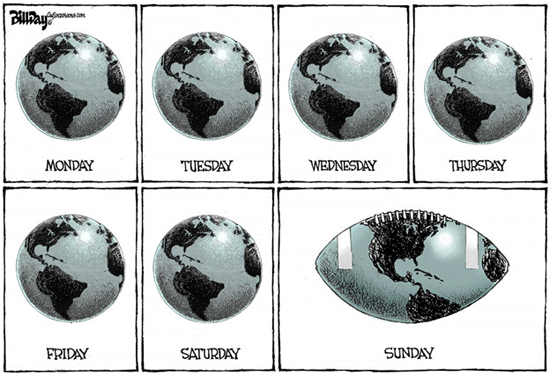 2. 'Rapid response?
The building consent data for December was released last Friday and the Christchurch data for new residential consents made interesting reading. They were up, but still pretty anemic in the City itself, as this chart shows. It is the outlying districts that are really getting into gear. What's holding Christchurch City back we wondered? They definitely need the housing - more than 10,000 houses required demolition, and over 100,000 houses were damaged.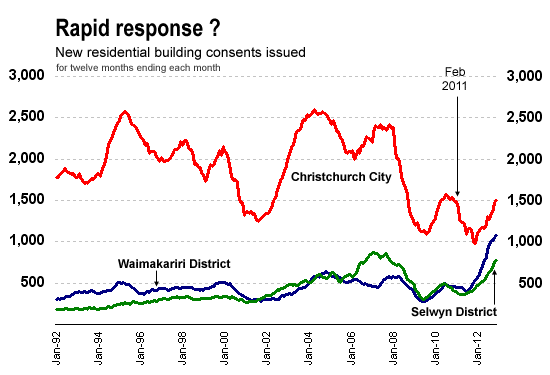 Then we dug deeper into the data and the consents for alterations show a different picture, although with 100,000+ houses damaged there is a very long way to go yet: (HT Brendon)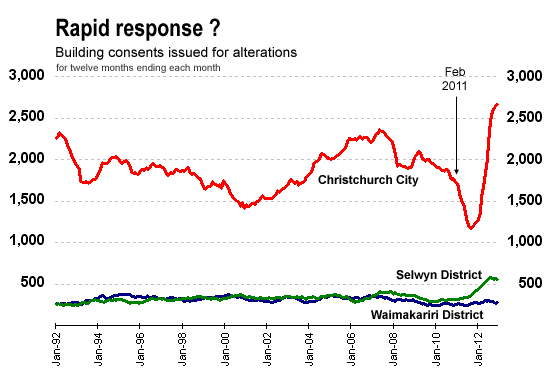 3. Those who ignore history ...
Industrial market economies have been suffering from periodic financial crises, followed by high unemployment, at least since the Panic of 1825, so we have had nearly two centuries since then to figure out how to deal with them. Why, then, have governments and central banks failed this time around?
J. Bradford DeLong is Professor of Economics at the University of California at Berkeley and a research associate at the National Bureau for Economic Research, and he can't work out why we don't apply the lessons from the past, and avoid the mistakes of the past. More at Project Sydnicate:
Over the following century [from 1829], economists like John Stuart Mill, Walter Bagehot, Irving Fisher, Knut Wicksell, and John Maynard Keynes devised a list of steps to take in order to avoid or cure a depression.

1. Don't go there in the first place: avoid whatever it is – whether external pressure under the gold standard, asset-price bubbles, or leverage-and-panic cycles such as that of 2003-2009 – that creates the desire to deleverage.

2. If you do find yourself there, stop the desire to deleverage by having the central bank buy bonds for cash, thereby pushing down interest rates, so that holding debt becomes more attractive than holding cash.

3. If you still find yourself there, stop the desire to deleverage by having the Treasury guarantee risky assets, or issue safe ones, in order to raise the quality of debt in the market; this, too, will make holding debt more attractive.

4. If that fails, stop the desire to deleverage by promising to print more money in the future, which would raise the rate of inflation and make holding cash less attractive than spending it.

5. In the worst case, have the government step in, borrow money, and buy stuff, thereby rebalancing the economy as the private sector deleverages.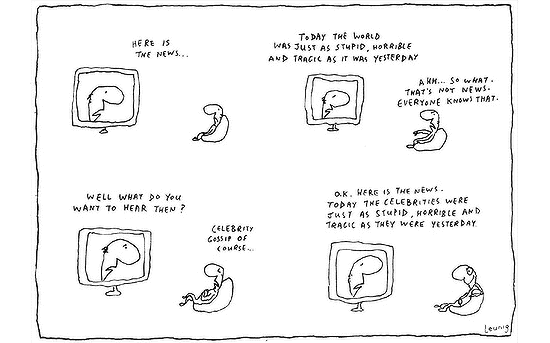 4. Today's raw market data ...
A quick new week update:
as at 11:10am

Today


9:00 am

Friday
Four
weeks ago
One
year ago
 
 
 
 
 
NZ$1 = US$
0.8446
0.8392
0.8316
0.8336
NZ$1 = AU$
0.8124
0.8052
0.7940
0.7780
TWI
76.10
75.47
74.99
73.05
 
 
 
 
 
Gold, US$/oz
1,669
1,665
1,648
1,734
Dow
14,010
13,907
13,414
12,836
Copper, US$/tonne
8,160
8,170
8,026
8,320
Volatility Index
12.89
14.28
13.83
17.10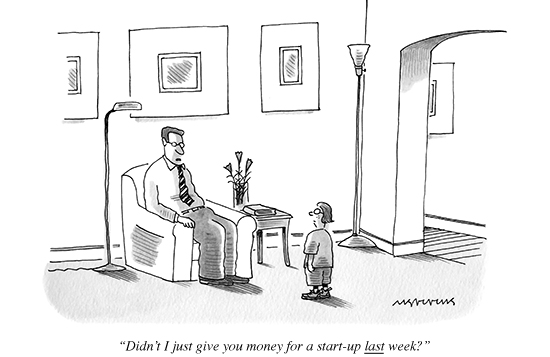 5. A real market shortgage
Auckland is a big city, but no where near as big as Beijing. (China has 160 cities with a population of over 1 million, and 63 over 1.5 million.) According to Barfoot & Tompson, they averaged 1,145 new listing in each month of 2012. However, in Beijing, apparently there were only 1,114 'homes' (= high-rise apartments) were put on the market in the first four weeks of January 2013. Big demand, lack of supply = prices rose.
We'll get the listing data from Barfoots in a few days - and they are only one Auckland agency accounting for about 40% of the Auckland market - but there is a good chance more homes were listed here than in the Chinese capital. Amazing. Perhaps another reason those folks are looking elsewhere. Here's the story from Caixin:
Some 11,156 homes were sold in the capital from the beginning of the year to January 28, a 570 percent increase compared to the same period in 2012, a property agency says. Nearly 400 units were sold on average every day from January 22 to 28, HomeLink said, despite the fact that the beginning of the year was usually slow. The average housing price was 23,259 yuan per square meter on January 28. In December, the latter figure was 20,627 yuan, data from the Beijing Real Estate Association shows.

However, supply could become a problem. Only 1,114 units were put on the market from January 1 to 27, HomeLink data shows.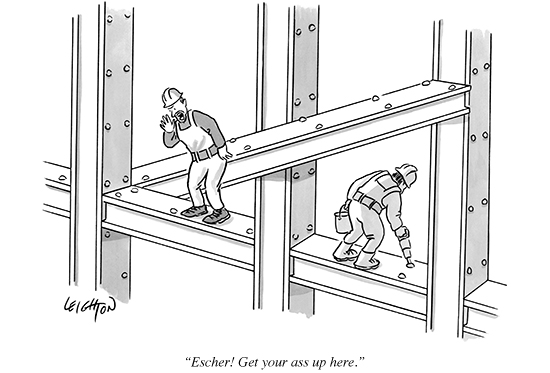 6. Hard? You think you've got it hard! In my day ...
The New York Times has a very sobering look at 'Generation Squeeze'. It's not pretty. We should be very thankful it is not a trend here - yet. We should also be wary of its arrival.
Young graduates are in debt, out of work and on their parents' couches. People in their 30s and 40s can't afford to buy homes or have children. Retirees are earning near-zero interest on their savings.

In the current listless economy, every generation has a claim to having been most injured.

But the Labor Department's latest jobs snapshot and other recent data reports present a strong case for crowning baby boomers as the greatest victims of the recession and its grim aftermath.

These Americans in their 50s and early 60s - those near retirement age who do not yet have access to Medicare and Social Security - have lost the most earnings power of any age group, with their household incomes 10 percent below what they made when the recovery began three years ago, according to Sentier Research, a data analysis company. Their retirement savings and home values fell sharply at the worst possible time: just before they needed to cash out.

They are supporting both aged parents and unemployed young-adult children, earning them the inauspicious nickname "Generation Squeeze."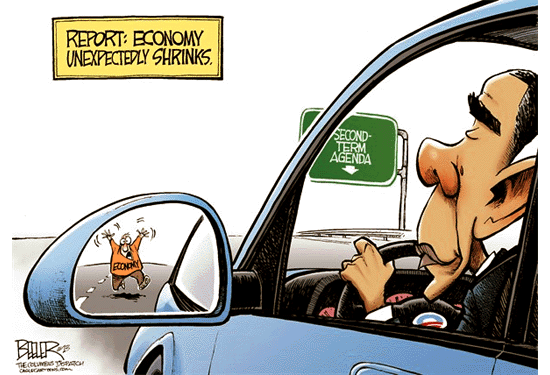 ​
7. China's steel industry is in trouble
This key industry saw sales drop 4% and profits crash 98%, according to a Chinese online source Xinhua. Talk about irrational exuberance. Watch out Australia.
"The steel industry experienced its greatest difficulties since the beginning of the century," the association said. High prices for imported iron ore also eroded steel companies' profitability last year. "Although steel prices remained at a low level in 2012, prices for iron ore imports tended to climb as soon as steel prices saw even a slight rise, and at a much greater margin," the association said.

Last October, the association's steel price index inched up just 2.9 percent month on month, while order prices for imported iron ore surged 15.9 percent from their lowest level in September, it said. The difficulty and high cost of obtaining loans, burdens created by taxes and fees and a lack of self-discipline in the sector have added to the sector's current troubles.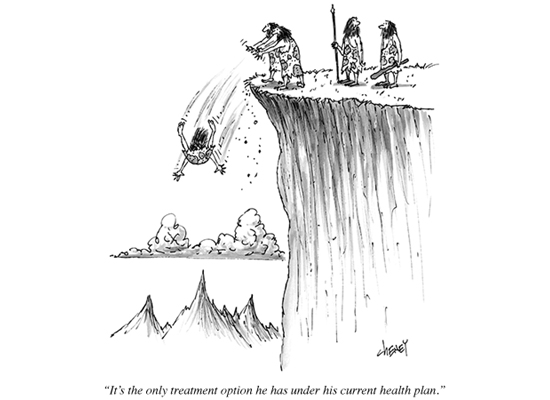 ​
8. A solution to yesterday's problems
Traditonal black London taxi cabs are "not worth the money" claims one driver, and the company that makes them is broke. It's just been bailed out by the Chinese car maker Geely. If you are like me and (after a number of rides)  wondered why people seem so attached to them, you are not alone. Even their drivers don't expect them to survive. Here's the story from DealBook:
The car's design has not changed much over the last 65 years, still bearing the same round shape. With seats to fit five passengers, it is more spacious than most passenger cars. The black cab is still the only taxi that can be hailed in the streets of London. Rival cabs must be hired by phone or through their offices.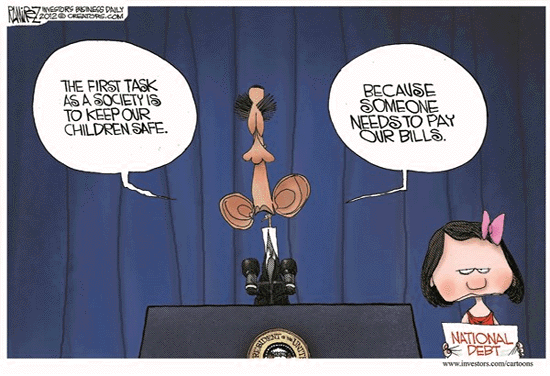 9. In defense of [proper] economics
Here's something from the 2010 archives, something worth a re-read. It's by Genn Boyle, a professor at the Dept. of Economics and Finance at Canterbiury University. It's a good read. He ends it with ...
I have seen the enemy, and he is us

Ultimately, economists must take a large share of the blame for the demise of sensible commentary on economics. Too many seem all too happy to offer up regular forecasts of financial market variables such as exchange rates and short-term interest rates, despite a huge research literature indicating that changes in such variables are not predictable.

Such economists need to learn some humility.

Too many others seem all too happy to advocate significant government intervention in financial markets on the slightest pretence, despite a huge research literature indicating that such action inevitably has unintended consequences.

Such economists need to learn some economics.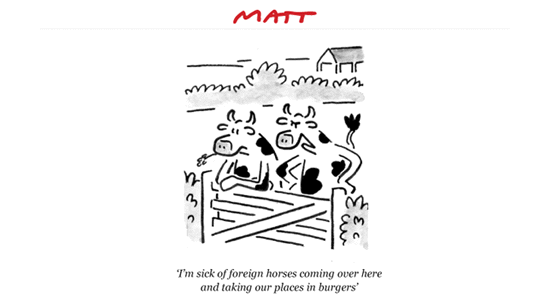 10. Today's quote
"If hard work were such a wonderful thing, surely the rich would have kept it all to themselves." Lane Kirkland