Bernard Hickey argues the Reserve Bank Act should give the bank the power to burst an asset price bubble. Your view?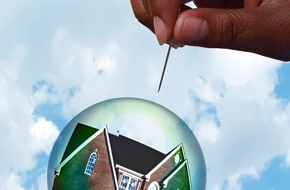 By Bernard Hickey
It's been described as the Reserve Bank's Catch 22. The bank has also been portrayed as between a rock and a hard place.
The Reserve Bank knows a housing price boom is threatening financial stability and eventually inflation stability, but it can do little about it with its current framework for targeting consumer price inflation at between 1-3% with its single tool of the Official Cash Rate.
Given that consumer price inflation is at the lower end of its target band and its forecast is for it to stay around the middle of that band out into the foreseeable future, it could look to cut the Official Cash Rate.
But it knows that would just throw petrol onto the fire in Auckland's housing market.
It could also choose to put up the Official Cash Rate to try to slow the housing boom, although that would clash with its existing Reserve Bank Act and Policy Targets Agreement, which essentially say it can only target inflation and can only monitor asset prices, not necessarily act to burst an asset bubble.
It also knows that an Official Cash Rate increase would just put more upward pressure on the New Zealand dollar.
So the bank is stuck. It can't act to burst an asset bubble, yet it can see it developing before its eyes.
The Reserve Bank's June Monetary Policy Statement shows the rock is harder and the hard place even harder. It forecast house price inflation could rise to as high as 14%. It acknowledged that may force interest rates about 1% higher by 2016 than would otherwise be the case.
This implies floating mortgage rates would rise as high as 8% from the current implied peak of around 7%.
This is at the heart of the debate about the Reserve Bank Act. Its inflation targeting mandate stops it from targeting asset bubbles. Low inflation and the associated low interest rates are helping to blow up the asset bubble.
The Reserve Bank can wave its hands from the sidelines about supply problems, which is all well and good.
But what it really needs to do to avoid a bubble is to put up the official cash rate and aggressively use its macro-prudential tools.  That would focus politicians' minds on the need to build or at least create the conditions to build thousands more houses.
The Labour/Green/NZ First opposition want to change the Reserve Bank Act to give the bank more targets than just inflation.  This will no doubt be a major topic of political debate ahead of the November 2014 election.