Why regional towns and cities are hit much harder by ageing and what it means for councils, ratepayers and house prices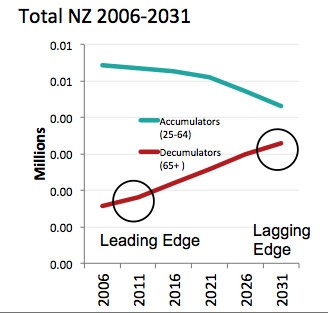 By Bernard Hickey
It was delivered quietly and delicately, but it still felt like a kick in the guts to the leaders of regional New Zealand.
Waikato University demographer Natalie Jackson's presentation about ageing to Local Government New Zealand's annual conference in Hamilton this week was a detailed and sobering look into the future that mayors, councillors and planners perhaps weren't expecting.
You could almost hear the sharp intakes of breath and the sideways glances as it dawned on them they would be battling to collect rates and pay for services for an ageing and often declining base of ratepayers for the length of their natural lives and beyond.
Jackson detailed what ageing would do to the structure and size of their communities in the decades to come, including how many provincial towns and cities would become 'top heavy' with pensioners, few working age people and even fewer children. She described how an ageing population and both internal and external migration would mean almost every Territorial Local Authority (TLAs) outside of Auckland and Christchurch would not only see their populations age dramatically, but that many would be declining by the middle of the century.
The chart below shows which areas have more than 100% of their population growth coming from the 65 over age group. The reddest areas have the most ageing populations.
"Populations are ageing and that is bringing us towards the end of the age of growth," Jackson told the conference.
"You may not need to deal with it today, but you must put it on the agenda," she said.
Already, more than a third of New Zealands TLAs have experienced population declines since 1996, including the likes of Ruepehu, Wairoa and South Waikato. Jackson explained how outside of Auckland, all of the population growth that will come over the next 20 years will come from the age groups over 65.
That also means that these regions will see their younger populations fall. In Auckland just over a third of the growth is coming in the pensioner age groups as it attracts more migrants and its browner population has a higher birth rate. Len Brown was the only mayor at the conference able to sit back and relax somewhat about his region's demographic outlook.
The implications of the skewed nature of the population changes in New Zealand are profound and not just for town, city and district councils. They will have to plan to collect the same or more rates from a smaller number of working age people. Many more of their ratepayers will be on fixed incomes. Many of the councils will have to pay for for the same number of roads, maintain the same length of water pipes and sewers, and mow the same number of sports fields, but have fewer ratepayers to pay for them.
For residents of these shrinking towns and cities, the implications are just as profound, and not just because their towns be greyer and less populated. The ageing of the population means it will be much harder for retirees and estates to sell their houses for anything like they price they paid, or expect to receive.
Jackson gave the example of the skewed population of Buller where by 2031 the bulk of the population will be in the 'decumulation' age groups over 65. By then that cohort will be downsizing to free up their retirement savings embedded in their houses and moving into retirement homes, while a much smaller group of 'accumulators' from 25-64 will be gearing up to buy those homes.
"Who will buy those houses?" she asked.
This problem is a national one, with the ratio switching from 3.4 elderly 'decumulators' for every 10 younger 'accumulators' in 2006, to 7.6 elderly 'sellers' for every 10 younger 'buyers' by 2031. But the intensity of this switch to decumulation grows the further away from Auckland you get. 
Jackson raised the spectres of Detroit and some of the provincial areas of Japan, where the depopulation and ageing had caused a spiral of decline. Japan is the most advanced of the ageing developed countries. Some Japanese city councils have declared areas unsupported, with water pipes and sewage systems being decommissioned.
Later in the conference Otorohonga Mayor Dale Williams asked Prime Minister John Key about what central government could do to soften the blow of regional contraction, including perhaps relocating government departments to the regions, as has been done in the likes of Canada.
Key said the government was thinking about regional development again, but later downplayed the prospects of relocating departments.
What was clear from the exchange and the conference was that the debate has yet to really start.
It needs to, and fast, because as Jackson said in closing to a room full of aged and concerned mayors: 'we're all closer to the walking frame than the pram'.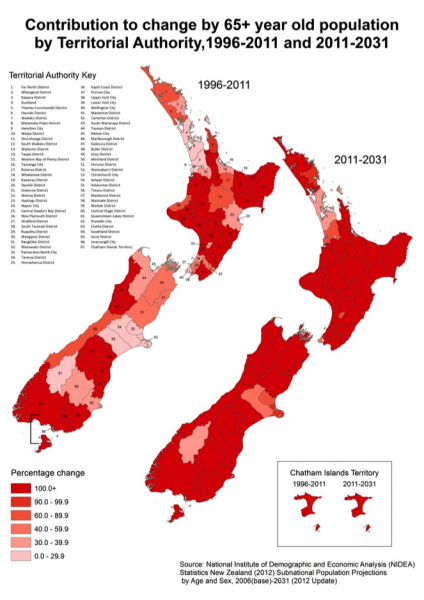 -------------------------------------------------------------------------------
This article was first published by the Herald on Sunday. It is used here with permission.