Opinion: Finger pointing and scapegoats are not what Fonterra needs: A bigger sense of national responsibility is what is required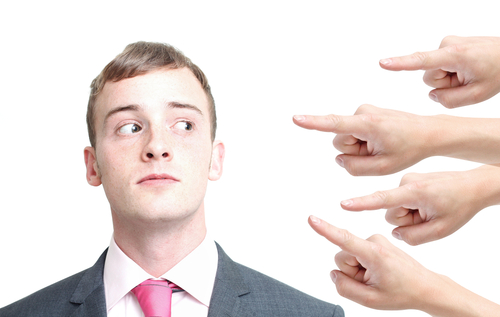 The expression: "He who smiles in a crisis has found someone to blame," would have to be one of my favourites.
It says everything that needs to be said about human nature. Through life there remains something of the school boy or girl in us. "Who threw that?" "It was him!!!"
By blaming other people there is comfort for us. We are not in trouble. They are.
Journalism is an industry that in my experience is riddled with a culture of blame. A mistake can result in an enthusiastic witch hunt that ends up with the party found to be guilty being subjected to very public (within the organisation anyway) ostracism.
And yet, of the virtually countless times I can recall such a process going on within organisations I have worked for, I struggle to remember any instances where the mistake led beyond the blame game and into actually improved processes; into lessons being learned and people doing their jobs more effectively.
Perhaps journalism's blame culture is the reason why Fonterra's current problems are being seen certainly among some news organisations as leading, through necessity to bloodletting among the dairy giants staff. One newspaper had a poll to find out whether Fonterra's CEO Theo Spierings should be sacked. When he fronted NZ news media for the first time on his return from China he was asked whether he was going to fall on his sword (although not in those words). His answer was that this would be up to the board.
Also, watching the main political party leaders speaking on the issue in Parliament this week, it seems clear there is a mood afoot among them for large scale inquiries as well as, hopefully (from their perspective), some floggings. After all there may be political points to score.
Now, if gross incompetence is found to be behind this latest public safety scare at Fonterra then there can be no argument a person or persons as yet unknown being fired might be the right course of action.
But personally I would hate it if scapegoats are made simply to satisfy the public bloodlust, and with the thought that once the sacrifices have been made everyone will shut up about the safety issue and carry on as before.
Inevitably such matters are subjective, but I thought there were two main problems with Fonterra revealed by this issue. 
In the early stages I certainly thought I perceived a whiff of arrogance and secondly, and more significantly, I felt there was a disconnect between Fonterra's world view and that of its customers.
Fonterra is a strange beast. It had a very privileged creation with the bringing together of the separate dairy companies into one very big one being allowed to take place without having to go before the anti-trust authority the Commerce Commission. If it had not been given that privilege could it have been created at all?
The relationship between Fonterra and its farmer shareholders seems, from the outside, to have always been uneasy. The Fonterra head office folk have chosen to be city slickers in Auckland, well away from the rural roots. Indeed the Princes Street offices near the university don't seem to have ever been good enough and the company is going to relocate to far more des rigueur premises closer to the waterfront.
This seems an odd mix to me. A grass roots-based (literally) operation with the apparent pretensions of being like a high flying investment bank.
I don't think Fonterra should be like this. 
What Fonterra is, or should be, is the custodian of New Zealand's dairy industry. It is massively important to all New Zealanders.
But does it see itself like that? It reluctantly answers to its farmer shareholders, but has it considered itself answerable to all Kiwis?
If Fonterra learns anything from this latest issue, then I hope it is a sense of humility, a recognition that we New Zealanders have entrusted it with a big part of New Zealand's economy and it needs to recognise that we have expectations of it. 
Likewise, when it comes to its customers, Fonterra needs to 100% appreciate that the customer is always right. Again I don't think that message has always been clear within Fonterra. Yes, the company is in a position to know that the latest scare has been in every sense overblown by the public. But the point is, and this seems to have been lost on Fonterra - parents don't want to know that food they give their babies is 99.999% safe, they want to know it is 101% safe.
Yes, that's probably grossly unrealistic on the part of the public. But that's the way it is.
So, forget the firings and the witch hunt. What Fonterra needs is a root and branch overhaul of who and what it is culturally.
If the current scare results in a Fonterra that displays greater humility and a huge sense that it represents New Zealand and its economy in the wider world, then it will have been worthwhile.