The Interesties 2013: Our annual awards are back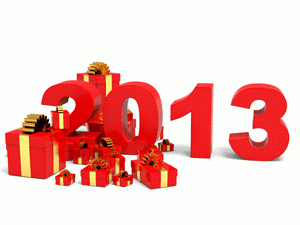 After a three year break they're back. Interest.co.nz's annual Interesties return in a light hearted look at the events and people that made our news this year.
As ever, we welcome your comments (and additional awards) below.
And here's wishing all interest.co.nz readers a very Merry Christmas, and plenty of affordable housing and sustainable, environmentally friendly wealth in 2014.
Here's the 2010 Interesties and the 2009 version is here.
Housing awards
The Olly Newland Auckland landlord of the year: Jimmy Spithill. As the Aussie sailed a Warkworth built American billionaire's catamaran up and down San Francisco Bay, the NZ Herald informed us of Spithill's $7 million worth of Auckland investment property.
The Ripley's Believe it or Not award: Housing Minister Nick Smith and the Auckland Council for their ambition of building 39,000 new houses in Auckland over three years. Good luck.
The group most likely to be a political football in the election year of 2014: First home buyers.
The mortgage rates are going to rise and rise award: BNZ chief economist Tony Alexander pips Reserve Bank Governor Graeme Wheeler for this one.
The Olly Newland rents to double award - Olly Newland himself, of course.
Political awards
The worst use of a painting of himself & best excuse for living in Herne Bay award: David Cunliffe, see why here courtesy of TV3.
The we're going to hell in a handbasket award: Russel Norman for continual tirades on how National's ruining the economy.
Politician whose career is most likely to end in 2014: Now John Banks has withdrawn from contention, take your pick from Len Brown (assuming he makes it through 2013), Peter Dunne, Colin Craig, David Cunliffe or John Key.
The Auckland Hospitality Association award for promotion of the city's hotels: Len Brown.
The sight no one should have to see award: The security guard who interrupted Brown and Bevan Chuang. Ernst & Young, which probed Brown's antics, couldn't find him though (see below).
We were unable to identify the security guard who interrupted the mayor and Ms Chuang engaged in sexual activity in the Mayoral Office early one evening.
Commenter awards
Best nickname dished out by an interest.co.nz commenter award: Leg over Len (Brown) by Christov.
Best poet among interest.co.nz commenters award: Waymad. Some good competition for this one but several Waymad posts come to mind. Here's one of 'em;
In order to buy Cat and Duck
I pledge my dear Mobile, with luck
It's a German Mercedes
But, snowballs in Hades
the Wheels on this Deal are Unstuck
And here's the story it came from.
The most influential sporadic appearance award: Gummy Bear Hero.
The most effort towards saving the planet award: PDK.
Banking and corporate awards
The asserting independence award: Graeme Wheeler for introducing the residential mortgage loan-to-value ratio restrictions.
The back flipping award: Wheeler for deciding to exempt new house builds from the LVR restrictions. Sorry, a "policy adjustment", not a back down.
Best name in NZ banking & finance award: This one is shared by Tim Loan, the SBS Bank general manager for finance, and PwC budget expert Chris Money. Both narrowly pipped Money's colleague Henry Risk, PwC's FATCA director.
The Goldman Sachs award for services to investment banking: John Key for the SOE floats, SkyCity convention centre deal , the Tiwai Point smelter, Avatar deal...
The Dingo Deans award for services to their Australian shareholders by a New Zealander: Poor old Robbie himself wasn't in the running having been fired. The award goes instead to Ian Narev, CEO of ASB and Sovereign's parent Commonwealth Bank of Australia. A 10% rise in annual cash profit to A$7.819 billion, a 9% increase in dividends with the equivalent of 75.4% of cash profit paid out, and a return on equity of 18.4%. Not forgetting a share price that hit record highs.
Here's an interview I did with Narev in March, and here he is as Davie in the 1979 television series Children of Fire Mountain.
Best disappearing act award: the National Bank horse Cody (RIP). The ANZ bosses must be chuffed at how well the culling of the popular National Bank brand has gone.
Other awards
Quote of the year award: Plenty of contenders as ever, but here's the winner taken from Forsyth Barr emails on Credit Sails published by the Commerce Commission. Pure cynicism;
"Why can't we put the 8.5% in there with a tiny (1) next to it and then at the bottom in tiny text next to the (1) we put all their dumb language? This would be workable. We're not selling bloody cigarettes!"
The buck stops with me award: FMA boss Sean Hughes for his comments on David Ross/Ross Asset Management.
"I accept accountability for what has happened here. It happened on my watch. We authorised Mr Ross (as an Authorised Financial Adviser) and we've had to sit back and take a long hard look at what happened here," Hughes said in this interview here. (Okay, technically he said this in December 2012. But Hughes has left the building and deserves a gong for his efforts in tidying up the financial markets).
The best company initials award: Ross Asset Management (RAM) - given what happened to clients' money.
The Johannes Gutenberg award for services to printing presses: Japanese PM Shinzo Abe for Japan printing money like there's no tomorrow. Even the recipient of our investment banker award, John Key, thinks it's risky.
The worst timed corporate sponsorship award: ASB for signing up as Team NZ's official bank during the week Dean Barker & co took a 6-1 lead over Oracle. You know what happened next.
The Team NZ righting the boat in the nick of time award: ASB, which had been issuing low equity mortgage pre-approvals like they were going out of fashion, for effectively cancelling truck loads of them to enable it to meet the new Reserve Bank rules. Although some may prefer to call this the "thumbing their nose at would-be borrowers award."
The we can't go on as if nothing's wrong award: Fonterra CEO Theo Spierings for saying if farmers continue intensifying dairying in the same way they have in the past decade, Fonterra will "hit the wall in terms of sustainability and the environment."
Best impersonation of a stone dropped in water award: The Mighty River Power and Chorus share prices.

The hot air balloon award: This goes jointly to the Auckland housing market and Xero's share price. Up, up and away. At least for now.
The bubble blowing award: Bitcoin. Love the chart below, but Bitcoin has had some issues with China since then.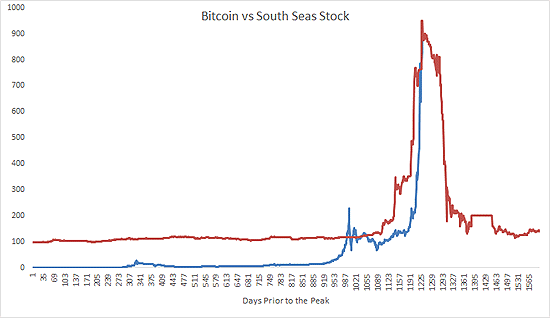 The Homer Simpson doh! moment of the year award: The Welshman who threw out a computer hard drive with more than £4 million worth of bitcoins in it.
The NZ local council doing the best impersonation of an insolvent southern European country award: Kaipara District Council.
The how the heck did it survive another year award? Europe's Economic and Monetary Union. As the excellent Michael Lewis notes in his book Boomerang; for the euro to survive the Greeks have to become culturally German, or the Germans have to become Greek. Not going to happen.