Bernard Hickey says everyone would benefit if 'skinny' Auckland could 'fatten up' its city-scape with better transport and cheaper land to lower housing costs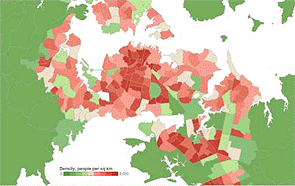 By Bernard Hickey
If only 'skinny' Auckland could fatten up easily then New Zealand in general and Aucklanders in particular would be much better off.
I'm not talking about waistlines.
I'm talking about Auckland's population, where it builds houses and how it organises itself.
The rocketing cost of housing in Auckland is more than a problem for young Aucklanders hoping to start their own families and live in their own homes.
It is a major problem for the economy at large, contributing to higher interest rates, a higher New Zealand dollar and the mortgage restrictions that are being felt from Whangarei to Bluff.
That's why a report this week from the NZIER called 'Big City Life' on the challenges for Auckland in coping with an expected rise in its population to two million by 2031 is important for everyone.
The report looked at various ways the costs of housing and commuting could be improved in Auckland.
But it also pointed out something obvious that isn't often considered when looking at housing costs in Auckland.
Auckland's geography is 'skinny', the NZIER pointed out in the research commissioned by Treasury, the Ministry of Transport and the Reserve Bank. The Manukau and Waitemata harbours effectively make Auckland a narrow and long city that can't take advantage of a single 'blob' of land with a CBD surrounded by a concentric circle of suburbs, as is the case with cities such as Melbourne, Christchurch and to a lesser extent, Sydney.
This means commuting times to Auckland's CBD are long and the city is 'broken up' into a series of centres and straggly corridors rather than one big centre.
That has increased the cost of land close to the centre and will make it very difficult and even more expensive to grow to that two million mark without some big policy changes.
The NZIER suggested a few options and analysed how these changes would improve the welfare of Aucklanders, and by extension the rest of New Zealand through cheaper mortgages and a more fairly valued currency.
It focused on transport, the cost of house building and the availability of land.
It suggested a one per cent increase in income taxes for Auckland families to pay for the better transport infrastructure needed to reduce commuting costs by two per cent per year.
It did not specify whether this money would be used to build motorways or train lines or pay for extra buses, but it's clear better infrastructure makes it easier and cheaper for people to travel and helps reduce housing and land costs, particularly of land close to the city.
NZIER estimated that each extra kilometre away from the centre of the city costs a home owner an extra NZ$738 a year.
NZIER also estimated a 15 per cent improvement in productivity for house building would make families 1.4 per cent better off each year.
This is a major issue for all of New Zealand, but is especially acute in Auckland. A building materials duopoly and a splintered house building sector full of one-man house-building bands that can't take advantage of economies of scale is a major drag on construction productivity and blows out costs.
The Institute's headline-making suggestion was for a 22 per cent increase in the size of Auckland's Metropolitan Urban Limit, saying this would make each family NZ$860 a year better off.
NZIER estimated the combination of all three suggestions would reduce housing costs by 16 per cent.
That would be a massive prize for young Aucklanders currently shut out of the market and for those in the rest of the country resentful they are paying higher interest rates and receiving lower export incomes because of Auckland's failure to organise itself and build enough affordable homes.
So it was disappointing then to see the suggestions slapped down almost immediately.
Len Brown dismissed the idea of extending the urban limit as 'old school' and the idea of a tax increase for Aucklanders to fund new transport infrastructure was rejected by the central Government quicker than you could smell a cup of cold sick.
That's a pity.
Auckland and New Zealand needs to find ways to 'fatten up' our skinny city in a way that takes pressure off house prices and makes everyone better off.
-------------------------------------------------------------
This is a longer version of an article that appears in todays Herald on Sunday. It is here with permission.