Bernard Hickey looks at why the New Zealand dollar remains stubbornly high despite slumping commodity prices. He finds an extra NZ$12 bln in foreign debt is not helping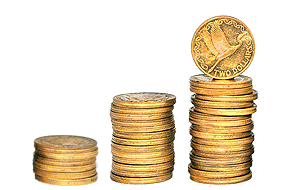 By Bernard Hickey
Exporters in general and dairy farmers in particular were quietly seething this week.
They had to watch as milk powder prices fell 5% at the GlobalDairyTrade auction on Wednesday, extending the fall of New Zealand's most important commodity price to almost 30% in 2014.
Yet the New Zealand dollar didn't budge an inch in the hours after the surprisingly weak result.
It remained well over 87 USc and up near post-float highs on a Trade Weighted Index basis.
The currency has actually appreciated 7% in 2014, despite a 30% fall in both dairy and log prices. This is not how it's supposed to work.
One of the great things about our floating exchange rate is that it usually acts like a shock absorber for the economy.
Typically, the currency will fall and rise in line with commodity prices, which softens the blow for farmer incomes.
A fall in the New Zealand dollar in line with our export commodity prices also sends a strong signal to New Zealand's consumers that they should dial back all the spending on imports, which would normally help the reduce the scale of any trade surplus.
Instead, this time around, dairy and log prices are falling at the same time the New Zealand dollar is rising.
That compounds the pain for farmers, loggers and the provincial economies they support.
This was clear in ANZ's decision this week to downgrade its forecast for the Fonterra milk payout in this current 2014/15 season to NZ$6.25/kg. That's down from NZ$8.40 in 2013/14 and below Fonterra's forecast of NZ$7/kg for the current season.
ANZ forecast this lower payout would reduce farmer incomes by around NZ$3 billion and slash farmer profits by more than two thirds to an average of NZ$1,180 per hectare.
That's because the double whammy of lower dairy prices and a higher dollar is actually a triple whammy because of the 75 basis point increase in interest rates since March.
This rise in interest rates is at the heart of the currency's divergence from commodity prices.
The Reserve Bank of New Zealand is the only central bank in the developed world that is increasing interest rates. That makes our currency relatively more attractive.
Not only are our interest rates rising, but interest rates in Europe and the United States are flat to falling, when most had expected they would be rising by now.
This widening interest rate differential has made our debt doubly attractive. The rise in the currency is the cherry on top for investors in our Government bonds and shares.
It's a win-win-win for sovereign wealth funds, central banks and hedge funds who are betting on interest rates rising further in our 'rock star' economy.
The Reserve Bank is widely expected to put the the Official Cash Rate up another 25 basis points on July 24, before pausing until the end of the year, and then putting it up another 100 basis points through next year.
The currency's continued rise this year is slightly puzzling because the Reserve Bank has not hidden its intentions.
Short of putting an advertisement in the New Zealand Herald, it could not have done more to signal its plan to lift the OCR over 5% by early 2016.
Governor Wheeler even wrote an opinion piece in the New Zealand Herald last October pointing out that the Reserve Bank would put up interest rates.
Currency markets are usually very good at immediately absorbing these forecasts, which means the Reserve Bank has been surprised that its rate increases this year seem to have pushed up the currency again and again.
There are other forces at play.
The US economy has underperformed, partly because of a brutal winter. The European economy has been mired in high unemployment and very low inflation, which has forced the European Central Bank to cut its deposit rate to a negative level -- where the depositor pays the bank to look after its money -- and talk about printing money.
Both of these have dragged down on longer term interest rates overseas, which is making savers in the Northern Hemisphere look even harder elsewhere and push for higher yields.
But there's also some pull in this flow of money into New Zealand that is putting up the currency. The New Zealand Government is now borrowing a lot less, but foreign holdings of bonds has increased to NZ$43 billion from NZ$34 billion two years.
Also, councils have started borrowing overseas in earnest for the first time and big companies, both New Zealand owned and overseas owned, have been borrowing much more heavily in New Zealand dollars over the last two years.
Reserve Bank figures show corporate borrowings have risen to NZ$8 billion from NZ$5.5 billion over the last two years. Local authority borrowings offshore have risen from NZ$23 million two years ago to NZ$674 million in May. The combination of all this borrowing has been an extra NZ$12 billion in demand for New Zealand dollars in the last two years.
That may not seem a lot for a currency where NZ$100 billion a day is traded, but in the context of merchandise exports of NZ$50 billion a year, this extra demand is significant.
The Reserve Bank has commented regularly over the last two years that the New Zealand dollar is over-valued relative to New Zealand's commodity prices and its current account deficit. Governor Wheeler even suggested in May when talking to dairy farmers that the Reserve Bank could intervene to push the currency down, as it did quite profitably in 2007 and 2008. The problem for the Reserve Bank is that it can't intervene to push the currency down if that conflicted with its main aim of keeping inflation under control, given that lower currency pushes up imported prices.
The frustration is palpable for exporters, who can see the high New Zealand dollar is actually helping to achieve the Reserve Bank's aims and is wonderful news for consumers and voters.
Prime Minister John Key was clearly also not that upset when asked this week about the currency's height.
Noting that it should usually fall with commodity prices, he also pointed out it sometimes rose with interest rates. "It's a fickle beast," the former currency trader said with an almost philosophical tone.
The trouble for our export sector is that the New Zealand dollar is not just fickle. It's also dangerous and painful.
----------------------------------------------------------
A version of this article was published in the Herlad on Sunday. It is here with permission.