Matthew Bartlett on the good investment of poverty reduction, who really shoulders the tax burden, a polite response to Gareth Morgan, S&P gets stuck in, Dilbert & more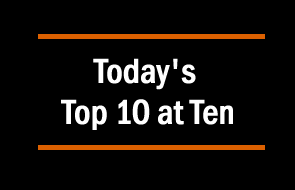 Today's Top 10 is a guest post from Matthew Bartlett from the New Zealand Council of Christian Social Services, which is running the Closer Together Whakatata Mai campaign. It's his second Top 10 for interest.co.nz. You can see his first one here.
As always, we welcome your additions in the comment stream below or via email to david.chaston@interest.co.nz.
And if you're interested in contributing the occasional Top 10 yourself, contact gareth.vaughan@interest.co.nz.
See all previous Top 10s here.

1. Revealed: how much you earn, compared to everyone else
One of the things holding back the inequality debate is the fact that so many people have no real idea of where they stand on the income spectrum, or how much other people earn.
Without that information, it's hard to make a meaningful judgement about how incomes have changed, who has benefited, and what things would look like in a more equal society.
Fortunately, the New Zealand Council of Christian Social Services has built this simple but (if we say so ourselves) rather stunning tool, in which you plug in your income and your household type, and it shows you just exactly where you stand compared to everyone else. Try it – you may be surprised (and indeed shocked).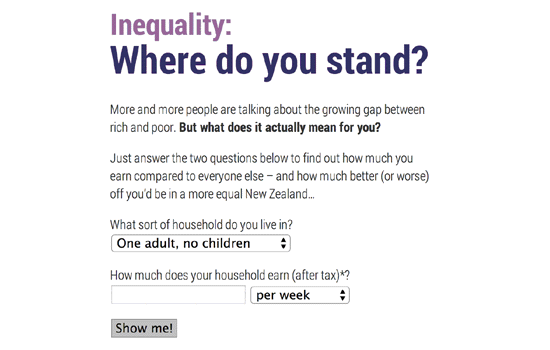 2. Wealth inequality worse than most people realise
It's not often that a clip about inequality goes viral, but Wealth Inequality in America did just that. Now, for the first time, we have the same kind of data for New Zealand.
What it shows is that people would like wealth to be pretty evenly distributed. They think it's pretty unevenly distributed. The reality is much worse.
[AUT researcher] Peter Skilling said: "The results are really quite simple. People would like it to be a far more equal society, but they also do not understand just how unequal it really is." It's a conclusion that mirrors findings in similar surveys overseas. [Yet] while it seems most want a fairer society, many do not trust the Government to deliver it through policy or likely fear the impact of such policies on their own wallets.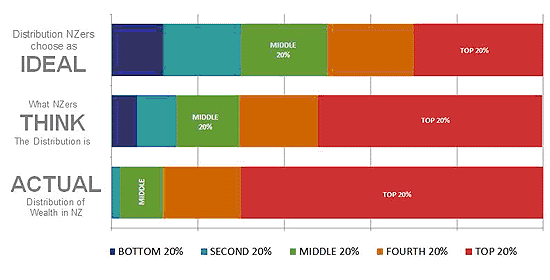 3. A polite response to Gareth Morgan on inequality
Gareth Morgan, as we all know, is never shy about giving his views, and his take on inequality - which is that the only thing that matters is inequality of opportunity - was as forthright as you would expect.
However, Max Rashbrooke, editor of Inequality: A New Zealand Crisis, begged to disagree in this blog post, arguing that it is income inequality we should be most concerned about.
Think, too, about people working in low-wage jobs like rest home carers. They don't need 'opportunity' to do another job – they want to keep doing what is an essential task. They just need – and deserve – to be paid better. That's not about opportunity; it's about inequality of income.
4. Standard and Poor's get stuck in
First it was the OECD, then the World Bank and the IMF. Now ratings agency Standard and Poor's has added its voice to the growing chorus of international economic and financial bodies raising concerns about income inequality.
Admittedly, these are the same people whose generous ratings of sub-prime mortgages helped spark the global financial crisis.
But we think they might be more on the money this time round when they say income inequality is going to lower American growth over the next 10 years:
A degree of inequality is to be expected in any market economy. It can keep the economy functioning effectively, incentivizing investment and expansion--but too much inequality can undermine growth ... Aside from the extreme economic swings, such income imbalances tend to dampen social mobility and produce a less-educated workforce that can't compete in a changing global economy. This diminishes future income prospects and potential long-term growth, becoming entrenched as political repercussions extend the problems.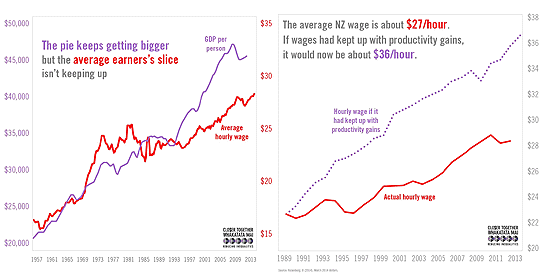 5. Employers start to back the Living Wage
The Living Wage movement already covers 40,000 people in the UK, and its equivalent here – which is arguing that workers need $18.80 an hour for a life of dignity – has scored some high profile successes, notably at the Wellington City Council.
It's also starting to get traction with other employers, as its signup page indicates. It's true that many of the employers are those you'd expect: unions and charities. But then there are food companies like Auckland's Tonzu, and Wellington's very popular La Boca Loca. This is looking more and more like an idea whose time has come. Check out the list of accredited employers here.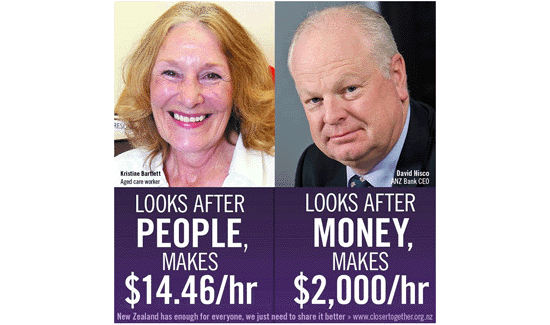 6. The scorecard for Maori and Pacific peoples: not great
It's been over a decade since the furore around the Labour government's Closing the Gap policies. So what has progress been like?
Not so hot, according to Victoria University's Lisa Marriott and Dalice Sim, who have looked at progress for Maori and Pacific peoples in the last 10 years.
The conclusion is that, while there has been some improvement in areas such as education, on a lot of key measures, notably health and income, Maori and Pacific peoples have been falling further behind Pakeha.
This research indicates that while New Zealand has had some successes in reducing inequalities, the gaps in inequality among the majority of the indicators investigated in this study show worsening outcomes for Māori and Pacific people. This growing gap in inequality between Māori and Pacific people, and the European population, warrants greater government attention if the gaps are not to continue increasing into the future.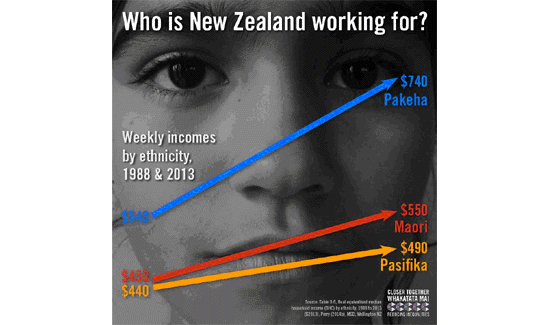 7. Reducing poverty: a surprisingly good investment
Some people like to think that providing more income to poorer families won't work, because it just gets wasted. Spend it on education and boosting opportunities instead.
In fact, thanks to Britain's Joseph Rowntree Foundation, we now know that providing an extra £1000 of income to poor families produces the same educational benefit to their children as spending that £1000 on the school system. (Kids who are well housed, fed and clothed, amazingly enough, tend to do better at school.) Not only that, but the extra £1000 in income produces all sorts of other benefits that school spending doesn't.
While a parent's level of education, attitude towards bringing up children and other parental factors also have a bearing, research shows that having more money directly improves the development and level of achievement of children. Increases in family income substantially reduce differences in schooling outcomes and improve wider aspects of a child's well-being. Cognitive development and school achievement were most improved by having more money. Conversely, reductions in family income, including benefit cuts, are likely to have wide-ranging negative effects. Money seems to have more of an effect among low-income families.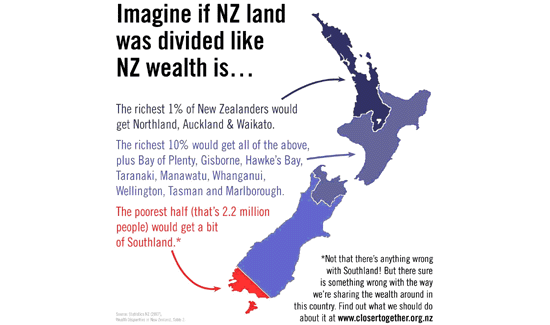 8. Who's really shouldering the tax burden?
It is sometimes said that the highest income earners already contribute the most in taxes, so why tax them more? In fact, this reflects nothing more than the banal observation that the highest income earners get most of the money, so it is hardly surprising that they pay a lot of tax. A better measure is what proportion of their income they pay in tax ... and looking at that figure yields some surprising results:
...the truth about tax in New Zealand is that the rich almost certainly pay less of their income in tax than the poor do.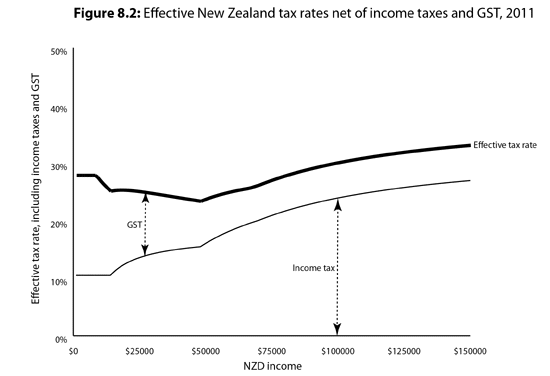 9. Piketty vs Acemoglu and Robinson
Thanks to his publishing sensation Capital in the Twenty-First Century, Thomas Piketty is an economic big beast. Daron Acemoglu and James Robinson, authors of the highly influential Why Nations Fail, are slightly smaller big beasts. They don't like Capital at all. Here's why:
Thomas Piketty's recent book, Capital in the Twenty First Century, follows in the tradition of the great classical economists, Malthus, Ricardo and Marx, in formulating 'general laws' to diagnose and predict the dynamics of inequality. We argue that all of these general laws are unhelpful as a guide to understand the past or predict the future, because they ignore the central role of political and economic institutions in shaping the evolution of technology and the distribution of resources in a society. Using the economic and political histories of South Africa and Sweden, we illustrate not only that the focus on the share of top incomes gives a misleading characterization of the key determinants of societal inequality, but also that inequality dynamics are closely linked to institutional factors and their endogenous evolution, much more than the forces emphasized in Piketty's book, such as the gap between the interest rate and the growth rate.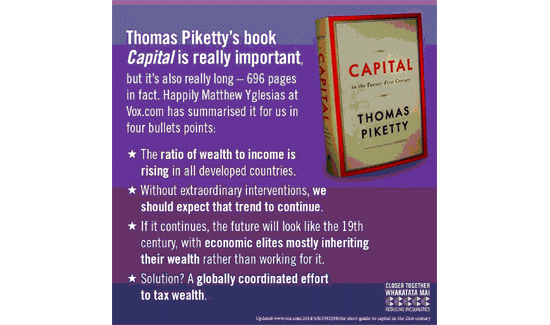 10. Latta on inequality
It's a bit of a jump from parenting to inequality, but that hasn't stopped Nigel Latta from taking on this most complex of complex subjects. And, in fact, he doesn't do too bad a job.
His programme about income inequality, which aired a couple of weeks ago, is a well thought out piece that convincingly portrays the struggles of those who haven't seen any trickle-down yet – and, importantly, it has reached an audience that most inequality campaigners would struggle to tap into.
If you haven't seen it already, it's well worth a look.