The NZ Initiative's Eric Crampton says improving housing affordability is a key step the Government can take to reduce child poverty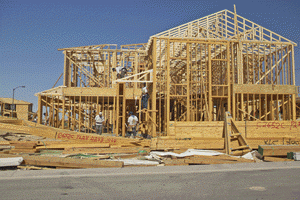 By Eric Crampton*
In last week's column, New Zealand Initiative Executive Director Oliver Hartwich urged National to tackle the 'big ticket' problems as he now has the political capital to do it, with RMA reform at the top of the list.
While Oliver noted the contrast between policies that are electorally popular and those that are right for the country in the long term, when it comes to RMA reform, I'm really not sure that reform comes at the expense of National's chances in 2017. I rather expect the opposite.

Prime Minister John Key signalled last week that child poverty is to be one of his priorities for the coming term. Too many children in New Zealand grow up in families with very little disposable income. Poverty has traditionally been an issue captured by the political left, with demands for more redistribution to solve the problem. Inequality too has captured a fair bit of attention, despite strong evidence that income inequality has not really changed much since a rise in the late 1980s and early 1990s: the trend has been flat for two decades.

Even more surprisingly, data from the Ministry of Social Development shows that real household income growth in the lowest deciles has been very strong, both from 1994 to 2013, and from 2004 to 2013. The poorest decile in 2013 has real household income 40% higher than the poorest decile in 1994. And from 2004 through 2013, real household income growth was strongest for the lowest four deciles than for the richest six deciles.
So why has poverty, and especially child poverty, seemed so much more pressing?

The Ministry of Social Development data, cited above, measures real household incomes before housing costs. And housing costs have been rising. MSD reports that 23% of children aged 0-17 live in the poorest quintile of households (the bottom 20%): they're slightly over-represented, when disposable household income is counted before housing costs. But when we take incomes after housing costs, 27% of children live in the poorest quintile: high housing costs disproportionately affect poorer children. Forty-two percent of households in the poorest quintile spend more than 30% of their income on housing; only 9% of the richest quintile do.
While child poverty is lower than it was in the early 1990s (even after housing costs) and child poverty rates are now back to levels comparable to those prior to the Great Financial Crisis, they remain substantially higher than they were in the 1980s. Housing costs substantially affect disposable incomes at the bottom of the distribution.

Housing unaffordability is consequently a substantial part of New Zealand's child poverty problem. When poor households have to spend 30%, 40%, or even 50% of their incomes on housing, there simply is not much left to pay for anything else. And so spots of bad luck, like a car breakdown or an unexpected expense, can quickly become major issues.

Labour, to its credit, recognised that housing is an important part of the problem: they would not have promised to build 100,000 houses otherwise. But in the absence of changes to Council consenting practices or the RMA, the government would have had an interesting time in making it happen. The underlying problem, regulatory constraints against building up and against building out, would do as much to block a government building programme as they do to block developers' attempts to do the same. And if Labour had intended on legislating its way around the problem by granting itself expedited consenting procedures, surely the better solution would be to provide that regulator concession to the private sector as well.

When land supply, both expansion at the city fringes and land zoned for increased density, is constrained by regulation, the price of zoned land rises. When sections cost hundreds of thousands of dollars, developers earn margin by building houses for the top end of the market. A developer would be throwing money away by putting lower cost houses on expensive land when plenty of high income households are willing to pay a higher premium. Regulatory constraints disproportionally reduce the supply of affordable housing.

RMA reform, then, is an important part of addressing our real problems with child poverty. It is hardly a silver-bullet, but unless housing is fixed, other solutions simply do not work as well. If there are fewer houses than there are households, enhancing income transfers or accommodation supplements results in households competing more strenuously for existing rental properties, bidding prices up. Landlords may like it, but it doesn't do as much to help the poor as we might like.

Further, when housing is tight, it's harder for poor workers to relocate to where jobs are. And, when the RMA makes it difficult for employers to start up new businesses, whether it be a new aggregates quarry, a mine, or even an IKEA, there are fewer jobs for workers to move to in the first place. RMA reform then can both boost before-housing-costs incomes, by improving employment and wages, and after-housing-costs incomes, by allowing the construction of more houses.

And so National can do well by doing good, but only if they move quickly. Houses take time to build. RMA reform, in the first year of the current term, could see new houses built before the next election. And, consequently happy electoral returns for National in 2017. But it will take some speed.
 ---------------------------
*Eric Crampton is Head of Research at the New Zealand Initiative. The NZ Initiative writes a weekly column for interest.co.nz. This is the second article in the series.