Friday's Top 10: David Whitburn on the RMA and housing affordability; Why state house sales are good; Is the Labour Party in terminal decline? Why CGT's a lemon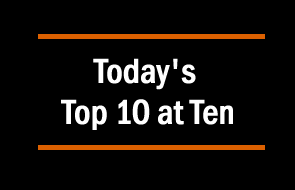 Today's Top 10 is a guest post from David Whitburn who is a professional property investor, property development consultant, author, member of the Auckland Property Investors' Association board, and proud father of three young kids. David is a co-founder of Fuzo Limited, an infill housing company, and he blogs on davidwhitburn.co.nz.
As always, we welcome your additions in the comments below or via email to david.chaston@interest.co.nz. And if you're interested in contributing the occasional Top 10 yourself, contact gareth.vaughan@interest.co.nz.
See all previous Top 10s here.

My top ten at 10 focuses on property and political issues looking at the decline in home-ownership since the Resource Management Act was introduced, housing affordability, the Government's state house sales, tax avoidance in Luxembourg and some key policy changes likely from the Republican Party regaining control of the US Senate.
1. The interesting relationship of the Resource Management Act and housing affordability.
A lot has been said about housing affordability lately. One of the lesser appreciated culprits is the Resource Management Act 1991 ("RMA"). Since this legislation took effect on 1 October 1991 New Zealand has declined from its record peak of 76% home-ownership down to just 63% and falling.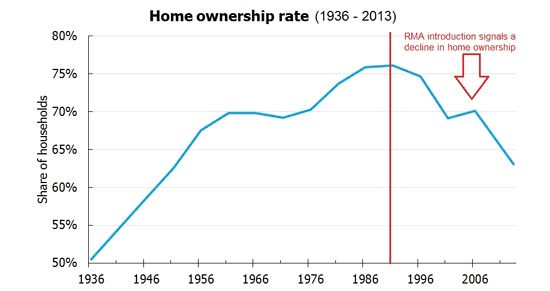 Source: Statistics NZ, RBNZ, NZIER
The simple fact is the excessive regulations, difficulties, uncertainty, delays and costs that the RMA has introduced have made housing much less affordable.  The RMA is the major reason cited for the massive decline of the large group of housing companies of yesteryear like Beazley Homes, Reid Housing, Universal Homes, Neil Homes, Keith Hay Homes and Fletcher Construction who used to build many thousands of affordable houses every year in New Zealand.  Neil Homes built over 22,000 homes in the 30 years immediately prior to the introduction of the RMA.
The purpose of the RMA is stated in section 5 with "the purpose of this Act is to promote the sustainable management of natural and physical resources". Where did we go so badly wrong to delay or in some cases dash the hopes and aspirations of so many home-owners?
2. Tackling the world's affordable housing challenge.
The McKinsey Global Institute (research arm of McKinsey & Co) has released a report stating that current trends in urbanisation and income growth indication that we could have 1.6 billion people worldwide by 2025 who are so financially stretched by housing costs that they have to give up other essentials.
The full report is large, so if pressed for time just look at the executive summary. They estimate that 330 million households worldwide are financially stretched by housing costs, with 200 million households living in slums. 60 million households in the developed world are financially stretched by housing costs.
Their four solutions offered are:
- Unlocking land supply
- Deploying an industrial approach for mass development
- Reducing financial costs and open up finance for more people
- Achieving economies of scale to bring down construction costs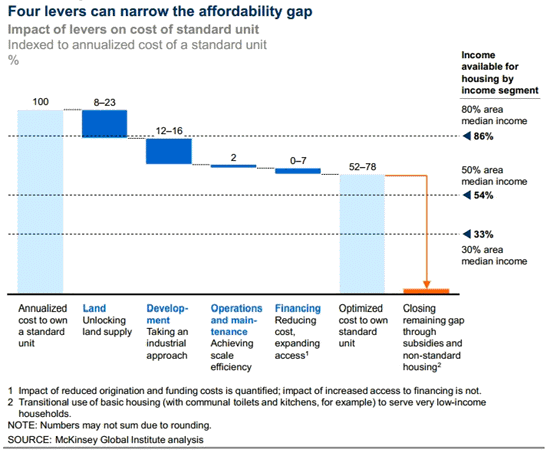 On a local level I am on the panel with Shamubeel Eaqub (NZIER), Penny Hulse (Deputy Mayor of Auckland Council) presenting on Affordable Housing in Auckland – What about Renting? This is part of the Auckland Conversations series and will be an informative discussion at the Aotea Centre at 5:30pm on Tuesday 25 November 2014.  Register here for free entry.
3. State house sales.
The Ministers of Finance and Housing have talked a lot recently on some changes to best suit delivering the social service of providing housing to our nation's most vulnerable people. I believe a civilised society should place a roof over the head of every citizen. The changes announced are good in terms of delivering the right houses in terms of number of bedrooms and location of the houses. 
Yesteryear's farmland on the outskirts of a city, e.g. Orakei in Auckland becomes today's section with a land value of over $1,000,000. Some properties and areas have no need for HNZC ownership any more therefore selling these kinds of properties can be great.
A number of these properties will be offered to first-home buyers with household incomes under $80,600 per year and with a gift of $20,000 to buy state homes by the Government.  In addition taxpayer's equity can be better deployed to house more needy families.  The state house sales (reform) programme is a good thing.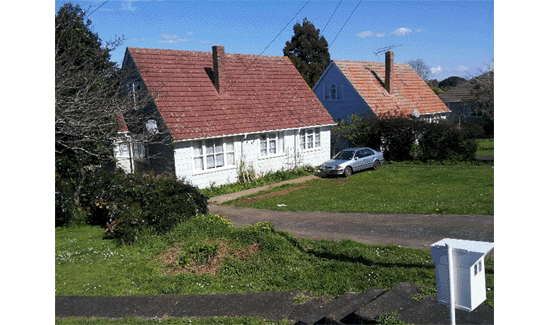 4. Will rents go up with state houses being sold?
Russel Norman from the Green Party has stated that "rents will be driven higher" with the Government's 'reckless' housing plan. However the Executive Officer of the NZ Property Investors' Federation, Andrew King, has stated that "it is incorrect and misleading to the link the sale of state houses with the likelihood of higher rents."  There are a multitude of factors at play involved in setting rental levels and a wide variety of subsidies available to many low or no income HNZC tenants right now.
I think that income related rents should be made available to tenants of social housing providers and not just state houses.  This would minimise overcrowding and those unsightly carports (with tarpaulins on the site and astroturf flooring) and garages that too many people have to sleep in.
5. Help affordable housing by increasing the accommodation supplement.
We have over 300,000 Kiwis receiving the Accommodation Supplement ("AS") which is nearly five times the number of people living in state houses who pay income related rents. $1.2 billion/year is paid on the AS but there is still pressure in tenants being able to pay market rents. The AS is based on the recipient's actual accommodation costs, but the amount paid is limited to 70% of the difference between actual accommodation costs and 25% of the recipient's weekly income. The AS is capped at maximum levels and currently over a quarter of all recipient's get the maximum amount.
Private landlords operating in the lower end of the market are patriots who house some of the nation's most vulnerable people. There is a massive amount of capital that we taxpayers, via Housing New Zealand Corporation, tie up in state housing.  Income related rents giving an atrocious rental return.  Whilst we have had devastating earthquakes in Christchurch and come out of the Global Financial Crisis, we cannot keep flogging taxpayers to come up with the capital to create new stock.  KiwiBuild was another Labour policy that although it felt nice, wasn't thought through properly, and wasn't going to be achieved with capacity issues in the construction sector.  This was Labour's Team America moment – "We'll use the power of Government to build 10,000 houses per year". 
We need private residential property investors to keep taking the risk of personally guaranteeing collectively billions of dollars of loans, paying interest, risking vacancies and repairs and maintenance issues, and threats of regulation such as compulsory building warrants of fitness and ring-fencing of tax losses.  There is a real need for those on the lowest incomes not in state houses who suffer the most from rent increases.  Many councils and territorial authorities across New Zealand are increasing rates about three times greater than the rate of inflation, insurance premiums rising sharply after the devastating Canterbury earthquakes, and there are repairs and maintenance costs.
6. Is the Labour Party in terminal decline?
This graph sourced from KiwiBlog maps every general election result in New Zealand from 1938 until now. There is a very clear downhill trend, which matches union membership. Of course there are cycles and some weak National parties (Bill English's class of 2002 for example), but every peak in Labour's share of the vote or party vote has been lower than the one before and every trough lower than the one before.  In this 2014 General Election Labour got 25.1% of the party vote which is their lowest percentage ever, worse than the party's dismal 27.5% from the 2011 General Election.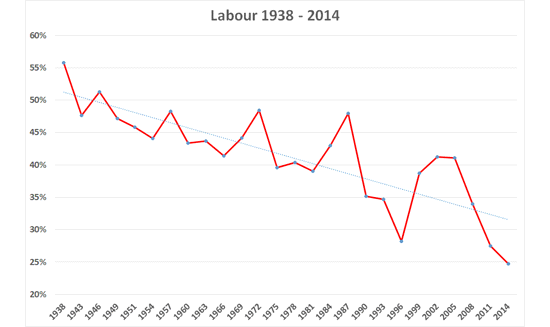 Winning the party vote in just five of the electorates is an annihilation.  I know many Labour party members have joked about a return to FPP (First Past the Post) – it might not be such a bad idea when looking at this graph.  Here's one tip below to instantly address this decline.
7. Learning time for Labour – voters want CGT to de dropped.
Labour have gone into two election campaigns now with a Capital Gains Tax as one of their key policies. With National adopting or maintaining many of Labour's previous policies such as working for families, it was a key policy distinction.  A number of their own candidates disagreed with the policy.
There has to be a realisation for the Labour leadership that your market is the voter base of New Zealand.  Having policies to head left takes out the space the Greens choose to occupy.  This is not a smart strategic move – elections are won by winning the centre.
Issues with CGT include:
- It's not a big revenue generator;
- Refunds are likely to be given in some years for capital losses from business and house price drops (e.g. Andrew buys 10,000 Xero shares at $40/share but sells then at $17/share losing $230,000 – how much refund does he get for his capital loss?);
- It will not fix the 'housing crisis';
- It is not aspirational – if you build an asset and try to not be dependent on the Government, we'll take some of that away to penalise you;
- When a family member dies and you inherit a property the tax position was unclear (the WhaleOil blog has this image below).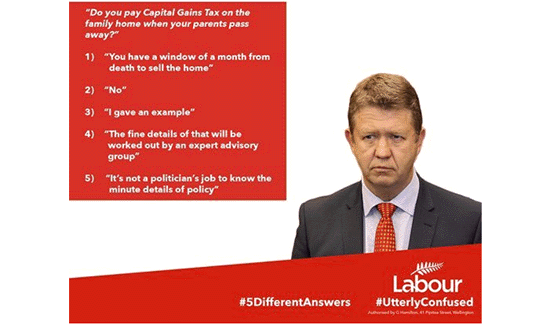 CGT is simply not needed.  It is like trying to fix a leaky pipe with a band aid over the wrong part of the pipe. Time for Labour to drop this policy to have the best chance of affecting meaningful changes. You cannot govern from opposition. Imposing CGT is a loser policy and must be dropped.
8. Luxembourg busted being enablers of massive tax avoidance.
The European Union is struggling for cash and the tiny country of Luxembourg has cost EU members many billions of dollars of tax revenue. Some 343 companies from dozens of countries negotiated secret tax agreements with Luxembourg. The ICIJ has created a visual and searchable database of 548 tax rulings approved by Luxembourg officials with a signed and stamped confirmation letter.
Luxembourg has GDP per capita of US$103,859 (2012) with the financial services industry being its biggest employer and earner.  Let's take a look at Luxembourg in comparison to Germany and UK for both GDP per capita and also total assets of banks as a percentage of GDP.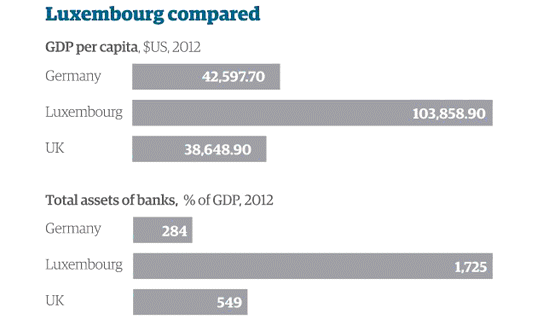 I wonder just what would happen to that GDP per capita figure if this tax haven was shut down?
9. Impact of US Senate change.
The Republicans have reclaimed control of the US Senate on Capitol Hill. President Obama and the Democrat Party have been soundly beaten in the mid-term election results announced two days ago.  The Affordable Care Act ('Obama Care') will be under the microscope with attempts to repeal and chip away at it imminent.
The Keystone XL pipeline project from Hadisty, Alberta, Canada to Steele City, Nebraska, USA is likely to be pushed through, and corporate taxes are like to be cut amongst a raft of other minor tweaks in government policy.
10. Frankie Valli and the Four Seasons – Who Loves You (1975) vs Pitbull and Kes$ha – Timber (2013)
I love some of the musical maestros of the past.  Frankie Valli didn't need to be auto-tuned and still doesn't aged 80. Call me old fashioned but too many modern signers appear to be auto-tuned and better at exotic dancing than singing.
/p>