NZ Initiative's Jason Krupp says increasing resource extraction could prove the economic lifeline rural NZ desperately needs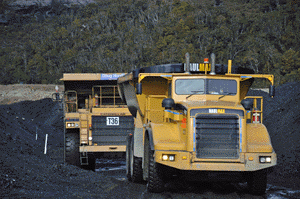 By Jason Krupp*

New Zealand must increase the level of resource extraction if it wants to throw a lifeline to the struggling rural regions. That is the gist of the latest report from The New Zealand Initiative, Poverty of Wealth: Why minerals need to be part of the rural economy.
It is a blunt message that is unlikely to win over environmentally conscious suburbanites.
But then these are the people who probably derive their income from the services sector, where their skills earn good wages, and who enjoy a relatively high standard of living. Beyond their front doors, the cities in which they live are humming with activity, making the key message behind this report seem preposterous.
Their view of rural New Zealand is probably limited to bach visits, or travel breaks at the local café on the way to ski fields and mountain biking trails. (I say this with some authority because that was largely the extent of my view of the economy outside of Wellington before this report).
However a dig through the numbers shows that the message is anything but preposterous. Excluding the regions with large urban centres (Auckland, Christchurch, Hamilton and Wellington), seven of the remaining 11 regions saw their economies shrink in the year ending March 2013, and further two recorded stagnant growth.
A similar pattern can be seen in job numbers. Between 2008 and 2013, only four of the country's regions saw the number of jobs increase, with growth concentrated in Auckland in absolute terms.
This economic disparity between the rural and urban regions is not a new or unique phenomenon, with economically active people leaving the countryside in search of higher paying jobs in the city seen the world over.
However, the pace of this migration in New Zealand has picked up in recent years. Shamubeel Eaqub, in his book Growing Apart, notes that technological change, increased competition from emerging markets, and an ageing population are all tailwinds behind the rural to urban shift.
The end results of this shift are what he calls 'zombie towns' – rural communities whose economic lifeblood has all but dried up as cornerstone industries have closed, shifted jobs offshore or mechanised.
It is a cycle that has also ensnared local councils, whose ratepayer base is shrinking, making it harder for them to provide the infrastructure and amenities that people and businesses in these communities need to survive.
And because ageing is concentrated in the rural regions, with a median age ranging from 40 to 50 years compared to 37 to 43 years in urban areas, councils struggle to pass on operating costs in the form of higher rates because many of their residents are on fixed incomes.
Indeed, by their own projections, New Zealand's district, regional, city and unitary councils expect to run an operating deficit of $7.8 billion by 2022, with only 10 of the 78 local government bodies running operating surpluses by this date.
This stands in stark contrast to the wealth beneath the feet of many rural communities. New Zealand is a country rich in minerals, with deposits of gold and silver, coal, industrial metals, non-metallic minerals as well as liquid and gas hydrocarbons.
Mining can help arrest the rural economic decline. It is by definition an industry where businesses have to come to ore, making these operations more resistant to some of the pressures faced by the manufacturing sector.
Furthermore, the minerals extraction sector makes long-term contributions to local economies. The Waihi gold mine, for example, opened in the 1860s and has been in production ever since (with the exception of one hiatus between 1950 and 1970). The oil and gas fields in the Taranaki Basin have been making a sustained contribution to New Zealand's gross domestic product since the 1950s.
There are numerous reasons why rural communities have not tapped into these resources, but these can be broadly grouped into two camps. The first is a macroeconomic argument that resource extraction is bad for economic development, known as the resource curse, which has been discussed previously and debunked.
The second is the regulatory framework in New Zealand, specifically issues with the Resource Management Act (RMA).
Last year the Ministry for the Environment, in a discussion document, detailed five substantive issues with the legislation despite 17 previous amendments.
These included: high complexity, variability and cost; unbalanced RMA values; lack of proactive planning; plans poorly positioned for future growth; and lack of service culture among councils. But that only gives central government's view of why the RMA isn't working.
The Productivity Commission, as part of their Towards Better Local Regulation inquiry, provided a detailed insight into how local government bodies are coping with legislation that is passed by central government, but that they are asked to enact (such as the RMA).
The survey (which gathered responses from 94% of all local government bodies) found that 70% of respondents saw centrally mandated regulation unclear to some extent, and that they received poor direction from central government. Half of respondents said they had difficulty in finding qualified staff, and 62% said paying these staff was a challenge. As a result, 86% of councils said it was difficult for them to meet the regulatory standards set by central government.
So while we know mining firms find the regulatory process complex, costly, and unpredictable, it is now clear that local councils do too. And where they do approve mining projects, as in the case of Bathurst Resources, they are likely to be dragged through an expensive Environment Court appeals process.
That is why in practice many councils err on the side of consent-as-little as possible in the face of increased regulatory complexity, strong censure for not meeting guidelines, rising compliance costs, an inability to claw back expenses, and an open-ended appeals process.
Clearly something needs to change if we are to throw rural New Zealand the economic lifeline it desperately needs. Having only started to research possible solutions to the conundrum, it is too early to go into any detail on the fixes, but a rebalancing of the regulatory landscape and a mechanism to help local government defray the costs of consenting would go a long way to grease the wheels of rural economic development.
*Jason Krupp is a research fellow at the New Zealand Initiative. This is this week's NZ Initiative weekly column for interest.co.nz.