Elizabeth Davies discovers being more environmentally responsible both feels good and saves money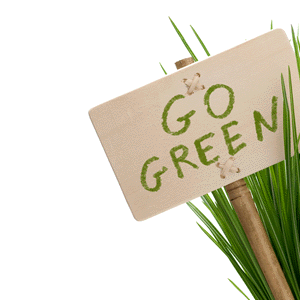 By Elizabeth Davies
I've never considered myself an environmental crusader.
Sure I'm not burning tyres in my backyard or dumping containers of oil into the open ocean, but neither have I been closely studying packaging or seriously researching buying a prius.

In Auckland central you're provided rubbish and recycling bins by the council and they are collected weekly/biweekly by a council provided service. The cost of this comes out of your rates. As we are renters this is a cost we never saw. I'm sure it was factored into our rent by our landlord, but it's not something we ever really thought about.

Call me naïve but when we arrived in Tauranga I thought this system would be much the same. I was wrong. In Tauranga you can purchase council rubbish bags and put them out on your verge for them to be collected by the council, however these bags are quite expensive and there's no council provided recycling service.

On one of our fist mornings here I had a sudden sense of extreme guilt as I casually chucked a can into the rubbish bin. Turns out my conscience got the better of me and the idea of not recycling was a little bit hard to swallow.
As I thought more about it I realised that we actually recycle a huge hunk of our weekly waste and the idea of adding that straight to the landfill was genuinely depressing.

The solution is private rubbish and recycling collection companies. We've chosen to go with J.J. Richards. For $4.75 a week we get two 120L bins, one for rubbish collected every two weeks, and one for recycling collected once a month.

All of a sudden seeing that weekly expense and realising that we will be going twice as long before our waste is collected our motivation to 'go green' was triggered. Living somewhere so beautiful seriously inspires you to want to keep it that way, while saving yourselves a few dollars in the process.

Not only have we kicked our recycling up a notch, making sure nothing is thrown away that can possibly be recycled, we've also decided to start composting. In just one week I was genuinely shocked at the amount of food scraps we were now naturally disposing of rather than throwing in our bin.

When you make one small adjustment it's sort of like a domino effect. Being more environmentally responsible actually feels pretty good. After we started the composting we decided we're going to start our own veggie garden, and seeing as we're getting sun almost every day we've permanently switched off the dryer. In Auckland our house was damp and we were lucky to get a full fine day a week so our dyer became one of our most prized possessions, not only using a whole lot of power but consequently cranking up our power bill.

By being charged for the size of our selected bins, we're effectively being financially rewarded for creating less landfill waste. The reality is by making a small effort, we're saving ourselves money and helping keep our beautiful country a tiny bit more beautiful.
-----------------------------------------------
Elizabeth Davies is a 24 year-old graduate of the Auckland University of Technology post graduate journalism course. She writes a weekly article for interest.co.nz on money matters and financial struggles from a young person's perspective.