Bernard Hickey looks at whether the Reserve Bank Governor is running monetary policy too tight and how long before he decides surprisingly low inflation is actually structural rather than cyclical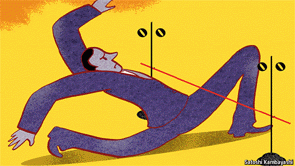 By Bernard Hickey
Is New Zealand's surprisingly low inflation a structural change or just a cyclical thing that can be 'looked through'?
That's the question the Reserve Bank grappled with this week and it's lack of certainty on the answer is a causing exporters and businesses a fair amount of grief.
The Reserve Bank published its December Quarter Monetary Policy Statement and left it's Official Cash Rate on hold at 3.5% on Thursday, which wasn't a surprise.
It was the Reserve Bank's insistence on continuing to forecast increases in interest rates which surprised and disappointed some.
The bank's decision to keep its 'tightening bias' despite annual inflation of 1% being well below its 2% target showed it still believes that relatively strong economic growth will eventually turn into inflation.
The problem for the bank and the economy is that it hasn't so far, and it hasn't for a long time.
There are lots of good reasons beyond the Reserve Bank's control why inflation has been so weak. The 'stronger-for-longer' New Zealand dollar has helped press down on the prices of imported goods and services and those products that compete with the rest of the world.
The Reserve Bank has been just as wrong as everyone else in predicting the fall of the currency, which is notoriously difficult for forecast.
But the Reserve Bank's key task is accurately forecasting 'non-tradable' inflation, which includes prices in areas that don't compete with the rest of the world. These include central and local government taxes and rates, electricity prices, health and education costs, real estate fees, phone charges, construction costs and bank fees.
The problem for the central bank and those who hope for lower interest rates (and a lower currency) is that this non-tradable inflation is proving to be surprisingly low, given the amount of growth the economy is generating and the pressures on wages and prices that would normally generate.
All around the world, there is talk now that aging populations, globalisation of services, massive production capacity in Asia and Europe, and new labour-saving technology is pressing down on non-tradable inflation in a structural way.
Inflation hawks worry they are temporary forces and the inflation demons of the 70s, 80s and 2000s will return.
The doves think this low inflation -- and maybe even deflation -- is here to stay and interest rates should accordingly be set lower.
Long term interest rate markets, which are not set by central banks, have certainly placed their bets on this low inflation being structural. 10 year bond yields in Japan and Germany are below 1%. They are below 3% in the United States.
The Reserve Bank itself mused on this puzzlingly weak non-tradable inflation in its Monetary Policy Statement in a special analysis box. It acknowledged that the uncertainties about whether this was a structural or cyclical issue could mean it was over estimating inflation.
That matters because when the Reserve Bank over-estimates inflation it tends to run interest rates too 'tight' and drive inflation below its target zone of around 2%. This is the nub of the matter.
Getting that inflation forecasting wrong enough for long enough will eventually turn into a sackable offense for Reserve Bank Governor Graeme Wheeler because inflation will end up being lower than his target of around 2%.
The Reserve Bank's own forecasts show that annual Consumer Price Inflation will have been under 2% for 5 years until September 2016. The highest it rises to in its forecast track is just 2.1%. That's a long way from 'around 2%'. It's almost completely under 2%.
The Bank knows this is serious and is therefore looking again at its forecasting models to try to get it right.
"Research into what caused the inflation to be unusually low continues," it said in ending the analysis box.
Governor Wheeler is coming under increasing scrutiny about whether he has run policy too tight given the 20 consecutive quarters of inflation being under the 2% target.
The New Zealand dollar's 1.4 USc rise on the morning of the Bank's reiteration of its 'tightening bias' emphasised those concerns, particularly in a week when Fonterra slashed its payout forecast by 11% to an eight year low.
Businesses, unions and exporters are rightly wondering: where is all this inflation the you keep warning about?
Why are you keeping interest rates so high? How long before we can say that this low inflation is structural rather than cyclical?
No doubt, the Reserve Bank is scrambling for those answers too and Governor Wheeler will want some more certainty on the answer well before the end of his first five year term in 2017.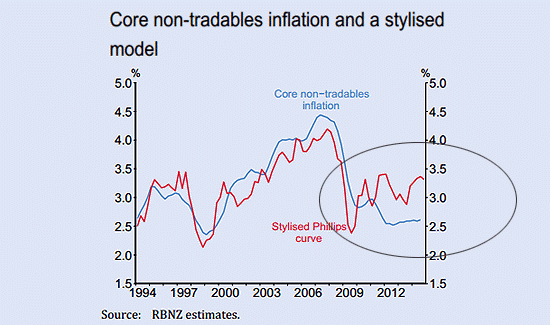 --------------------------
A version of this article first ran on the Herald on Sunday. It is here with permission.