Bernard's Top 10: Good deflation or bad deflation?; Did MTV cut America's teen pregnancy rate?; National's new tax hike; Dilbert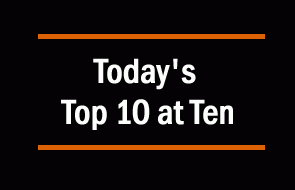 Here's my Top 10 items from around the Internet over the last week or so. As always, we welcome your additions in the comments below or via email to bernard.hickey@interest.co.nz. 
See all previous Top 10s here.
My must read is #1 on the topic of good deflation and bad deflation.
1. Good deflation or bad deflation? - New Zealand is rapidly being dragged into a global debate about deflation.
Yesterday's CPI figures showed prices fell in the December quarter and annual inflation is headed for a negative number in the March quarter.
This is well below the Reserve Bank's 1-3% target band and raises questions about whether the Reserve Bank has run monetary policy too tight and should cut the Official Cash Rate.
It all boils down to a debate over whether this deflation is structural, and whether it is 'good' deflation or 'bad' deflation.
The 'good' stuff is driven by some type of structural change that is increasing productivity and real wages. Some argue that central banks should let this stuff go through to the keeper because it's not the 'bad' inflation caused by a lack of demand.
I read The Second Machine Age over the summer, which makes a persuasive argument that the latest waves of computing technology are generating the same sort of productivity and growth surge as the invention of the steam engine in the late 1700s. That unleashed a period of very low inflation and occasional deflation.
I think there are some deeply structural elements to the waves of deflation now racing around the globe, both because of new technology and ageing populations.
Should that encourage central banks to cut interest rates to zero and start printing money to stave off deflation? The US, Japan and Europe chose that path and it has generated enormous asset price inflation deflation.
Our Reserve Bank is no doubt thinking about these same issues. Up until now it has been able to avoid it because our inflation has been high enough not to worry. That grace period may be ending and the Reserve Bank will face some tough decisions.
Does it cut interest rates to keep within its 1-3% target band for inflation and risk pouring more rocket fuel onto the Auckland property market fire? Or does it use Macro-Prudential tools in conjunction with rate cuts to try to limit the damage? Graeme Wheeler said in December he wasn't looking at more Macro-Pru. I wonder how long that will last.
Here's a useful discussion via Ambrose Evans Pritchard of this same issue in Europe, where it looks like the European Central Bank will tonight announce plans for more than 1 trillion euro of money printing. There is less doubt in Europe that they have plenty of 'bad' deflation caused by a lack of demand and high unemployment, but no doubt a lot of the same structural issues are underneath the problem.
Pritchard quotes William White, the economist from the BIS that predicted the 2008 crisis, on the dangers of the ECB's QE plan.
 "Sovereign bond yields haven't been so low since the 'Black Plague': how much more bang can you get for your buck?" he told The Telegraph before the World Economic Forum in Davos.

"QE is not going to help at all. Europe has far greater reliance than the US on small and medium-sized companies (SMEs) and they get their money from banks, not from the bond market," he said.

"Even after the stress tests the banks are still in 'hunkering down mode'. They are not lending to small firms for a variety of reasons. The interest rate differential is still going up," he said.
2. 'Let nature take its course' - White is in the camp that says central banks should let the 'good' deflation take its course. He might need to read a little Dickens to get a sense of how those periods of deflation and occasional Depression in the late 1800s weren't a lot of fun for everyone. Those deep Depressions and the resulting social stresses helped cause a few ructions in the early 1900s...
Here's White:
He deplores the rush to QE as an "unthinking fashion". Those who argue that the US and the UK are growing faster than Europe because they carried out QE early are confusing "correlation with causality". The Anglo-Saxon pioneers have yet to pay the price. "It ain't over until the fat lady sings. There are serious side-effects building up and we don't know what will happen when they try to reverse what they have done."

The painful irony is that central banks may have brought about exactly what they most feared by trying to keep growth buoyant at all costs, he argues, and not allowing productivity gains to drive down prices gently as occurred in episodes of the 19th century. "They have created so much debt that they may have turned a good deflation into a bad deflation after all."
3. Dodgy figures? - There was a lot of excitement this week about China's GDP growth rate falling to a 24 year low of 7.3% in 2014, but there remain many doubts about how legitimate that figure is, and other economic statistics in China.
Jamil Anderlini has a look at China's unemployment rate, which has remained remarkably stable between 4.0 and 4.3% for the past five years. It seems there are 'internal' numbers that are different and China may be more sanguine about the risks of unemployment than it should be.
The Economist Intelligence Unit released a report last week, based on research conducted with the IMF and the International Labour Organization, in which it estimated China's real unemployment rate in 2014 was actually 6.3 per cent.

That was higher than both the UK, which the EIU estimated had an unemployment rate last year of 6 per cent, and the US, at 6.2 per cent.

The picture is complicated further by the 274m rural migrant workers who power China's economy but are almost entirely ignored by unemployment statistics.

When most migrant workers lose their jobs they return to their homes in the countryside.
4. Not so fast - Derek Scissors writes here in an FT blog that China's growth rate is not nearly as fast as the official figures suggest. He looks at money supply.
There is an indicator both revealing as to the accuracy of headline GDP growth and the extent of the economic challenge facing Beijing: money supply. Broad money M2 breached $20tn at the end of December, a staggering 70 per cent larger than in the US, where monetary policy has hardly been tight.

There's a tremendous amount of liquidity, the problem is no one is using it. Growth in narrow money M1 has collapsed. It was a dangerously excessive 32.4 per cent in 2009. It was a dangerously anemic 3.2 per cent in 2014.
5. Why are teen pregnancy rates falling so fast? - The National Government has trumpeted a sharp fall in the last couple of years in the number of young mums on the DPB. It has claimed credit because of benefit reforms, but there may be a few other things going on.
Something strange is happening to teenage pregnancy rates all over the world. They're dropping sharply. This is great news in many ways, but it's a mystery.
The most interesting theory is that the MTV reality TV sensations, 16 and Pregnant and Teen Mom, have had an impact. I've watched the programme with my wife (who can't help herself and I have to admit I found them fascinating) and I can see why it works so well. If the Government is keen on its investment-led approach it could pay for a New Zealand version of the programme to air on prime time. Just a thought.
One piece of research suggests the two TV shows were responsible for a third of the drop in the teen pregnancy rate. And then there's a drop in lead levels in teenagers. No one is really sure.
Vox has a look at the issue here:
Levine and Kearney began looking at changes in the teen birth rate in places where the MTV shows had high Nielsen ratings — and those where it didn't do well at all. And what they saw was areas of the country with high Teen Mom viewership had significantly faster declines in their teen birth rates. They published their first results last year, in a working paper titled "Media Influences on Social Outcomes: The Impact of MTV's 16 and Pregnant on Teen Childbearing."
6. Focus on the Middle Class -I wonder if Larry Summers had a chance for a chat with John Key at Davos about the need to bolster the developed world's middle classes.
Here's what he might have said (via an Op-Ed):
If it is to benefit the middle class, prosperity must be inclusive and in the current environment this is far from assured. If the US had the same income distribution it had in 1979, the bottom 80 per cent of the population would have $1tn — or $11,000 per family — more. The top 1 per cent $1tn — or $750,000 — less. There is little prospect for maintaining international integration and co-operation if it continues to be seen as leading to local disintegration while benefiting a mobile global elite.
The focus of international co-operative efforts in the economic sphere must shift. Considerable progress has been made in trade and investment. Less progress has been made in preventing races to the bottom, in areas such as taxation and regulation. Only with enhanced international co-operation will the maintenance of progressive taxation and adequate regulatory protection be possible. And only if ordinary citizens see benefit in an ever more open global economy will it come about.

These three concerns — secular stagnation and deflation, slow underlying economic growth and rising inequality — are real. But they are no grounds for fatalism.

The experience of many countries and many eras shows that sustained growth in middle class living standards is attainable. But it requires elites to recognise its importance and commit themselves to its achievement. That must be the focus of this year's Davos
7. Negative yield curves - David Chaston put out a very useful piece a few days ago asking if New Zealand's bond yield curve was about to go into 'inversion', where it is cheaper to borrow long term than short term. It's the natural consequence of money printing overseas flowing its way down here and pushing our bond yields down at the same time as the Reserve Bank is holding our short term rates relatively high.
We've been here before. Back in the 2004-07 period our Reserve Bank lost control of monetary policy to an extent because cheap foreign money drove down fixed mortgage rates to well below floating rates.
We're headed back there pretty quickly.
Here's TD Securities with a useful chart.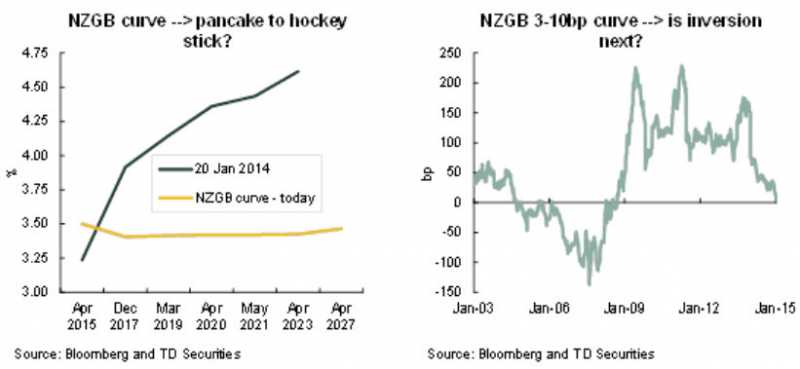 8. Inflationary expectations - Yesterday's inflation figures also showed that inflation is dead outside of Government and the electricity industry. Yet still the inflation comes down from on high in places where poor consumers have no choice but to take it.
Here's MPI with a 16% increase in fees and charges. Somehow this Government had the gall to accuse the Opposition of proposing three new taxes in the election. Shortly after the election it announced a pseudo tax increase. It has done this before with all sorts of fees and charges. The higher petrol taxes for road spending was just one example.
9. Fresh money and fools - This is a cracker from Manny Roman about freshly printed money and asset price inflation.
A few months ago in New York, a private collector handed over a small fortune to buy a white canvas on which four letters had been stencilled in black ink: FOOL. The painting, by an American artist named Christopher Wool, had changed hands three years ago for $8m. Its new owner paid nearly twice as much.

Prices have been rising in other markets, too, in large part due to quantitative easing. This tool for central bankers was forged in the aftermath of the financial crisis, and involves buying assets with newly created money.
10. Totally John Oliver on New Year's celebrations. I sympathise.
(Updated to correct inflation/deflation in number 1)