Eric Crampton says explicit government-sponsored foreigner gouging would ruin not only much of the tourist experience but also locals' experiences. He thinks Gareth Morgan's approach is misguided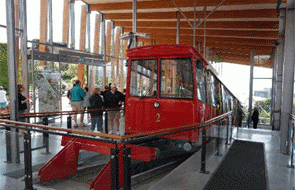 By Eric Crampton*

New Zealand is one of the world's most expensive places to live.
While there are a lot of reasons for that, a pretty substantial underlying reason is the country's small population.
When the fixed cost of providing things can be spread across more people, each of us pays less.
This applies not only to goods but also to services: If the New Zealand Opera Company were restricted to performing only in Auckland, rather than touring productions across the main centres, Auckland would enjoy less good-quality opera because the fixed costs of hiring a company, building sets, and rehearsing a performance would have to fall entirely on Auckland patrons.
The same thing happens when customers tour to the amenities. Wellington could not sustain as many great waterfront restaurants and bars without the cruise ships that regularly disgorge hordes of white-sneakered, sun-visored, nylon-shell-accoutred retirees hunting for local experiences. And I doubt that the cable car from Lambton Quay up the hill could survive on commuter traffic alone.
Tourists, as annoying as they can be for locals, help to spread the fixed costs so that residents can enjoy a lot more facilities whenever the cruise ships are not in town.
But for the same reasons that New Zealand isn't a cheap place to live, neither is it a cheap place to visit.
Tourists face all of the costs we have to bear, plus the cost of getting here. It then is not surprising that tourist expenditures are pretty sensitive to costs.
NZIER reported in 2007 that tourists' expenditures dropped by 0.8 percent for every one percent increase in the dollar: when tourists find things more expensive, they spend less.
In a recent blog post, Gareth Morgan argued that Kiwis should abandon xenophobia in favour of a more focused attempt to gouge money out of tourists.
Morgan's recommendations are right in part: if ACC has higher claims from foreign tourists in rental cars, for example, then ACC might want to increase the risk-rating on rental car companies' premiums.
But he also argues for levies on tourists at the airport to cover parking costs, and explicit foreigner-gouging at zoos and museums.
If tourists respond to airport levies the way they do to exchange rates, this would mostly result in less tourist spending elsewhere.
And it also ignores that the zoos and others already charge tourists more: few tourists find it worthwhile to buy the annual pass that provides excellent value for locals.
Perhaps even more importantly, explicit government-sponsored foreigner gouging would ruin not only much of the tourist experience but also locals' experiences. I know I'd get pretty sick of having to show my driver's licence whenever a cashier heard my unchangeable Canadian accent.
-----------------------------
Dr. Eric Crampton is Head of Research at the NZ Initiative