Jenée Tibshraeny on how the clash of political, corporate and scientific interests isn't getting us anywhere on the fat tax debate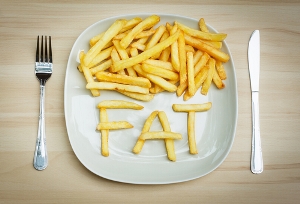 We tax alcohol and tobacco, but why has on-going debate around taxing unhealthy food and drinks never made it to the Government's agenda?
Sugary drink taxes, fat taxes, fruits and vege subsidies, removing GST from healthy staple foods; scientists and health professionals are constantly making calls for these fiscal policies to be put on the government's agenda.
After all, spending taxpayer money to prevent obesity, heart disease and diabetes is better than spending taxpayer money on preventable medical bills.
Nipping the problem in the bud is better than calling an ambulance at the bottom of the hill, right?
But the issue of food taxes and subsidies is a polarising political hot potato. A scorching potato in fact, that no politician wants to hold on to for too long if they also want to hold on to their job.
Ideologically speaking, it's against National's core values of having a small government, being business friendly and promoting personal freedom. Doing anything to hamper the processed food and beverage industry leaves the Government in a rather awkward position when it comes to having drinks and canapés with its corporate mates.
Labour is also stuck in an ideological corner. While there's nothing like a good new tax to get Labour smiling, putting financial pressure on low income earners, exasperating inequality, is a big no-no.
Researchers seem to be divided over whether taxes/subsidies, and thus price, is a strong enough factor to change behaviour. So in many ways it's too risky for Labour to take on a policy that risks further marginalising the most vulnerable.
I see the political problems brought about by this topic as being similar to that of coal mining.    
We all know coal mining is the dirtiest way to generate energy, but National can't make a stand against it because that would be interfering with the free market, and Labour needs to stay silent on the environmental impact, as the party's roots stem back to representing working class miners.
So where does this leave the scientists and health professionals calling for the Government to put its money where its mouth is when it comes to combatting obesity, heart disease and diabetes?
Frustrated, yet hopeful.
Science backs food taxes and subsidies
Auckland University Professor of Population Nutrition and Global Health, Boyd Swinburn, says "I haven't seen any signals out of the government that it's prepared to take fiscal policy seriously.
"If it wants to get serious about childhood obesity, then it's going to have to implement some serious policies."
Swinburn's colleagues at Auckland and Otago Universities have just published a report in conjunction with Oxford University, that found about 2400 lives could be saved a year if we put a 20% tax on our saltiest and fattiest foods, and if the government subsidised fruit and vegetables by 20%.
The report, Effects of Health-Related Food Taxes and Subsidies on Mortality from Diet-Related Disease in New Zealand: An Econometric-Epidemiologic Modelling Study, also concludes the poorest will be better off financially.
Researchers, funded by the Health Research Council of New Zealand and the British Heart Foundation, say the losses consumers suffer by paying higher taxes, would be offset by the savings they'd make when buying subsidised food.
Politicians won't touch a food tax with a barge pole
The Minister of Health, Jonathan Coleman, has voiced his opposition to a food tax on a number of occasions, saying it simply doesn't work.
He responded to this particular study by telling the NZ Herald he wouldn't comment until the government's "work programme in this area" was complete.
The Food and Grocery Council's chief executive, Katherine Rich, responded by telling Radio New Zealand that taxing staple items would put them out of the reach of many New Zealanders.
She highlighted the fact the foods targeted by the tax proposed in the study include items such as eggs, milk and bread.
This would inflate the price of these foods by 35% if you implement a 20% tax on top of GST.
She said following the tobacco taxation model for food wouldn't work unless the tax was levied at a much higher rate than the proposed 20%.
"The tobacco model doesn't work for food because people can give up smoking – they can't give up food."
Corporates vs academics
While Rich certainly raises some key points, which I believe highlight some holes in the model used in the study, the influence lobbyists like her have on the government can't be ignored.
Rich – a former National MP – heads the trade body for tobacco, alcohol and big food companies, but also sits on the board of the government's Health Promotion Agency, which decides how New Zealanders should make decisions about leading a healthy life.
While this may come as no surprise, and the conflict of interest may not concern you, the thing that gets me is that there's much more money at stake if the Government grinds Rich's gears, compared to upseting the university professors.
As Shaun Hendy, an Auckland University physics professors, told me in a Double Shot interview, the situation is exacerbated as scientists are often gagged from speaking out about issues of public importance, due to corporate arrangements.
Swinburn said, "They [the Government] have signalled they'd like to do something serious about childhood obesity, so there will have to be some payoff between corporate wealth and children's health. You can't expect the junk food industry to keep making high levels of profits, while bringing down childhood obesity."
He said we'd be facing the same problem if Labour were in power, as the food industry's influence would be the same.
I asked Labour's spokesperson for Health, Annette King, what she thought about the latest food tax/subsidy report, and she said, "It has to be based on really good evidence".
When asked whether research done by New Zealand's top universities, as well as Oxford, was solid enough evidence, she said she wasn't going to commit to a stance on the matter.
Instead King vaguely suggested decreasing the sugar content in foods. This sounds good in theory but I wish her luck telling Watties to change the recipe of its good old Kiwi tomato sauce!
Debate clouded by politics
I haven't done enough research or crunched enough numbers to conclude how taxes and subsidies could be used to make our society healthier.
I am however fairly confident corporate interests are clouding frank discussion on the topic and keeping it well away from the Government's agenda.
What us constituents can do to change this, is show that our views aren't confined to the classic National / Labour stereotypes I outlined above.
National voters – are there not business opportunities in the healthy food industry? Have taxes on alcohol hampered your personal freedom that much that you've said no to buying that bottle of pinot you'd really like and can afford?
Labour voters – how do you feel about society telling you that you're so uneducated and fiscally irresponsible that you'll keep opting to buy unhealthy food, even if it's more expensive than healthy food?
We're going to have to change our attitudes, if we want our politicians to change theirs'.