Caroline Courtney argues John Key ought to take a leaf out of his mate David Cameron's book on combating money laundering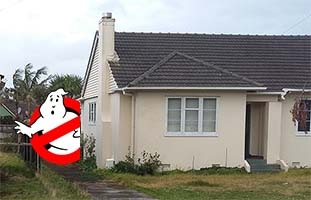 By Caroline Courtney* 

I think it's time John Key paid his old mate, British Prime Minister David Cameron, a visit. They could take a walk around the streets of London together and Cameron could give Key a bit of a wake-up call. 
Cameron has just promised action aimed at deterring corrupt foreigners from buying up residential properties in the UK as a means of laundering ill-gotten gains. Already, a massive invasion of dirty money into the UK has inflated residential property prices, especially in London, where many local buyers now find themselves priced out of their own city, revealed a Transparency International UK report earlier this year. 
Now Cameron plans to embrace the anti-corruption watchdog's central recommendation and establish a proper public register of exactly who owns which properties in Britain – notably those owned by anonymous shell companies based in shady off-shore tax havens. 
"The UK must not become a safe haven for corrupt money from around the world," Cameron says.
Wouldn't it be reassuring to hear the same commitment to New Zealand from our own PM? Here, the impact of dirty money on our property market barely receives a mention, let alone attention. Are we just naïve? Or are we like rabbits caught in the headlights – too overwhelmed by what might be unfolding right in front of our eyes to know what the hell to do next? 
Where does the money come from?
Overseas research shows the corrupt gravitate towards major cities to launder the proceeds of their crimes. And their big spending has a much greater inflationary effect on those cities' property prices than economists previously believed, explains New Zealand anti-money laundering expert, Ron Pol, (www.amlassurance.com).
Back in this country, questions are almost never asked about how and where off-shore buyers get their hands on all that moolah they're gleefully throwing into the Auckland housing market right now. Money spent is synonymous with "investment". And all "investment" is good, right? 
Not if it's corrupt money, it isn't. Auckland legal consultant Ashley Balls has just returned from London himself, where he visited his old mate. One day, they drove past a brand new block of upmarket flats, sporting an "All Sold" sign on the front of the building. "I'll bring you back here after dark," his friend told him, mysteriously. When they did return, there wasn't a light on in the entire premises. This was a ghost apartment block, comprising more than 20 flash flats, worth around three million pounds each, or close to NZ$150 million. "Bought by a corrupt Russian, using dirty money," lamented Balls' pal who, suffice to say, would know. And there were scores more such ghost buildings he could have shown him, he said. 
Why would someone let such a valuable piece of real estate stand idle? Simple. Rather than deposit criminal money into the British banks, where it might attract unwelcome scrutiny, the corrupt use ghost properties as cash deposits – which they can liquidate within 48 hours in London's hot market should they need the money in a hurry. Makes you think again about why the investor-owners of Auckland's 22,000 ghost homes might choose to leave them standing empty, doesn't it? And it doesn't give you much faith in notion that off-shore investment in residential property developments will necessarily deliver additional new housing for locals.
Ghost-house Day
Whether or not Auckland has more ghost houses today than it did at the last Census two years ago we won't know until the next count in 2018. In the meantime, maybe Aucklanders could rename April Fool's Day 'Ghost-house Day'? Community-minded volunteers could slap "ghost-busted" stickers on the vacant homes' letterboxes and we could have a stab at tallying the city-wide grand total. I'm only half joking. 
For now, we have to rely on anecdotal evidence indicating the ghost-house phenomenon is on the rise in Auckland. I know of one person, for example, who had four family homes sell around his East Auckland property within the last year – three of them now relegated to ghost house status and owned by off-shore investors.
Meanwhile, the Government sticks to its song sheet, trilling that the city's housing crisis is all about insufficient supply. What's more, a disturbing number of Auckland property deals "don't smell right" as one real estate agent put it. At the very least, these malodorous sales agreements raise suspicions of money laundering – something real estate agents have been heard to acknowledge behind closed doors. Getting them to report those suspicions to authorities is the hard bit. 
I know of one off-shore buyer who bought in excess of 50 Auckland houses within one month. I'd say that was suspicious enough to at least call the Police Financial Intelligence Unit (FIU) so they could cast an eye over the details, wouldn't you? 
Likewise, another foreign buyer viewed more than 50 houses and snapped up in excess of 40 of them in one buying spree. Another person in China made enquiries with a local real estate agent, via his third-party representative in Auckland, about newish family homes for sale within the $1.5 to $2.5 million bracket. The agent forwarded details of six properties that met his criteria. 24 hours later, he'd bought the lot, sight unseen. 
In other property deal I've heard about, the sales agreement had a few separate incarnations through deeds of nomination – a rigmarole that might have served to obfuscate the source of the final settlement monies. 
Real estate agents etc still outside AML law
Currently, real estate agents, lawyers and accountants remain exempt from the Anti-Money Laundering and Countering Financing of Terrorism Act. Until that exemption is removed as planned, these professionals are supposed to report any suspicious transactions under the old, less rigorous Financial Transactions Reporting Act. But they rarely do so, according to figures.
Part of the problem is Kiwis generally don't yet comprehend the scale of laundering that goes on here. It's entirely feasible that billions of dollars of dirty money wash through our little economy every year – much of it generated locally, of course. Does anyone still believe the Police FIU's now outdated estimate of $1.5 billion per year reflects anything like the ugly truth?
Forty years ago, the typical Kiwi money laundering escapade might have had a quaint touch of TV's Westside about it. A 1970s nightclub owner, for example, might have cleaned cash for relatively small-time crims, evaded his tax obligations while he was at it, and funnelled the readies, reeking of dope, into his residential rental property portfolio in the then downtrodden Ponsonby. 
Money pouring out of China
The stakes are very often enormously higher today. World-wide, some of the smartest, most treacherous and technologically savvy criminal syndicates on the planet launder an estimated US$2 trillion every single year. 
Something like $US1.08 trillion slipped illegally out of China alone between 2002 and 2011, according the best estimate from the US-based not-for-profit agency, Global Financial Integrity. 
In fact, corrupt Chinese have made a veritable art-form out of circumventing their government's capital flight rules which, for now, restrict individuals from removing more than 20,000 yuan (US$3200) a day and a maximum of the equivalent of $US50,000 a year, out of China.  
That dirty Asian money is inflating our Aussie neighbours' housing market appears indisputable. Just recently, the global body, the Financial Action Task Force (FATF), issued a new report on Australia's anti-money laundering and countering financing of terrorism practices, concluding that global crime syndicates were pouring "large amounts" of corrupt money into the Aussie housing market. The chief sources of that illicit money were Asia-Pacific countries, in particular China, said the report. (The next FATF review of New Zealand's policies is set for 2020.)  
Why are we different?
There's no reason I can think of why New Zealand's housing market wouldn't be any less exposed to illicit money that Australia's. With our Government's current open-door approach to foreign buyers, we might be in an even worse predicament. 
With other economies now placing serious attention on the issue – Australia's Crime Commission has launched an investigation into money laundering and terrorism financing through real estate – New Zealand simply cannot risk falling even further behind the pack and trying to play catch-up later.  
Because the moment governments move to make it harder for money launderers to climb the residential property ladder – as Cameron's is about to do – the corrupt will instantly switch their attentions to other appealing economies, where it's easier to do business. And before we know it, our top-spot on the international Ease of Doing Business Index will have an awfully ironic ring to it.
-----------------------
*Caroline Courtney is an Auckland freelance journalist with an interest in anti-money laundering and countering financing of terrorism. Her story on money laundering, 'Taking Us to the Cleaners' featured in North & South magazine's July issue. The accompanying photo of Caroline was taken by Toaki Okano.