Diana Gordon says the best time to buy junk bonds is when there is blood in the streets; the oil price collapse has over 40% of high yield energy companies trading at big discounts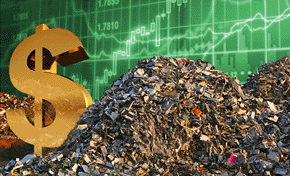 By Diana Gordon*

Having spent most of my career as a high yield – a.k.a junk bond - portfolio manager, I found myself really grateful that I could step aside from that market when I came to New Zealand three years ago.
The global high yield market had doubled over the past 5 years, pushing past US$2 tln and yields had dropped to shocking lows. An unintended consequence of ultra-low interest rates and money-printing saw yield-hungry - even yield-desperate - investors become tourists in riskier asset classes like junk.
Do you like risk piled on risk? Then why not purchase a bond of an emerging market high yield company? Or that favourite Japanese retail investor trade of buying high yield in Brazilian Reals (a.k.a the double-decker)? None of these were going to end well. But when? The answer appears to be right now.
At time of writing, the JNK US High Yield ETF is down 7.9% YTD. Some 20% of companies are trading at distressed levels (as at Nov 30th) and defaults are beginning to pick up.
One concentrated high octane fund run by smart investors has put up the gates to prevent a run on redemptions. That's pretty big news in a market that relies on the genteel fiction that there is always liquidity in freely tradable junk bonds. Liquidity was very poor during the global financial crisis (GFC) but somehow mutual fund managers were able to get through without having to put up the gates.
Connecting the dots to the telecom bubble
This all takes me back to 1999 when the junk bond market was booming. Enter stage left the telecom media & technology (TMT) sector, desperate for capital readily provided by the burgeoning high yield market.
The internet was the new, new thing. TMT companies began to trade on price to PP&E (or capital put in the ground) ratios or price-to-eyeballs. Nobody cared about the pesky cash flows you would need to pay your creditors. Surely that didn't matter, as all the companies would be bought up by the sleepy incumbent telecom companies? Or they could just raise equity in the exploding NASDAQ? Right? Um.
Turned out fibre in the ground was a commodity and the incumbents could build it themselves. Eyeballs went elsewhere. The NASDAQ collapsed, bond prices collapsed, often to zero, with an aggregate loss of US$190 bln in the high yield bond market alone.
The high yield market can be capricious, sometimes shutting down altogether. In times of crisis, a company that has constant need for capital is going to get burned.
Back to the future - now it's energy and commodities
Fast forward 15 years to the shale gas revolution:
A hugely growing high yield market in a desperate search for yield? Check.
A good story about intrepid new technology that provides clean energy coupled with energy independence from the Middle East? Check.
A strong stable commodity price rewarding early adopters? Check.
A highly capital-intensive industry that requires constant access to a sometimes-inconstant market ultimately dependent on a commodity price? Sounds familiar.
High yield energy companies grew from low single digits to 15%+ of the market through 2014. Following the recent oil price collapse, over 40% of high yield energy companies are now trading less than 80c on the dollar, with the same story playing out somewhat in the minerals and mining sector. Venerable and once well-regarded investment firms have been caught with their pants down overweight the wrong sectors.
GFC version 2.0?
The junk market right now feels to me a lot more like the bursting of the telecom bubble of the early 2000s rather than the more systemic meltdown of 2008 when high yield was down about 30%. I don't think this will stop the Fed from its gradual hiking policy. It knows that it has messed up by pushing interest rates down too low, with unintended consequences.
There are plenty of good companies that have nothing to do with oil and gas or materials whose bonds are being sold to meet redemptions.
Many of those companies that had stared into the abyss in the GFC (with the abyss cheerily waving back) have got religion about shoring up their liquidity. So even though revenue growth has been rather anemic over the past 8 years, most companies have been pumping out lots of free cash flow. Even the most pedestrian of bond issuers has been able to refinance their debt at very low coupons.
Opportunity or threat?
There are a number of funds in New Zealand that invest in high yield, more as a minor adjunct to their fixed income allocation through direct investment, or go-anywhere funds. The industry has mostly dodged the bullet this time around, partly due to being burnt by the junky New Zealand finance companies.
So is there an opportunity for New Zealand investors in high yield debt? Buying high yield bond funds still retains an element of buying a sandwich thinly filled with the proverbial brown stuff of oil and gas and materials companies. But of course that can present opportunities to pick up non-oil and gas and materials bonds cheaply when the funds have to meet redemptions.
The best time to invest in junk is usually just before defaults peak when there is blood truly on the streets. High yield is certainly looking more attractive but we aren't there - yet.
This article reflects the personal views of the author at the date shown above. The information provided, or any opinions expressed in this article, are of a general nature only and should not be construed, or relied on, as a recommendation to invest or refrain from investing in a particular financial product or class of financial products. You should seek financial advice specific to your circumstances from an Authorised Financial Adviser before making any investment decisions.
---
Diana Gordon is the Fixed Interest Portfolio manager on the Investment Strategy team at GMI/Kiwi Wealth in Wellington.