Cam Preston's take on what's really happening in Christchurch 5 years after the big earthquake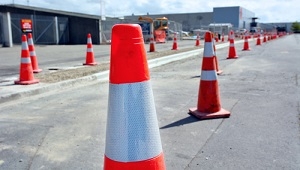 *By Cam Preston 
Six months ago I illustrated the delaying tactics being employed to force Canterbury homeowners to accept lowball cash settlements by their insurers.
Insurers officially ran out of reinsurance (insurers' insurance) for the 2011 Christchurch earthquake this year, meaning, five years after the devastation, the cash to settle claims is now coming from their shareholders, not overseas reinsurers.
I also lamented the fact that there is absolutely nothing that local policyholders seem to be able to do to prevent this given the regulations covering the settlement of insurance claims in New Zealand number zero.
So on the fifth anniversary, I thought I would look at progress once again, but this time a little closer.
I started by reading the obligatory media statement from the Insurance Council of New Zealand stating "Private insurers are on track to settle the vast majority of Canterbury earthquake claims by the end of this year".
Lacking in both truth and substance I then went straight to the two members of the Council that between them hold more than two thirds of all major earthquake claims: IAG (State, NZI, Lantern, BNZ, ASB Brands) and Southern Response (formerly AMI Insurance):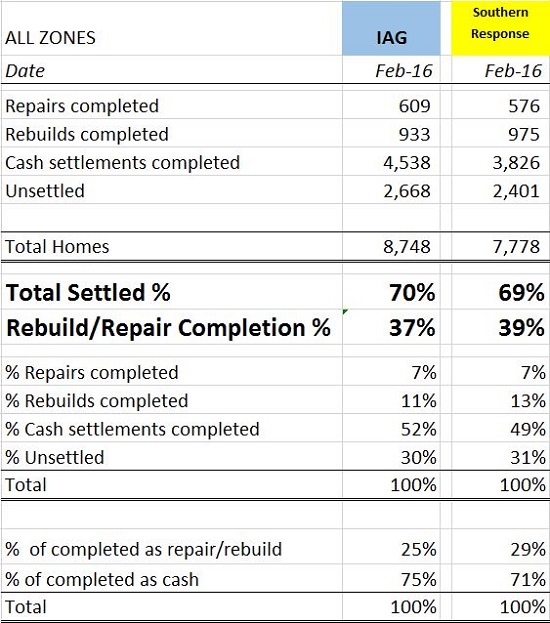 While these two insurers still have 5,069 families awaiting resolution of their home claim, they appear to have made some progress from the 60% and 62% settlement progress reported in September last year.
But do those statistics really convey the true story?
You can see that both have taken advantage of "cash settlements", the acting of writing a cheque to settle a claim.
In particular 4,152 of their claims were for early "Red Zoned" properties, the majority of which were cash settled: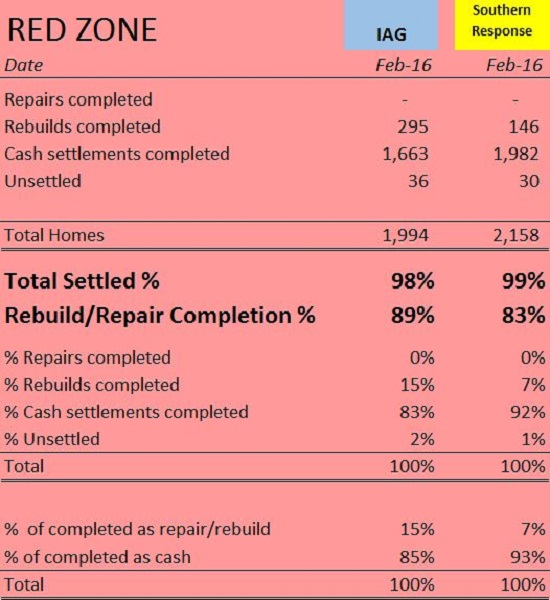 However when the Red Zoners are removed from the statistics for both these companies, a much clearer picture of the progress of non-Red Zone (or "Green Zone") property owners becomes apparent: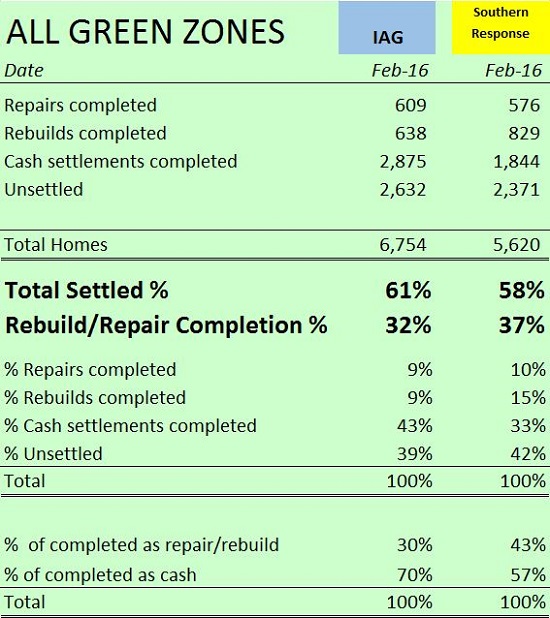 So while nearly 100% of Red Zones claims were settled early on, Green Zone settlements stubbornly sit at around 60%.
However what is even more telling is that 70% and 57% of Green Zone settlements respectively have been completed by cash settlement also, the simple act of the insurer writing and signing a check after 5 years.
If you examine the settlements where the claimants have (quite rightly under their policies) asked the insurer to reinstate (repair or rebuild) the property, the completion rates sit at a shocking 32% and 37%.
So it has taken over five years for insurers to complete just over a third of the reinstatements that claimants are entitled to, and have requested, under their policies.
Of course there is an avalanche of the usual excuses: consenting delays, contractor shortages, EQC inaction, you name it and it gets thrown up as an excuse for insurers to delay.
But here's the real reason, and it has nothing to do with any of those issues.
A quick look at Southern Response's claim liability (which I first examined in 2013) shows that the increasing cost of claims (or 'loss creep') has set in once again as cash settlement opportunities dry up: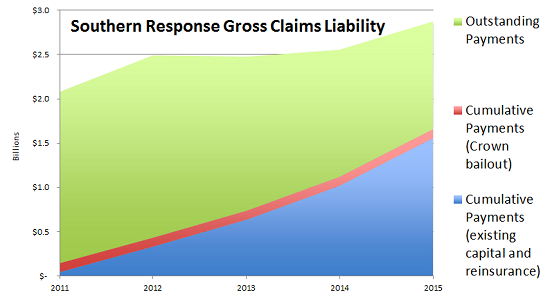 So while Southern Response managed to stave off loss creep for a couple of years it is back now that they are forced to actually do what their policies promised: reinstate homes.
In Southern Response's case it is the taxpayer that will feel the pain as the shareholder. Only 10% of the $1bln taxpayer contribution promised to Southern Response has actually been advanced to them to date.
IAG has undertaken a large restructuring and consolidation exercise this year so it will be somewhat difficult to untangle the true financial hit from their survival tactic of 'delay and recapitalise' – although reputational damage is quite evident locally.
So while both are only a third of the way through their reinstatement programmes, it is clear that despite the spin from their Insurance Council lobby group, they are not only far from "on track to settle the vast majority of Canterbury earthquake claims by the end of this year", they are also far from escaping the wrath of their respective shareholders.
----------------------------------------------------------------------------------------------------------
Story has been updated with latest figures.
*Cameron Preston is a Christchurch accountant and homeowner who has longstanding unresolved quake insurance claims.