NZ Initiative's Eric Crampton says the living wage movement and pushes to increase the minimum wage to the living wage can easily do more harm than good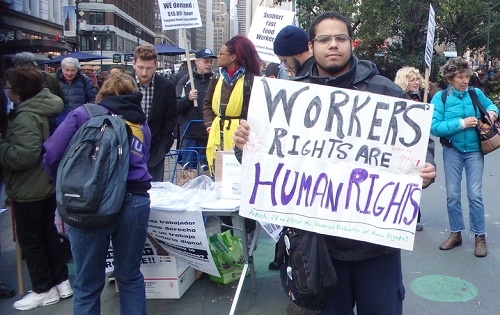 By Eric Crampton*

A funny thing happened in the last round of American minimum wage increases. The number of people in unpaid internships went up.
You might think that those would not be linked, but think it through. Kids starting out need to gain work experience. They need to prove that they are reliable and that they can behave professionally. Entry level positions paying the minimum wage are the traditional way of doing this.
In American data, minimum wages are low enough that they do not have substantial effects on overall employment. But what effects they do have are concentrated among younger and low-skilled workers.
And when young workers needing to prove themselves are priced out of the market because it is illegal to pay them what they are really worth in their first year on the job, they need to find other ways of doing that.
Working for low wages is illegal, even if it is sufficiently beneficial for young workers that they are willing to work for free. It might seem a bit perverse that a desire to help low income workers forces more people into unpaid work, but it should not be surprising.
High minimum wages knock the bottom rungs out of the employment ladder. Families that are rich enough can use internships to give their kids a boost on to the first remaining rungs. Others cannot. And calls to ban unpaid internships utterly miss the point.
It is easy to understand public support for high minimum wages. Too many low-skilled workers wind up for too long in low paying jobs, and it seems entirely unfair that people can work very hard for decades for so little reward. Part of the general social compact is that those who play by the rules and work hard should be able to afford to raise a family. Cue the living wage movement.
Kids starting out in their first jobs and low-skilled middle-aged workers trying to scrape together enough to raise families are in fundamentally different positions. There is no way of setting the minimum wage to help those most in need of assistance without killing opportunities for those starting out.
When AUT's Gail Pacheco and Tim Maloney looked at the data, they found that a quarter of minimum wage workers came from households in the top four deciles, and only about 40% of minimum wage workers came from households in the bottom three deciles.
Because minimum wage work is not that strongly concentrated in low-income households, minimum wage hikes have little effect on overall household poverty rates. In their simulations, a 10% increase in the minimum wage reduced poverty rates by only 0.08 percentage points – under the assumption that nobody lost their job.
When potential job losses are factored in, the anti-poverty effects are even smaller. Pacheco elsewhere estimates that a 10% hike in the minimum wage reduces hours worked by young Maori by seven hours per week.
And one Canadian study found that increases in the minimum wage did more to push households below the Canadian Low-Income Cut-off line than it did to bring households out of poverty: second earners whose incomes were critical to keeping their families out of poverty lost their jobs.
The living wage movement, and pushes to increase the minimum wage to the living wage, can then easily do more harm than good. Plenty of workers need the experience that they would be denied when lower wage jobs are banned.
Even on its own grounds, the living wage figure fails. The hourly figure promoted is based on a set of assumptions about living costs, including that those on low incomes never shop around to find lower cost food outlets and never ever buy anything on coupon specials.
But there is a better way. And, we already have it.
Working for Families provides a boost to the wages of low income workers in lower income households supporting children. The burden of supporting those workers' wages then falls, through the tax system, on the childless and on households on higher incomes.
Working for Families also means that a disproportionate part of any hike in minimum wages winds up going to the government through reduced WFF payments.
Where hikes in the minimum wage can discourage job creation and encourage firms to automate tasks that could be undertaken by lower skilled workers, WFF supports lower income households without killing jobs.
On Radio New Zealand's Sunday Morning panel, Laila Harré argued that paying a living wage should be the employers' responsibility. But not all tasks employers need to have done are valuable enough to warrant pay rates that are enough for a middle aged worker to raise a family.
Those jobs get killed under high minimum wages, along with the bottom rungs of the ladder that kids from disadvantaged backgrounds especially need to get into employment. The burden of high minimum wages falls on the employers of lower productivity workers, on their customers, and especially on lower skilled workers who lose the chance to have a job.
The burden of supporting lower income families is borne more equitably when shared through the tax system.
----------------------------
*Eric Crampton is head of research at The New Zealand Initiative which provides a fortnightly column for interest.co.nz..