Motu research analysts on why Middle America should be angry, saving the EU, middle class housing projects, the TPPA, the animated Panama Papers & more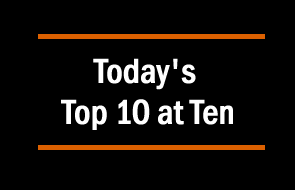 Today's Top 10 is a guest post from Motu research analysts Eyal Apatov, Kate Preston, Wilbur Townsend and Tom Carver. Motu is an economic and public policy research institute.
As always, we welcome your additions in the comment stream below or via email to david.chaston@interest.co.nz.
And if you're interested in contributing the occasional Top 10 yourself, contact gareth.vaughan@interest.co.nz.
See all previous Top 10s here.

1) The real reason Middle America should be angry.
This is one of a few recent articles challenging the quiet presumption that commerce authorities are competently policing well-designed competition laws – a presumption that has squeezed competition law into the wonkish footnotes of public debate. This article challenges that presumption, not with the usual trade-off between market power and efficient business models, but with a close study of the regional effects of those efficient business models. It catalogues the dismantling of local production in the United States' Midwest and investigates the proximate causes: changes to infrastructure, to social networks and to corporate governance. It concludes that the dismantling was led by newly-consolidated businesses who would not have existed under stricter competition laws. Expect competition law to return to the headlines of public debate soon. 
2) Should Labour oppose the TPPA? (Yes!)
According to Bradford Jensen, Dennis Quinn, and Stephen Weymouth from the NBER, opposing free-trade agreements is a great campaign strategy. Their (US based) study, suggests that with any one unit increase in the merchandise trade balance (as a % of GDP) was associated with a 4% increase in the share of votes for the incumbent president. Furthermore, the rate was especially strong among low-wages earners from swing states. Hear ye, hear ye Mr Little… 
3) Panama Papers: the animated version.
A short, informative, and entertaining animated clip explaining the fuss about the "Panama Papers" using piggy banks. 
This is a short but fascinating historiography of modern Europe from Yanis Varoufakis, the polarising former Greek Finance Minister.
Varoufakis narrates his own experiences as a child in a family resisting rule Junta rule and as a politician resisting German diktat. His narration vandalises the dichotomy of a technocratic Germany and an incompetent Greece with two aims: First, to demonstrate the impossibility of any European country separating itself from the European project; by describing the complicated connections between Germany and Greece he tries to show that the connections cannot be cleanly severed. Second, to escape the choice between Eurosceptic nationalism and the Brussels technocracy; by depicting the insanity of Europe's current governance he tries to assure us that a saner Europe can be constructed. Given the importance of Europe to the global order, it should trouble us that his first aim is much more successful than his second. 
5) The rise of employment in alternative work arrangements.
In the last ten years in the US, employment in temporary, gig, and contract work (e.g. Uber drivers) increased by around 5% every year. By 2015, this sort of work accounted for over 15% of all employment. Does this signals a movement towards a "better world" in which workers have more flexible employment arrangements and improve work-life balance, or is this merely a reflection of weak economic growth, with workers taking any job available?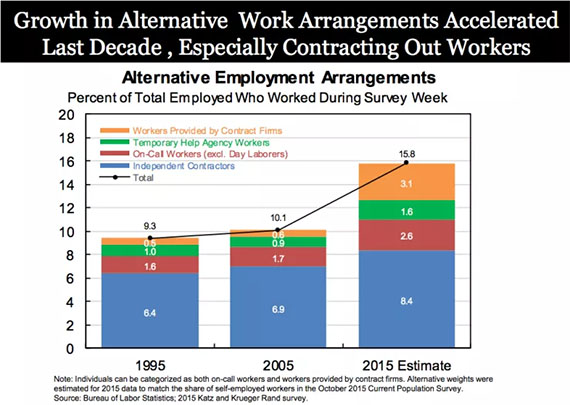 6) Welcome to the future: Middle-class housing projects.
For those reading in Auckland wondering what will become of the city once every house is worth $2M, look no further than Silicon Valley (tip: Never say the word bubble three times in the mirror at night). This New Yorker article discusses the implications of housing subsidies for families earning 6 figures. Such subsidies are proposed in San Francisco and the Bay Area, where Palo Alto is exploring the possibility of subsidising housing for families earning between $150K-$250K USD. To many this may feel preposterous, but with middle class families increasingly squeezed out of the city by high earning tech employees, the issue is real. What, however, does it mean when teachers, police officers and nurses can no longer afford to live in the communities they service? Will the 'poor' middle class supplant the 'old poor' (many of whom live below the poverty line) in public concern? 
This article presents the importance of gender equality in an economics perspective, describing some of the sexism ingrained in standard economic theory and statistical measures. GDP does not include measures of unpaid productivity including childcare and housework. This can distort a government's goals if they ignore the benefits of such important contributions to the economy.  
8) Incentive compatible advertising on a social network.
Are you looking for a way to draw attention to your research output? A trailer could be the perfect solution. This preview of Kfir Eliaz and Ran Spiegler's "yet to be submitted" working paper is "an inspiration" for all researchers. 
9) A job-creating powerhouse? The way we measure unemployment can lead to misleading conclusions.
Monica Threlfall from London Metropolitan University explains the common misinterpretation that the unemployment rate is a measure of those without work in an entire population. She reminds us that the unemployment rate is in fact the proportion of unemployed in the labour force, where the labour force is all those who are employed or actively seeking employment. Unemployment within a total population can be termed the unemployment ratio. While media has portrayed that around half of all young people (16 to 25 year olds) in Spain and Greece are unemployed, the actual youth unemployment ratios are considerably lower. On the other hand, many may be surprised to know that the UK has the 7th worst unemployment ratio in the EU. 
10) Mathematicians mapped out every "Game of Thrones" relationship to find the main character.
Much as you may try, it is impossible to avoid groups of Game of Thrones fans arguing over their favourite characters (even worse are all of the terrible "winter is coming" jokes now that summer is well and truly behind us). Thankfully Mathematics is here to end the arguments. Researchers at Macalester College in the US used network science (a branch of applied graph theory) to turn Game of Thrones into a social network. Using the third book in the series, A Storm of Swords, they determined that Tyrion was the true 'main' character – with the most important connections with other characters. Anyone arguing that it's not appropriate to judge characters from the Fantasy Middle Ages as if they were trending on Twitter is invited to a wedding.