Siah Hwee Ang says China's consumers will become more selective so foreign companies need to make the most of their advantages in innovation and marketing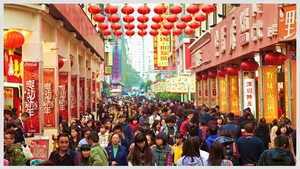 By Siah Hwee Ang*
The future of consumption in China is digital, consumer-driven and aided by secure mobile payment systems. 
If China grows more than 6 per cent for the next five years, it will add the size equivalent of another Germany or Japan to the global marketplace. 
Chinese millennials, aged between 18 and 30 years old, will likely make up more than a third of the urban population by 2020. Their consumption is growing at 14 per cent annually, twice the pace of those over 35. 
Their share of total consumption is projected to rise from 45 per cent to 53 per cent by 2020. 
Competition is tougher 
Despite a push from the Chinese authorities for a more consumption-driven economy and the fact that 73 per cent of economic growth in the first half of 2016 came from consumption, there are also signs that consumers are cautious in their spending. 
Sales in the country's top 100 retailers fell 3.2 per cent in the first half of 2016 as compared to the same period last year. 
Major companies such as Procter & Gamble, Colgate-Palmolive, Unilever and Kimberley-Clark are experiencing difficulties in the market. 
Colgate-Palmolive, for example is offsetting sales declines in China with gains elsewhere in the Asia-Pacific region. 
Sales growth for low-end consumer goods such as soft drinks and shampoo fell to a five-year low of 3.5 per cent last year. 
On the positive side, the number of high-end online shoppers is rising by 25 per cent a year and will reach 61 million by 2020. 
The increase in consumption over the internet has also caused some retailers to increase their online presence. 
Carrefour, for example is introducing online operations in Chengdu, the capital of Sichuan province, following on from its online stores in Beijing and Shanghai. 
How foreign players are expected to compete 
There are also issues around the fact that foreign players sometimes do not customize their products for the Chinese market. 
Redesigning packaging without changing the content of the goods or services is no longer convincing enough for Chinese consumers. 
This failure to customize for the market makes it tough for foreign players in the Chinese market, as local Chinese players by default will have products and services tailored to the Chinese market. 
Household income growth in China slumped to 6.5 per cent in the first half of 2016, from 7.6 per cent a year earlier. The Chinese authorities are also actively mitigating this growth rate as they fear that rising wages without a degree of control will burden some industries with rising costs.  
This means that there is no guarantee of greater consumer spending in years to come. Consumers will also become more selective in their purchases. 
Foreign players need to make the most of their advantages: innovation and marketing. Local companies are generally still not good at this, as they are used to the mass market mentality. 
As Chinese players continue to make swift progress in these areas over time, it is essential for foreign players to up the ante with developments in innovation and marketing tailored to the Chinese market.
----------------------------------------
*Professor Siah Hwee Ang holds the BNZ Chair in Business in Asia at Victoria University. He writes a regular column here focused on understanding the challenges and opportunities for New Zealand in our trade with Asia. You can contact him here.