Justin Soong on where the world would be without migration, comparing Muldoon to Trump, the 'implosion' of the left, whether our education system is ready for auto bots & more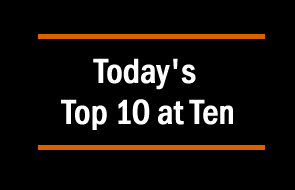 Today's Top 10 is a guest post from software developer and Harmoney Delivery Lead, Justin Soong. Views are his own. 
As always, we welcome your additions in the comment section below or via email to david.chaston@interest.co.nz.
If you're interested in contributing the occasional Top 10 yourself, contact gareth.vaughan@interest.co.nz.
See all previous Top 10s here.

The late American liberal philosopher, Richard Rorty, seemed to have a Nostradamus-like prophesy on the rise of the populist right and the implosion of the left, 20 years before November 8th 2016. He chronologically splits the left wing movement into two camps; the "reformist" and the "cultural" left, and asserts that this continuing rift has led to a disastrous outcome for left wing politics in America.
One can't help but ask if similar parallels exist in NZ. Labour is still struggling to find its identity post Helen Clark, and seems to be caught in a very "reformist" vs "cultural" divide. All the while National (yes even Bill English) are creeping further past the center, into policy territories traditionally held dear to progressives.
Automation and machine learning are leading us to the dystopian "Skyne" we've been dreading since watching Arnold Schwarzenegger in the Terminator. Computing power is now harnessed in our very own "Skynet" - the "cloud" - and is replacing humans at a rate of knots. Even the grandmasters at Goldman Sachs are not immune, replacing their equity traders with engineers over the last decade. What a time to be living in. But it begs the question of our education system and workforce, are we ready for the bots?
Long story short, Peter Thiel can spot a great deal from a mile away, while the NZ government can't spot a bad deal if it tried. Economist Eric Crampton differentiates his stance between Thiel's citizenship and the poor government decision.
4. Apple on track to a 50% share buyback
Apple analyst, Neil Cybart, writes:
A path has appeared where Apple management can realistically buy back 50% of AAPL's outstanding shares within three years. With a stable iPhone business, a growing Services business, and U.S. corporate tax reform, Apple will have close to $300B of cash available to spend on share buyback in the coming years. The numbers are daunting, and as Apple management has shown no sign of curtailing its buyback plans, it's time for Wall Street to take notice.
Pretty impressive cash holdings to have such an option in the next three years!
5. Paul Foster Bell – the under the radar political milestone of 2016
The Listener's Jane Clifton describes the announcement of the National Party's first avowedly gay MP, Paul Foster-Bell, as one of 2016's political milestones.
A conservative party, with first outwardly gay MP… oh how times have changed. A very insightful interview into an up and comer of the National Party rank and file.
David Rubenstein speaks to Warrant Buffet. The "Sage of Omaha" reveals he probably spends more time on the computer than Bill Gates because he plays 12 hours of online bridge a week under the name 'T-Bone', against his arch nemesis 'Sirloin', a woman from San Francisco. Buffet also shares his approach to investing, his optimism for America, and recollects the first time he met Bill Gates.
I love how one of the worlds wealthiest individuals, knows how to take time out for a bit recreation in the most modern of ways.
While there is massive debate on immigration and refugees all around the world, few have considered the impact a certain group of immigrants and refugees have had on history. Albert Einstein, who as a Jew couldn't return to his Berlin home, averted a disastrous narrative for the free world. He signed a letter to the US President, warning that Germany might develop atomic bombs and suggesting the US start its own nuclear program. It prompted action by Franklin Roosevelt, which eventually resulted in the Manhattan Project developing the first atomic bombs.
This PRI podcast tries to answer two big questions, how have immigrants changed innovation in America, and what does America stand to lose if immigrants are prevented from settling down? A good trip down memory lane, and a few lessons for the America of today. A great rebuttal to any opponent of immigration and refugees.
8. NZ's Trump
"Think Big", "Make NZ Great Again" and NAFTA… Tyler Cowen of Bloomberg discusses NZ's experience with a populist strong man leader, Robert Muldoon. Cowen points out some uncanny similarities with Donald Trump, in character, policy and perception. We too had a "Trump", and we didn't turn out too badly 30 years later, or did we?
As a software developer, I get approached by every man and his dog with their next game-changing app idea. It starts getting a bit noisy when it comes to spotting the next TradeMe or Xero. Christian Sepulveda has come up with a quick and simple test to help him organise his thoughts when assessing opportunities, which he calls The Fields of Dreams test. The test focuses on three areas, user pain, user experience, and economics. I think it's pretty nifty.
10. A belated happy Valentine's