Warnings on New Zealand's environmental performance this week mean the intergenerational debate just got real in an election year, Alex Tarrant says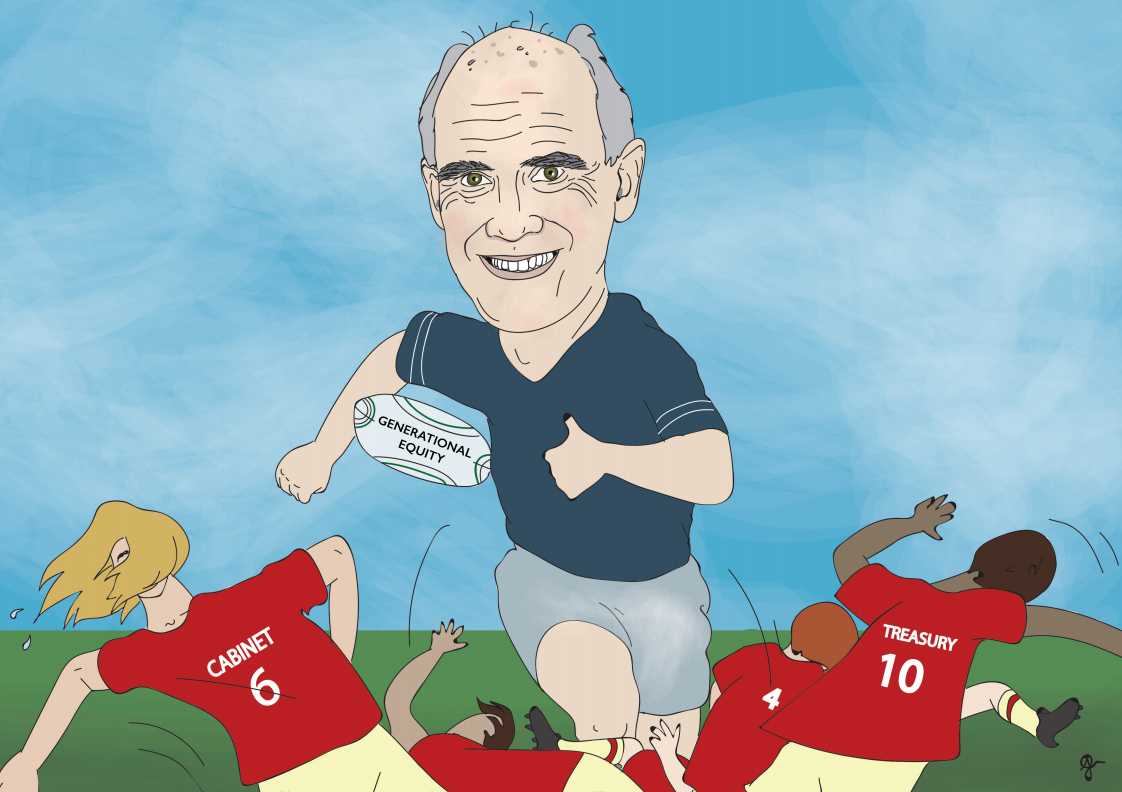 The intergenerational debate got real this past week.
The key focus: Our environment. And how policy actions (or inactions) now are set to cause a load of grief for future generations who don't have a voice at today's table.
The OECD kicked off, deep into Nick Smith's 22. Its latest report into the state of New Zealand's environmental policies was about as pretty as the aftermath of a Queenstown free-camping site.
New Zealand's economy is at its environmental growth limits. We need to start thinking about a different growth model that would raise productivity and reduce environmental pressures.
The problem: while GDP growth has outperformed the OECD average recently, this was mainly down to record inward migration and the fact that we're all working longer hours for not much more output.
Our pricing signals are not producing sustainable growth. Agriculture should be included in the Emissions Trading Scheme (ETS), and NZ should consider pricing water (properly). "It's not rocket science," OECD Environment Director Simon Upton said.
And we need to do more to clean up our act other than just trying to make ourselves feel good by purchasing ETS credits in a dodgy international market place. New Zealand's greenhouse gas emissions per unit of GDP are the second highest in the OECD – behind shale-heavy Estonia.
In short, something needs to change.
Environment Minister Nick Smith fielded the ball, but wasn't in the mood for possession football and kicked for touch.
There was no way this National government would even consider adding Agriculture to the ETS. The result would be devastating in that farmers would cull stock and be hit financially just as they were exiting the downturn in commodity prices.
That's a fair point, but begs the question: What is the government going to do about the OECD's warnings? While Smith indicated that he might consider new environmental taxes (the OECD said we're below average on this front), he still showed little sign of being at all keen on the idea.
Boston on a rampaging run
The OECD report and Smith's responses to it seemed to put Victoria University Public Policy Professor Jonathan Boston in a mood.
In a rampage down the touchline, Boston fended and trampled his way towards the government's posts. Child obesity, imprisonment rates, educational outcomes, income inequality, Treasury's living standards framework; Tony Underwood stood a better chance.
In fairness, Bill English's Social Investment ideals are intended to tackle many of these social issues, at least once the government gets around to increasing spending on certain initiatives rather than the ever-present cut backs. I'm told work is ramping up on this front.
But social issues aside, Boston's run (and the symposium as a whole) came back to one key issue: what will the environment look like and will future generations be fielding a hospital pass?
Agreeing with a point raised by former Prime Minister Geoffrey Palmer at Vic's Intergenerational Governance Symposium in Parliament's Banquet Hall, Boston denounced efforts by successive governments on positioning New Zealand to mitigate and adapt to climate change.
Yes, Parliament last year ratified the Paris Climate Change goal of net zero emissions by 2050. But on current trajectories we look very far off from getting there.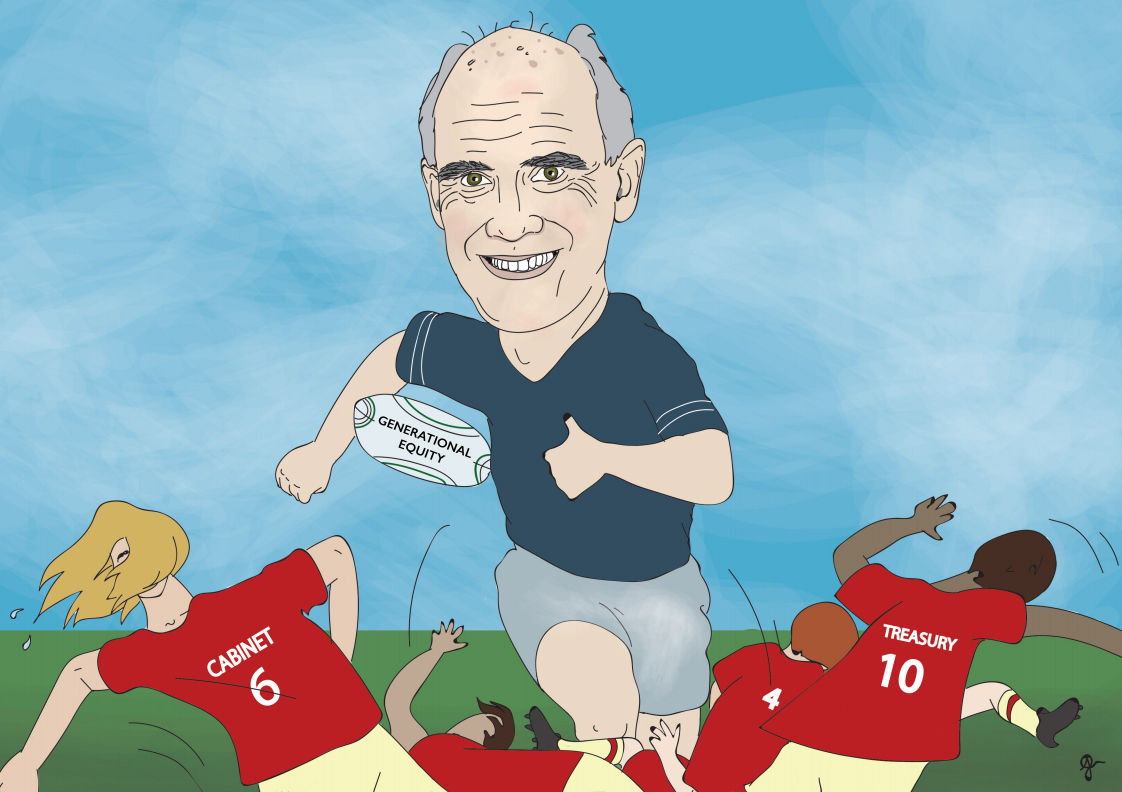 Light at the end of a long, uphill tunnel
Among other things, Boston had bemoaned the growing dearth of cross-party political agreements on major cross-generational issues. But he might have been heartened by a report released by a group of 35 MPs across the spectrum with some suggestions of how New Zealand could meet the Paris goals.
The Vivid Economics report prepared for the GLOBE-NZ committee of MPs was sobering reading for anyone thinking we could muddle along on environmental issues. There will be unborn generations now who will decry why their elders did not act, given the warnings were so stark.
Imagine if New Zealand's renewable power generation grew by 75% over the next 30 years, 85% of our vehicle fleet was electrified, targeted breeding, new feeding regimes, precision farming and methane inhibitors were introduced and forestry expanded by half-a-million hectares while livestock numbers remained constant.
On the face of it, that sounds like a bunch of work. In truth, it wouldn't even start to cut the mustard.
Hard choices need to be made
Try something a bit more like this. By 2050:
Coal electricity generation: Zero; Gas generation: Down 73%; Hydro: up 21%; Geothermal: up 161%; Solar: Up 21,000%,
Dairy livestock: Down 20%; Diary livestock productivity: up 25%; Dairy emissions inhibited by new vaccines: Down 30%; Dairy emissions inhibited by selective breeding: Down 15%. (Similar numbers for beef and sheep)
Farmland: Down from 12.4m hectares to 10.6m, while Forestry rises from 1.7m hectares to 2.9m and some livestock farming is replaced with Horticulture.
Those are just some of the shifts (on top of vehicle and train electrification) that would be required to get our greenhouse gas emissions on a trajectory to net zero by sometime in the second half of the century.
Not by 2050 like we've agreed to, but by sometime after that. The problem? (other than short-term politics):
"[This track] is heavily reliant on a series of technological advances whose feasibility and costs remain uncertain and which, if they fail to materialise, would make this scenario high cost or unattainable."
Translation: That's going to be bloody tough.
So another track was suggested. This basically required a shed-load more farmland to be converted to planted forests (as well as the renewables targets, some livestock productivity growth and electrification).
Sound easy? There's a catch:
"the substantial change in land-use patterns implies significant social and environmental challenges. Socially, it would imply profound changes to rural livelihoods and New Zealand's rural economy."
That, in a nutshell, is the challenge. A big challenge.
New Zealand's primary sector and rural communities will be in the firing line. And just remember – this government in 2012 encouraged the primary sector to try and double its exports by 2025. The rest of the economy needs to cushion the impact. Any financial pain needs to be spread.
If we're going to get anywhere near the Paris goals, if we're going to get anywhere near ensuring the environment looks remotely like how Parliament has agreed it should by 2050 and future generations are not left to make even more drastic changes than the ones outlined above, then tough decisions need to be made. Now.
Any ideas?