Alex Tarrant discusses the 18-month lag for the government's new Housing Affordability Measure; Stats NZ has data till end-2015, yet we have to wait until July/August for it; MBIE should put it out ASAP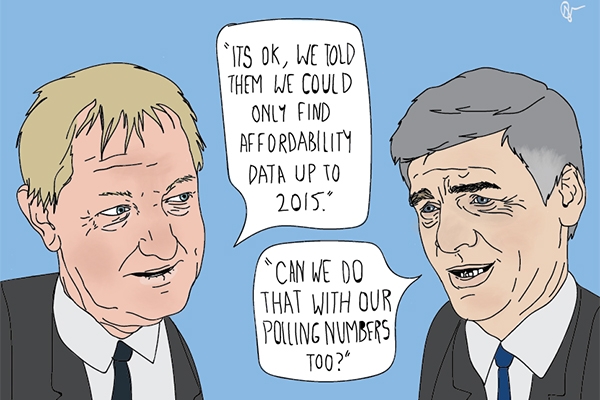 This entry is a post-script to Alex Tarrant's article, We now have two govt Auckland housing affordability measures, and they don't work very well together. Alex Tarrant says govt should put its HAM where its Auckland Housing Plan mouth is:
Of course, my challenge to the government for it to use its HAM measure to figure out how much its Auckland Housing Plan units should cost if they were to be classed 'affordable' is going to be incredibly difficult.
The HAM measure is only 'current' up until mid-2015.
I was a bit miffed by this, so asked Nick Smith the other week why this was. I thought he'd had something to do with it, but no. He was "as frustrated as you are" that the numbers were not coming out faster from Stats NZ and MBIE.
"There's always a bit of a trade off because if you want to have a really good measure then it does take more time to develop," Smith said. But he had "made plain to them that I'd prefer a measure that was being able to provide information on housing affordability more timely."
I put to Smith that surely there was more up to date data – on tenancy bonds for example.
"I'd invite you to put those questions to [Stats and MBIE]. I'm actually not allowed to influence Statistics New Zealand in this area and tell them how they should be collecting that data," he replied.
So I did. I asked Stats why no data was released post mid-2015?
The data comes from Stats NZ's Integrated Data Infrastructure (IDI), and some of it is only received on an annual basis, like tenancy bonds and tax data, a spokesman said. HAM was also affected by the November earthquake which locked Stats staff out of their building.
Fair enough. However:
"The IDI team has just completed a catch up on their data refresh cycle, which was delayed by the earthquake because some computer systems were out of action for a period. This means latest data from the refresh is not included in the estimates that were release[d] this week," Stats NZ said. (This was on 12 May).
"Their next quarterly release will use the refresh so will catch up about 6 months, however there will still be a 9-15 months lag," the Stats spokesman said.
Translation: We actually do have the data up until the end of 2015. Stats NZ has told MBIE this. It will be included in the next 'quarterly release', apparently.
Now, typically when we have quarterly releases, they occur in the quarter after the quarter the stats are focussed on. But that's not the case here. For some reason, we're waiting a quarter before incorporating figures we already have, relating to a block of time 18 months ago.
There is no need for quarterly releases in this case. Why not release the data as soon as possible? Stats has told MBIE that they have the data required to refresh at least to the end of 2015.
Sure, feedback is being sought, and some development work is planned. But who made the decision to release the HAM measure on 10 May when it was known that extra data was there which could have been incorporated to take the Benchmark all the way to the end of 2015?
Just wait a bit…put the data in.
"Timing of the release is a question for MBIE- it was not a Stats NZ decision," the spokesman said.
So, to MBIE:
"It was MBIE's decision to release the Housing Affordability Measure (HAM) on 10 May," an MBIE spokesman said.
"HAM is a large, complicated piece of work that was carried out by staff as part of their business-as-usual work. Work on the HAM has been going on since 2012," he said.
"Because of the innovative nature of the measure, MBIE's engagement with experts went through several iterations. It had been MBIE's plan to make the release at the end of 2016, but damage to Statistics House as a result of the Kaikoura earthquake delayed access to crucial data systems.
"The current data lag is 18 months, but the next release, targeted for July/August, will see that data lag halved to nine months. The aim is for the gap between data and publication to be closed to six months over time."
Translation: When election week rolls around, the best we'll know from a government Housing Affordability Measure in the pipeline since 2012 is how tough it was for First Home Buyers to get on the property ladder in October 2016 at best.
Only once a new government has been formed and had its summer break will we know the extent of the affordability crisis in the run-up to the election.
Stats NZ has more up-to-date data. MBIE, which controls when the HAM is released, knows this. Put it out ASAP and then work on feedback and tweaks.