We now have two govt Auckland housing affordability measures, and they don't work very well together. Alex Tarrant says govt should put its HAM where its Auckland Housing Plan mouth is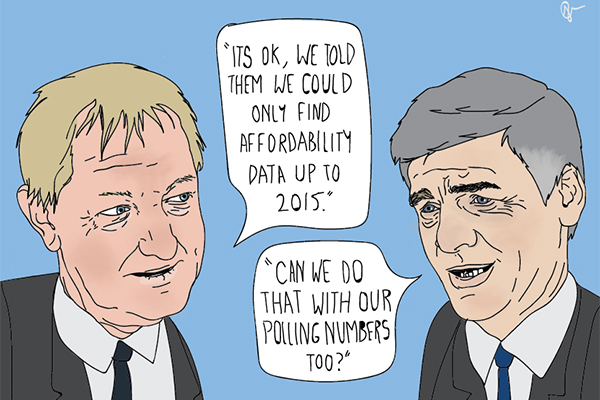 By Alex Tarrant
A week is a long time in politics.
From having no government-sponsored benchmark of housing affordability in Auckland, within six days, we had two of them.
Some context:
An extract from the diary of Hon. Nick Smith*:
10-05-17 - The day is finally here! The government now has an official measure of housing affordability.
And isn't our new HAM (Housing Affordability Measure) series a beauty.
It's too easy for people to just point to a certain house price level and declare 'that is or isn't affordable'.
Economic amateurs. Illiterates.
You can't just look at the price of a house and declare it's affordable or not. You need context. The incomes of those looking to buy. What are the interest costs associated with the mortgage? If buying a first home, then what is a person paying in rent while looking for that house?
Figure out their residual income after typical housing costs. Figure out where they live. Remember that first home buyers typically buy a smaller, modest, one- or two-bedroom houses below the median value, with a third of them at the 'lower quartile'.
Will that residual income allow for purchase of a typical modest house in the area they are living?
Lo and behold, you have a government Housing Affordability Benchmark. A proper one. Not just pointing at some house price and saying, 'that's affordable'.
Can't wait to show everyone how unaffordable housing has become for first home buyers! Or at least, how unaffordable it was up until mid-2015. We know it probably got worse since then, but for some reason we've only got data current to 18 months ago.
An extract from the diary of Hon. Amy Adams*:
16-05-17 The day is finally here! The government is going to announce a new house building scheme in Auckland.
We've got a headline-grabbing announcement that we'll build 34,000 new houses over the next ten years in the Queen City.
In reality, that's going to be 26,000 – we're knocking down 8,000 first. And I have to admit, quite a few of them we've actually already announced, like Tamaki, Hobonsville, The Crown Land Programme…
Anyway, of the new new houses that we're announcing today, 11,500 are going to be for our social housing stock so we can keep up with the rising need for state housing.
But that still leaves about 12,800 new new houses that we're going to sell into the market to Aucklanders over the next decade. (Apart from the ones that are already being built and so aren't actually new either.)
Amazing. Can't wait to get on that digger!
And, if I wasn't excited enough already, I'm also going to announce that between 20% and 50% of these new units are going to be classed as 'affordable' for the type of people we want in them – first home buyers.
We know the first question will be 'define affordable'. Typical. I'm prepared for that though. Any house we build that can be sold for less than $650,000 in Auckland will be classed as 'affordable'.
When I took over from Nick Smith he'd left some note on the desk that a broad, basic nominal house price benchmark for 'affordable' wouldn't really fly with some new measure he's been hamming up.
I put it in my 'to read in 18 months' time' basket.
A week is a long time in politics 
From having no government-sponsored benchmark of housing affordability in Auckland, we now apparently have two.
But they don't exactly sit well together.
Nick Smith's Housing Affordability Measure (HAM) announced on 10 May was a welcome addition to the conversation.
Yes, it has a bit of a lag, but we're promised this will be closed over time (although possibly after the election – see Post-script).
It has given us some interesting insights. For instance, most first home buyers (FHBs) - 65% - buy below the median house price as measured by Corelogic. And 32% buy at or below the Lower Quartile value.
For this reason, the HAM Buy measure uses lower quartile values in its formula to see whether a prospective FHB's residual income (after rent, housing costs etc) is enough to afford a modest, one- or two-bedroom house in the area they're currently renting in.
It is like Interest.co.nz's Home Loan Affordability Index for First Home Buyers in that we acknowledge FHBs don't typically buy a median or average-priced house. These are the people we're most concerned about, and this is where we should focus affordability measures.
From the HAM work stream, it is quite clear that a blanket nominal price definition for 'affordable' across Auckland isn't the best way to go about it.
The HAM residual income benchmark is different in each ward of Auckland.
The 'affordable' (and unaffordable 'market') houses set to be built under the Government's Auckland Housing Plan (AHP) announced by Amy Adams on 16 May are going to be scattered across the city.
So clearly the newer affordability benchmark of $650,000 isn't going to fit in every ward. It may be too high for some, too low for others.
To be fair, $650,000 is the maximum limit for this definition of affordable.
It might be that AHP houses in Manukau are offered at $400,000, houses in Waitakere at $500,000 and houses in Howick at $650,000.
Of course, that's once the government-employed private developer has been given the fair profit margin they have been promised.
But there's no guarantee that they won't all just be sold for $650,000.
The context:
The government tells us it wants to build and sell 'affordable' houses across Auckland via its new Housing Plan.
The government has just introduced a well-researched measure of housing affordability.
The challenge
So, I challenge the government: Hold yourselves to account on the notion of 'affordable'. Before you build and sell, publish these figures:
Decide where you're going to build your houses (that's pretty easy to start off with – it's where all the Crown land is).
You've already identified what type of people you want to sell them to – first home buyers.
Work backwards through the HAM formula to spit out what the lower quartile value in each part of Auckland would have to be for at least 32% of prospective FHBs to be at 'buying positions' under the HAM affordability benchmark.
Better still, because you want to improve affordability for FHBs, give us what the lower quartile price would have had to be for 50%, 66%, 75% of FHBs to fit under the affordable benchmark, based on their expected residual incomes as up to date as possible.
At June 2015, 86% of prospective FHBs were unable to sustainably afford a modest, one-or-two-bedroom Auckland home at the lower-quartile value in the area they were renting.
And we're told that the figure may have got worse since then. That, quite frankly, is despicable.
Aim to turn that around. Let us know what the lower quartile price in each ward would have to be for 86% of FHBs there to be able to afford a modest home.
Then work out how to deliver on that.
---
* Obviously not real diary entries by the two politicians named.
** For a post-script on the time lag of the HAM measure and the release date, see here.