National to build 34,000 houses in Auckland over next decade on land currently with 8,300 state homes on it; 60% to be sold off into the market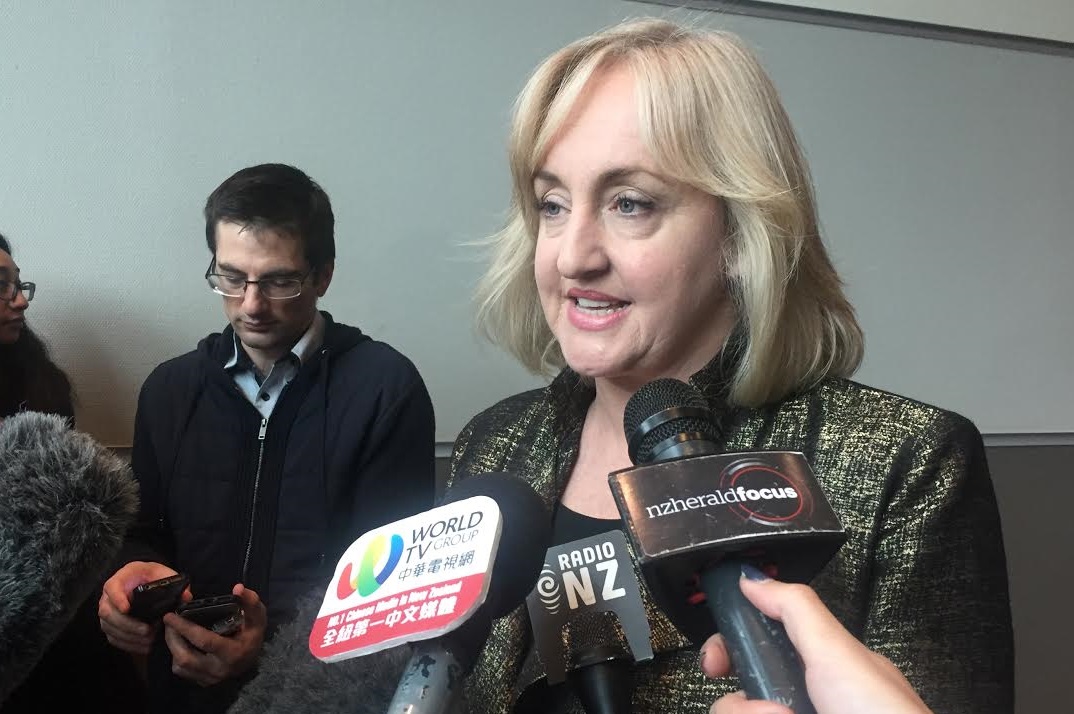 By Alex Tarrant and Jenee Tibshraeny
The National-led government has outlined plans to build 34,000 new houses on Crown land in Auckland over the next decade.
The net addition to Auckland's housing stock will be just under 26,000 new houses. The Minister responsible for Social Housing and Housing New Zealand, Amy Adams, said the properties would be built on land currently with 8,300 state houses on.
Of the headline number, 13,500 will be social houses and 20,600 will be "new affordable [and] market homes."
And even those figures effectively overstated the net new additions from now. Speaking to media in Auckland after the announcement, Adams acknowledged some of the number related to houses already under construction. "Some of them are already underway – Tamaki's in the early stages, Hobsonville…we're about to clock up our thousandth [house]," she said.
Auckland Housing Plan
Adams said the main new announcement Tuesday regarded the bulk of the properties - 24,000 - that will be built under the government's Auckland Housing Plan (AHP). Of these, 11,500 will be social and 12,800 under the 'affordable' and 'market' categories combined.
The announcement follows indications from Prime Minister Bill English and Finance Minister Steven Joyce in recent weeks that National was gearing up to announce a large-scale building project to rival Labour's KiwiBuild policy. Labour had promised to build about 50,000 social and affordable homes in Auckland over a decade if it wins the 23 September election.
Labour leader Andrew Little said the announcement was National finally admitting New Zealand faced a housing crisis. "National can't now credibly claim to be tackling the housing crisis four months out from the election when, for nine years, they've ignored the plight of first home buyers and families in need," Little said.
"This Government has long rubbished the idea of building houses. Time and again it's failed to deliver any significant increase in housing supply," he said. Read the rest of Labour's reaction below.
English had said the new Auckland Unitary Plan would allow the government to expand its housing footprint on Crown land in the city from about 27-28,000 to over 69,000. Adams told media in Auckland Tuesday that "60,000" was a "theoretical" limit when asked why a higher build figure had not been proposed.
"The current stock is 28,000, so that effectively gives you a net new capacity of 32,000. Actually what we've announced today is not too far off that. But our building projects that I've announced today cover more than just the Housing New Zealand land. They also pick up Tamaki, Hobsonville, the Crown Land Programme," Adams said.
"What we're also saying is, we're not utilising every iota of potential development capability on the Housing New Zealand land. There's still some there to go. And look, we've got to be careful. Because there's a difference between theoretically possible under planning rules, and socially acceptable and good urban planning design," she said.
"I think the balance we've got to is the right blend for now, and also…is what we're confident of being able to capably deliver over that time period."
'Private bond funding will mean commercial discipline'
The AHP will require gross capital investment by Housing New Zealand of $2.2bn over four years.
Housing NZ will borrow $1.1bn of this from the private market for the first stage of building through a domestic wholesale bond programme. The second phase of building will be funded through sales of houses and land, and rental returns.
"Given Housing New Zealand's strong credit rating, a domestic wholesale bond programme is expected to cater for the full AHP financing requirement, and represents the lowest cost option in terms of facility set up costs and interest costs."
In a Q&A, Adams said the use of private debt for the state-led building programme was decided on because, "we believe that external financing will deliver additional commercial discipline for Housing New Zealand."
"The AHP will deliver long-term rental returns that enable it to repay the debt required to fund construction," Adams said.
"Because of Housing New Zealand's large balance sheet it is able to borrow privately in a relatively economical manner. It also enables the Crown to commit more of its capital to supporting wider infrastructure, like transport and the Housing Infrastructure Fund."
Mixture of housing
Housing New Zealand will build a mix of apartments, houses, and terraced housing through the programme "to align with demand and opportunity afforded by Housing New Zealand's landholdings," the Q&A sheet said. 
Meanwhile, Adams argued Auckland's infrastructure would be able to handle the increased capacity.
"Auckland Council's budgets and long-term plans show that it is continuing to make investments in infrastructure to accommodate the increase in housing proposed," it said on the Q&A sheet.
"Further policy actions by central government, such as the Housing Infrastructure Fund, will also accelerate the provision of infrastructure in to better accommodate rapid population growth."
Speaking to media after the announcement, Adams said she was "absolutely" confident that infrastructure and construction industry requirements would be met.
"Housing New Zealand has been working with the development community as part of scoping out this piece of work. Those are obviously some of the questions the Cabinet was very interested in when we signed off the business case," she said.
"We tested and pushed Housing New Zealand pretty hard on their ability to complete this work."
The proposal had been in the works for two years, she said.
'Affordable' under $650,000; Private developers to be allowed a fair return, but not excessive
Adams said the government's definition of 'affordable' related to the HomeStart price cap of about $650,000.
"That means if you're a young saver, you can access both the government contribution and draw down on KiwiSaver for properties under that level. Now that's the maximum – obviously anything under that counts as affordable," Adams said.
"So we're looking at one- or two-bedroom apartments [at] $550,000, $600,000, as I say up to $650,000 to meet that category."
Adams said covenants would be agreed on with developers of the 'affordable' properties relating to "the prices at which they're sold, who they are sold to, who can buy them."
Meanwhile, on 'market' houses: "...the ones we class as not 'affordable' - just normal market houses – my expectation is that they would be sold as normal housing with few restrictions," she said.
Land would not be sold for development without "some quite significant restrictions on development in terms of what they're going to develop, over what time frame and how they're going to sell it into the market," Adams said.
"We're very careful about understanding the development potential of the land. We know the margins that the developers are able to make. We cost that in, so that they're able to make a fair return, but not an excessive one."
Adams said the programme will be "the biggest redevelopment of Housing New Zealand stock since the 1950s." Housing NZ's current stock was wrongly configured, she said. "We built a lot of three bedroomed homes; actually now our families tend to be one or two bedrooms, or five/six bedrooms."
The new builds would be "right across Auckland." Adams said communities would first be notified of where building will take place rather than having street names just start appearing in the media.
Further projects are also likely to be smaller than the Tamaki and Hobsonville developments underway. They will "tend to be intensifying existing Housing New Zealand stock…perhaps buying one or two sections that fall in between our current holdings so we have a more suitable development block."
In the first few years, the focus will be on making sure new social housing is built to cover those who will have to move out of homes earmarked for demolition.
"We start by taking down one house in one street and putting up three [in its place]. That creates three places to move three other households into – that creates three more development sites," Adams said.
Decisions on which type of houses would be built for each specific building project would be decided project-by-project.
"It's really important we don't create social housing suburbs. That's not what good urban design tells us is the right thing to do. A mix of market, affordable, social in an area – we know that makes the best communities," Adams said.
Adams attacks KiwiBuild
Adams used the media opportunity to attack Labour's KiwiBuild policy. "Labour's numbers seem to be pulled out of thin air. There's not the availability on Crown land to build the 100,000 they're talking about," she said.
Labour has proposed to build about half of its 100,000 KiwiBuild properties in Auckland.
"They have to talk about where that extra land is coming from, how they're going to fund it, how they're going to make it work We're confident that what we've announced is absolutely maximising the available land that we have. We know the cost, we know the timeframe, we know the building market ability to do it," Adams said.
Labour's full reaction is further below.
Read the release from Adams below:
The Government today has announced a Crown land and building programme that will see tens of thousands of new houses built in Auckland over the next decade.

Social Housing Minister Amy Adams announced that the Government's Crown Building Project will replace 8300 old, rundown houses in Auckland with 34,000 brand new purpose-built houses over 10 years. 24,300 of these will be built by Housing New Zealand through their Auckland Housing Programme.

Over the next ten years, the Crown Building Project will deliver around:

13,500 newly built social houses

20,600 new affordable and market homes.

"This is a significant undertaking for the Government, for taxpayers, and for our Social Housing reforms. It's the equivalent of three and a half new houses on every street across Auckland," Ms Adams says.

"These houses will be for our most vulnerable families, for first-home buyers, and for the wider market. We are building more social houses for Aucklanders and helping provide a pathway into independent, affordable housing.

"The Crown Building Project is the Government making the most out of the available residential land it owns to meet Auckland's social housing needs.

"These 34,000 new houses are a substantial redevelopment and construction programme on a scale not seen since the 1950s.

Phase one of the Auckland Housing Programme, which covers the next four years, will cost $2.23 billion and will be funded through Housing NZ's balance sheet and new borrowing of $1.1 billion that the Government has approved as part of the business case. Phase two in the latter years will be funded through the market housing development part of the programme and rental returns.

Ministers have also agreed that Housing New Zealand will retain dividends and proceeds from state house transfers, to help fund the building programme.

"Our plan to build 34,000 new homes over the next ten years has been carefully scoped and designed, is fully funded, and builders are on site getting on with the programme already."
Read Labour's reaction below:
National finally admits there's a housing crisis, but today's belated announcement is simply not a credible response to the problem it's been in denial about for so long, says Leader of the Opposition Andrew Little.

"National can't now credibly claim to be tackling the housing crisis four months out from the election when, for nine years, they've ignored the plight of first home buyers and families in need.

"This Government has long rubbished the idea of building houses. Time and again it's failed to deliver any significant increase in housing supply.

"National cannot be trusted to do anything meaningful for the thousands of first home buyers in Auckland who have been denied their shot at the Kiwi dream.

"Amy Adams has fudged the figures. How many of these houses will actually be affordable? What does 'affordable' mean? How will that give hope to first home buyers when speculators can buy these houses too?

"It's just more smoke and mirrors from a Government that's failed miserably. It's a mish-mash of old and new housing programmes. Many of these houses have already been announced.

"Auckland currently has a shortfall of 40,000 houses and growing. This plan won't address the shortfall, let alone build the extra houses needed to keep up with demand.

"This last minute announcement just won't do enough. National has had its chance. It's time for a fresh approach.

"Labour will build 50,000 houses in Auckland people can afford to buy and we'll increase the supply of state houses; we'll crack down on speculators; and we'll invest in warm, dry homes.

"National hasn't a shred of credibility left. The evidence keeps mounting:

It promised a big increase in emergency housing beds in the last six months, and hasn't delivered.
It's Special Housing Areas promised an extra 39,000 homes, fewer than 2,000 have been built.
Housing New Zealand has failed meet its building targets and reduced the number of state houses by 2,500.

"This cynical announcement by National should be seen for what it is – an election year fudge to paper over the cracks of its failure in housing. It's time for Labour's plan," says Andrew Little.