Siah Hwee Ang looks at why China's One Belt One Road project matters to New Zealand and who is involved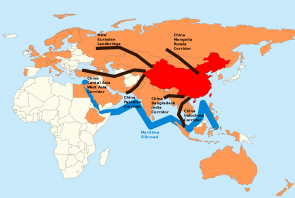 By Siah Hwee Ang* 
It's almost four years since the One Belt One Road (OBOR) Initiative was proposed by China. 
Geographically speaking, the Belt is further away from New Zealand than the Road. The Silk Road Economic Belt stretches across Central China, West Asia, the Middle East and all the way to Western Europe. 
There are three good reasons why we need to know what is happening on the Belt. 
One: The European Union (EU) is involved in the Belt. The EU is NZ's largest import partner and third largest export market, including both goods and services. It is imperative that we keep tabs on the EU's involvement and any changes in the dynamics along the Belt. 
Two: The Belt brings the EU and Asia closer. Asia also houses several of NZ's largest trading partners. Given this tighter trade linkage through the Belt, NZ has an incentive to learn how EU-Asia/Eurasia trade evolves.
Three: NZ is still trying to understand how OBOR can work and what works within OBOR. Seeing how other countries get involved in the OBOR will provide some ideas as to how NZ can potentially participate in the OBOR over time. 
Below are some of these activities that are happening on the Belt. 
Technological partnerships
In line with Germany's Industry 4.0 Strategy and China's Internet of Things Initiative, the two countries are actively engaging to link Germany's strength in manufacturing with China's strength in information technology connectivity. 
A most recent example is the opening of Ali Cloud Data Centre. It is a Frankfurt-based subsidiary of Alibaba and provides data management services to EU and Chinese enterprises. 
Similarly, Italy is also looking to work with Chinese companies on upgrading some of its technological innovations. 
Most recently, China's ZTE was awarded a US$1 billion contract to upgrade Italy's telecommunications infrastructure. 
The project is expected to create around 2,500 new jobs in the next two and a half years. 
Turkey and China have signed an e-commerce agreement in the form of Tr.dhgate.com – a business-to-business (B2B) platform that allows small and medium-sized enterprises from Turkey and China to connect.
Industrial parks 
Construction on the Great Stone Industrial Park began in June 2014. The park is a 91.5 square-kilometre China-Belarus industrial zone. 
When completed, the total investment will be around US$5.6 billion. Phase one will be completed by year end 2017. 
The concept is not dissimilar to that of China's domestic industrial parks. 
The park will help upgrade Belarus' manufacturing industry as it seeks investments in high-end manufacturing, bio-medicines, new materials, chemical engineering, and electronic information. 
Various incentive policies have been put in place to entice participation. To date, several Chinese and Austrian companies have signed up.
The park will provide access to markets in the EU and the Eurasian Economic Union (EEU), which includes Russia, Kazakhstan, Armenia and Kyrgyzstan. 
Similar industrial parks are also being set up in other OBOR countries. 
While not specifically targeting industrial parks, Russia has jumped in to help facilitate the alignment between OBOR and the EEU. 
Port management 
Chinese ports account for half the world's top 10 busiest ports. 
It is no surprise that the offer of port management is a way of collaborating on the OBOR. 
In January 2016, China's Cosco won the bid to run a project to privatise the Piraeus Port Authority for Greece. 
Cosco had already been helping Piraeus Port for many years to manage and expand its terminals. 
In 2013, Pakistan's Gwadar Port awarded a contract to a Chinese company to manage the port. 
Multiple highways to the port and a new international airport have been constructed to help facilitate the flow using the Gwadar Port.
The investments have helped the port pursue exporting on a larger scale, and will eventually allow it to become the largest port in the country. 
The belt activities
Technological partnerships, industrial parks and port management are just three examples of what the Belt represents. 
They give indications as to where the Belt is currently at - infrastructural development, and the technologies and services that come with it. 
While the longer-term benefits are not yet in sight, some of the activities along the Belt are seeing increased traffic. 
Seeing some tangibles may make others more likely to join. 
Nonetheless, it is clear that there are multiple ways to engage along the Belt. With its focus on technology and services, the OBOR stretches far beyond typical infrastructural activities such as the construction of railways, ports, airports, and energy-related infrastructure.
---
(This article is the second article of a four-part series on China's One Belt One Road Initiative). The first is here.
*Professor Siah Hwee Ang holds the BNZ Chair in Business in Asia at Victoria University. He writes a regular column here focused on understanding the challenges and opportunities for New Zealand in our trade with Asia. You can contact him here.