Could NZ First decide to sit on the cross benches and give support issue-by-issue? Turning Right and Left has hurt Peters before; Alex Tarrant sifts through the clues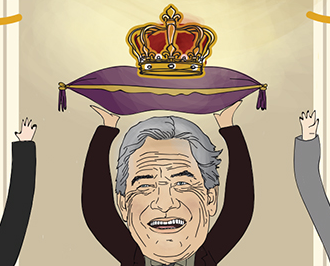 By Alex Tarrant
As we all sit around trying to pick who Winston Peters might go with, we need to keep in mind the alternative that it could be neither National nor Labour. Or both National and Labour (and the Greens).
Sitting on the cross-benches and supporting policies issue-by-issue was included in Peters' nine permutations for government formation he talked about last week. While it doesn't seem like a central scenario currently (purely based on commentary, not inside knowledge), we certainly shouldn't rule it out.
I went searching to see if there might be any clues Peters really was considering the option. That included looking back at what happened after the last two times he went into coalition – ie. at the following election.
And those experiences might make him pause for thought before going into any formal coalition arrangement this time around.
New Zealand First won 13.4% of the vote in 1996. After going into coalition with National, and having that falling out with Jenny Shipley, the party was only able to muster 4.3% in 1999, with Peters' electorate seat keeping them in Parliament.
After 2005, a 5.7% reading was washed away to 4.1% in 2008 – the election which saw New Zealand First out of Parliament as Peters lost Tauranga. In both instances New Zealand First's vote ended up below the 5% threshold after being in coalition.
There were, of course, other factors at play outside 'just being in coalition'. That disagreement with Shipley and public falling out of the New Zealand First caucus wasn't that helpful. Likewise, the Owen Glenn situation in 2008 didn't help Peters' chances much.
Needless to say, New Zealand First has form imploding while in coalition, leading to voters punishing it below the 5% threshold. (Perhaps a lower threshold could be the subject of coalition talks?). This should be in the back of Peters' and his caucus' minds.
They've tried going Right, they've tried going Left, and after each they've been left fighting for survival. So, why not try sitting squarely in the middle?
Another potential clue was a comment from Peters near the beginning of that 25-minute press conference with the Press Gallery on Wednesday. Talking about his caucus' first meeting after the election, Peters said this: "We first of all, forswore that, as a group of MPs, to ensure that we didn't put our own personal views, from the Leader, to the most newest member of caucus, above the interests of the party and above the interests of the country."
After reverting to laying into media coverage again for a few breaths, Peters continued: "We know we've got a bigger responsibility, and we're going to fulfil it whether you're going to give us a fair go in that exercise or not."
"What we're going to do is, make a decision in the national interest, when we know what the people of this country have said and in what numbers, and when we know with precision what we're dealing with. Because, in the end, it is the economy we're talking about and the social consequences of that economy, and that is a huge responsibility."
Could these be read as laying the groundwork for not accepting Ministerial pay packets and the baubles of office? Could this be a sign that New Zealand First might just sit in the middle and veto policies they believe are not in the interests of the country, while backing other policies as a way to securing deals to get some of its own legislation through?
Add to all this comments from Peters' first press conference the morning after Saturday's election.
"You ran a first past the post campaign in an MMP environment. And things suffer from that," he said at one point, referring to the media. "You spend all your time sucking up to the two old parties…but they won't have the cards that matter…this is an MMP environment, and the two old parties do not have the answers to this country's future."
He continued: "The media were obsessed with running a first past the post campaign, 21 years after MMP came in. And they're still doing it. They've never actually adapted. Other countries have, and they [in NZ] still haven't adapted.
"Right now, you're asking me about how quick we'll be to form the next government. In other countries, that takes three months, six months. Nobody finds that terribly different. But over here, the obsession with the first past the post environment knows no bounds."
Just prior to this campaign, as he did before 2005 – another one claimed as an FPP-style election which saw NZ First squeezed by the strong incumbent and resurgent opposition party – Peters was telling anyone who listened that polls showing NZ First around 10% were wrong, and that the correct number was up between 15% to 20%.
This was before – in his estimation – the media (the foreign-owned media, that is) stopped paying attention to New Zealand First, instead choosing to play up a two-party race to secure better ratings at the expense of the minor parties who he believes would have received stronger representation on Saturday if the reporting had been fair.
So, what is the chance that Peters at some point during the next two weeks pulls out the claim that New Zealand First would have secured up to 20% of the vote if the media hadn't turned all its attention to Jacinda Ardern, and hence Bill English, instead of allowing NZ First's momentum to carry on?
What's the chance that he claims this as his mandate to sit on the cross-benches and take one issue at a time – supporting some, and rejecting others - in the interests of this country, its economy and voters who were hoodwinked by the media into thinking we still had an FPP environment?
The public might not buy it. But I'd bet he's trying to figure out how he'd sell it to them if he did think this was a viable option. History suggests NZ First's vote might be weaker next time around if it enters a formal coalition with either side. So why not go down the untested road?
'The only responsible way forward for the good of the country in the face of the two old parties thinking they know all the answers but without all the cards.'