Rodney Dickens sees a risk that a cut to permanent migration will weigh on the tourism sector as visitors shy away from New Zealand - for reasons that are by no means clear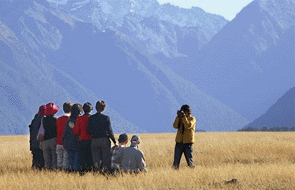 When time permits between writing reports, doing contract work for clients and the on-going project to modernised our tired website, I do background research to further my understanding of how economic and housing cycles work.
Not long ago I decided to investigate the link between migration and tourism flows which is more relevant now the government plans to cut immigration by 20,000 to 30,000 per annum.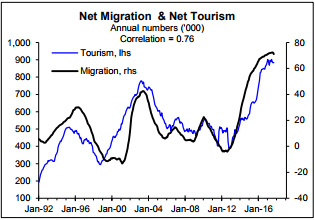 In an April Raving I pointed out that the impact of international tourism on the NZ economy wasn't just about visitor arrival numbers. When it came to the likes of consumer spending it was more about net tourism (i.e. how many foreign visitors are in NZ spending money versus how many NZ residents are overseas spending money).
Consequently, in the first instance I looked at the link between net tourism and net migration and found a curious high correlation of 0.76, akin to a 76% mark in an exam, as shown in the chart above.
Tourist visitor numbers are still growing and the economic multiplier process from the boom in tourism discussed in the April Raving is still at work.
However, growth in the number of NZ residents heading overseas temporarily has started to exceed growth in the number of foreign visitors.
As a result, net tourism, like net migration, is starting to show hints of falling.
The April Raving also discussed why falling net tourism will have a negative impact on the level of domestic spending while falling net migration means the permanent and long-term flow of people between NZ and the rest of the world will make a less positive contribution to growth in consumer/domestic spending.
It is possible that when NZ is in/out of favour with permanent and long term migrants it is in/out of favour with tourists.
The obvious question is whether the curious link that appears to exist between net migration and net tourism cycles means the government's plan to cut immigration will also have a negative impact on tourism (e.g. discouraging immigrants may also discourage some foreign tourists).
As discussed in our pay-to-view reports, net migration faces challenges in addition to those posed by the government's immigration policy.
Emigration has already starting to increase in response to a growing number of immigrants finding that things don't work out in NZ and leaving.
Signs of improvement in the Australian labour market also pose a threat; with people emigrating to Australia hugely dominate total emigration.
This threat is greater because of the low number of people heading to Australia for OE over the last three years (i.e. a growing pool of would-be OE seekers).
This most likely means greater upside risk to emigration in response to improving Australian job opportunities even allowing for some of the policy changes in Australia that make it a somewhat less favourable destination for would-be OE seekers. An improving Australian labour market would also mean fewer Kiwis returning from OE.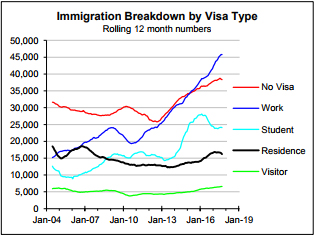 This means that if the government is successful in its plan to cut the number of student and work visas issued to foreigners by 20,000 to 30,000 per annum over the next year or so, there is likely to be a significantly larger fall in net migration.
Compared to the 24,000 student visas issued in the last year the government wants a cut of 6,000 to 10,000 on the assumption a significant proportion of student visas are issued for low quality studies and are effective means for people to gain the right to work here and gain residency.
The government plans to cut work visas that totalled a bit under 46,000 in the last year by 14,000 to 20,000, with 9,000 to 12,000 coming from a clampdown on people converting student visas into work visas post-study and 5,000 to 8,000 coming from cuts in general work visas.
There is also the plan to change somewhat the criteria for work visas including a regional focus and an option for building firms to attract immigrant workers to help cater for the government's KiwiBuild plan (i.e. build 10,000 "affordable" homes per annum for 10 years).
There are reasons for questioning whether the government will achieve the cut in immigration:
• maybe there aren't as many low quality education providers abusing the student visa system as Labour has assumed;
• maybe pressure from employers will make it hard to cut general work visas;
• if fewer of the courses catering for foreign students are low quality than assumed by Labour it reduces the scope for cutting the number of people with student visas being able to convert them to work visas post-study.
But, again, even if immigration isn't cut by 20,000 to 30,000, net migration may well fall this much and potentially more as a result of the other drivers discussed above.
The government's plan to cut immigration could have direct negative impacts on tourist numbers:
• a reduced number of people visiting NZ first as a tourist so they can check it out as an option to study or work for themselves or their children;
• friends and relatives of people who are stopped from coming for student or work visas not coming as tourists because there is no one to visit;
• maybe NZ's reputation as a welcoming country will be damaged by the immigration cuts and the planned ban on buying of existing dwellings by foreigners.
So it is possible the government's immigration policy will have some negative impact on tourist visitor arrivals vaguely in line with the link suggested by the chart above.
However, while I can see a case for their being some linkage between net migration and net tourism cycles - the idea that NZ is in/out of favour with tourists at the same time it is in/out of favour with migrants - the chart is still somewhat of a curiosity rather than something that I take as gospel.
There is a high correlation between foreign visitor arrivals and immigration but when any two lines move up over time this is always the case without any necessary link or causation between the two (left chart). But there appears to be an element of NZ being in/out of favour with foreign travelers and migrants at the same [time].
However, it is questionable whether there is any link between NZ residents leaving temporarily, mainly on holiday, and the number leaving on a permanent or long-term basis (right chart).
The primary drivers of emigration by NZ residents (the state of the Australian labour market and to a small extent the state of the NZ market) are different to the primary drivers NZ residents heading overseas temporarily (the state of the NZ economy and labour market and to a small extent the exchange rate). The lack of linkage in the right chart fits with the disparate drivers.
But there appears to be some justification for the apparent link between net migration and net tourism cycles shown in the chart. And there appears to be a reasonable case for expecting the cut in immigration planned by the government (and at least one other policy) to pose a mild threat to the tourism industry.

---
*Rodney Dickens is the managing director and chief research officer of Strategic Risk Analysis Limited.