Terry Baucher with a parable about tax involving Metiria, Bill and Winston. Tax evasion, tax avoidance or just a simple mistake?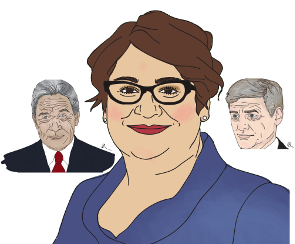 By Terry Baucher*
Politicians Metiria Turei, Bill English and Winston Peters inadvertently provide a text book study on the distinctions between, and the consequences of, making a simple mistake, getting involved in a tax avoidance scheme and tax evasion.
In late August Peters confirmed that he had been over paid New Zealand superannuation since he first began receiving it in 2010.  
The Ministry of Social Development did not identify the error until July this year when it wrote and advised Peters of the mistake.  He immediately repaid the over paid superannuation and there the matter should have rested except someone leaked it to the media, prompting Peters' public admission. Other than the subsequent leaking of the over payment, Peters' mistake was similar to the many errors Inland Revenue identifies every year. These are usually quickly corrected with the under, or sometimes, over paid tax repaid subject to interest. 
Bill English passed it off as a mistake at the time, but when he over claimed $32,000 in ministerial accommodation allowances in 2009, his situation had many of the characteristics seen in tax avoidance cases.  
His ability to claim an additional allowance depended on whether he met the definition of not having a pecuniary interest in the Wellington property owned by a discretionary trust. He sought advice before claiming the additional allowance, but the advice was subsequently ruled too narrow in its interpretation. 
Tax avoidance cases turn on crucial definitions and often involve entities such as trusts and limited partnerships. As in English's case, advice is usually sought before the transaction proceeds, only for the advice to later get overturned following an Inland Revenue investigation. The consequences are usually that the tax "avoided" becomes payable together with use of money interest.  Depending on the complexity and seriousness of the transaction, shortfall penalties of up to 100% of the tax avoided can be imposed. Generally, though those caught pay up and move on. Which is what English did; repaying the over claimed amount and moving on to become Prime Minister in December last year. 
Metiria Turei's dramatic admission that during the 1990s she had lied to Work and Income about the number of flatmates she had in order to preserve her benefits represented welfare fraud. If she was also receiving rental income from her flatmates and did not include this in a tax return, it also constituted tax evasion. (It may not, because under Inland Revenue practice in the 1990s, a person was only required to declare rental income if he or she was receiving payments from more than one flatmate).   
Unsurprisingly, tax evasion carries the heaviest penalty with shortfall penalties of up to 150% of the tax evaded. Inland Revenue will prosecute more extreme cases, in the year ended 30th June 2017 it completed 114 prosecutions for tax evasion, knowledge and Crimes Act 1961 offences. 
The number of Inland Revenue prosecutions pales in relation to those undertaken by the Ministry of Social Development. According to the Ministry's 2016-17 annual report it investigated 5,992 cases during the year, identifying 2,307 over payments. It also completed 453 prosecutions, almost four times as many as Inland Revenue. The number of completed prosecutions represented an eye-watering 96.2% success rate, just above the Ministry's benchmark of 95%. However, the Ministry's 2016-17 report contains no clear details about how much welfare fraud costs, although it appears that the total amount of over paid benefits during the year was about $230 million. 
By contrast, in the same year Inland Revenue identified $1.3 billion of tax differences, or more than five times the value of over paid benefits. Some $462 million of these tax differences was the result of investigations into aggressive tax planning with another $159 million representing deliberate underpayments or evasion. Despite these impressive figures the amount of deliberately underpaid tax could be just a small part of the total being evaded: the World Bank estimates the annual value of New Zealand's hidden economy could be as much as $20 billion.
The public reaction to Metiria Turei's revelation reflected a widespread attitude that benefit fraud is unacceptable no matter the circumstances. However, 51% of Kiwis surveyed this year thought cash jobs, the classic example of tax evasion, were acceptable, even though in the same survey 90% said paying tax is the right thing to do. This points to a rather more ambivalent attitude towards the nature of tax evasion than its scale and severity would suggest. 
In 2016-17 Inland Revenue closed 1132 investigations involving non-disclosed income. On average those detected paid up an additional $140,000 in tax, interest and penalties. During the 2014-15 year, the last for which details are available, the Ministry of Social Development completed 927 prosecutions for benefit fraud and the average value of fraud over payments was $33,519. As Professor Lisa Marriott noted welfare fraudsters are three times more likely to be jailed than tax evaders even though tax evasion is both far more prevalent and involves significantly greater sums.
Ultimately, Metiria Turei was undone by this disparity between public perceptions of "massive" benefit fraud and the actual amounts involved. If the end of her political career seems a harsh punishment for relatively low-level offending, then that mirrors what happens with beneficiaries generally. Ironically, that was one of the points she was trying to make. 
---
*Terry Baucher is an Auckland-based tax specialist and head of Baucher Consulting. You can contact him here »