Xero's Lena Hesselgrave on Aussie banks under the spotlight, Barnaby Joyce's contradicting public and private life, the Australian Treasury's open banking push, the question of whether health insurance is a con, and more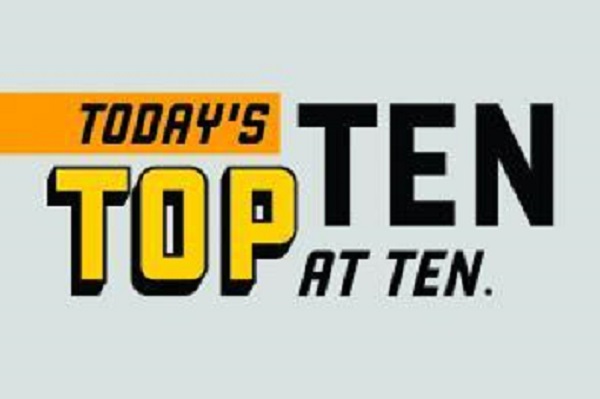 Today's Top 10 is an Australian edition from Xero automation manager, Lena Hesselgrave.
Lena shares what's caught her attention in Australia, having just made the move across the ditch.  
We welcome your additions in the comments below or via email to david.chaston@interest.co.nz.
If you're interested in contributing the occasional Top 10 yourself, contact gareth.vaughan@interest.co.nz.
See all previous Top 10s here.
1. The banking Royal Commission explained
The Royal Commission on the banking, superannuation and insurance industries began on Monday, with the spotlight over the next 12 months set to be on the sector's "bad behaviour". PM Malcolm Turnbull reluctantly announced the Royal Commission on Australia's largest sector, describing it as "regrettable but necessary" to restore public trust in the financial system.
In the past six years, 140 people in the financial services industry have been convicted of crimes, 80 have been jailed. The industry has been accused of a long list of wrongdoings, including providing bad financial advice, denying legitimate insurance claims, flaunting anti-money laundering legislation and fee gouging. One of the major concerns is that 12 months won't be long enough to cover the wide remit handed down to the Royal Commission.
The ABC reports:
Ensuring our banks, super funds and insurance companies are in good shape when it comes to complaint processes and culture has become more important since finance took over from mining as Australia's biggest industry. It now accounts 146 billion dollars of the country's annual economic activity.
2. Open banking a blueprint for a new data economy
Last Friday, the Australian Treasury released a report on open banking praised by officials as "one of the best policy documents they have ever seen" from a professional in the private sector. The open banking regime will allow customers, including small businesses, to have control over their financial data. Such a move would empower customers to direct their bank to send their data to another provider, reducing the cost of account switching and increasing competition. Report writer Scott Farrell has recommended the new regime be up and running by July 1 2019, to allow banks adequate time to complete the required API development work.
Banking isn't the only target for such open data reforms, with the energy and telecommunications sectors facing similar changes in the near future. Beyond that, the opportunities to empower consumers with data relating to their health and education, and broader financial services such as insurance and superannuation, could allow for a whole new set of products and services for consumers.
The Australian Financial Review reports:
Farrell also points to how open data will improve the quality of artificial intelligence engines. Perhaps the regime's biggest impact will not come from what one bank can do with data from another bank, but what a company in another industry does with banking data.

A customer directing their bank to send data to their telco "could enable an entirely new field of products and services to be offered, enhancing choice and convenience", Farrell predicts.

A risk for incumbents is they fail to grasp the opportunity to turn open data to their advantage, rendering them a mere utility providing the pipes, but not the customer experience.
3. Is Barnaby Joyce's baby a matter of 'public interest' or just of interest to the public?
Australian Deputy Prime Minister and National Party Leader Barnaby Joyce's political future is in doubt after details of an affair with a former staffer, who is expecting his baby in April, surfaced last week. It's been a tumultuous few months for Joyce, who faced a by-election in December last year after a High Court ruling deemed him ineligible to sit in Parliament due to him holding dual citizenship.
The public outcry over the affair has led the news this week and his own party is considering options that could see him forced to formally resign. Regardless of how Joyce's position in the party plays out, the most interesting discussion has been on whether politicians can take a stand on an issue publically, but then contradict what they claim in their private life. In Joyce's case, his stance against same-sex marriage and his belief in "traditional marriage" are firmly at odds with his actions.
The ABC reports:
Government and Labor MPs have backed Mr Joyce's claim that his personal life should be private. They're driven partly by collective self-interest. Other MPs have had, or are having, affairs. But many MPs also feel, with some reason, that they have enough intrusion into their lives.

Those defending the publication advance a range of arguments, including that public figures must expect public lives. They say that if Mr Joyce's circumstances had been exposed earlier, voters in the New England by-election might have been harsher in their judgement.
*Sharon Murdoch cartoons such as the one above, are published by Fairfax here.
4. It's been 10 years since Kevin Rudd apologised to the Stolen Generation
February 13 marked 10 years since Kevin Rudd apologised to the Stolen Generation; the Aboriginal children separated by the state, often forcibly, from their families between 1905 and 1969. This week, many survivors returned to Parliament House to commemorate the event.
5. Australia is missing the Closing the Gap employment targets by decades
In 2008, the Australian government set seven targets aimed at eliminating the gap in outcomes between Indigenous and non-Indigenous Australians. One of the targets was to halve the gap in employment outcomes by 2018. However the latest report released this week shows that the unemployment rate for Indigenous Australians is going down, but that it will take until 2031 to halve the gap, and until about 2051 to close the gap entirely.
Some areas are improving, such as early childhood and high school education rates, but there are many more metrics that show little or no change.
The Conversation reports:
Under the Indigenous Procurement Policy, 3% of all federal procurement contracts go to Indigenous businesses. This is a big part of the federal government's plan to achieve the employment target.

However, while there may be some success stories, a recent report also warned that "the policy's target measurement system greatly exaggerates its success".

For instance, in 2015-16 Indigenous suppliers won 2.9% of government contracts but these contracts accounted for only 0.94% of total procurement spending.
6. We need to significantly lift our game: Australia is not the innovation nation we like to think it is
Australians came up with world class innovations like wi-fi, black box flight recorders, cochlear implants, and dual-flush toilets, yet by current world standards they are falling behind. Former businessmen Bill Ferris is the inaugural chair of Innovation and Science Australia (ISA) and has been tasked with helping Australians get out of their innovation rut. Getting a resource rich country to change its focus to creating technology companies, is not an easy or enviable task. It almost saw Malcolm Turnbull thrown out of office with his "ideas boom" innovation policy, where all voters heard was robots and job losses.
The ISA has released a 200-plus page report to government that warns a "prolonged stagnation" lies ahead if Australians don't change their approach soon. The report will feed into a strategic plan for Australia's innovation, science and research system which is due out later this year.
The Sydney Morning Herald reports:
Only 9 per cent of Australian firms introduce products that are truly new to market, but in the top five countries the proportion is 21 per cent. Our businesses employ about a third as many researchers as their counterparts in the top five performing nations. Our school system is "significantly underperforming" against other countries in science and maths education. We are achieving multifactor productivity change – that is, growth stemming from knowledge creation instead of just getting more out of capital and labour – at less than a third of the rate of the top five performing nations.
7. Fast, smart and connected: Where it all began
Professor Genevieve Bell explains why she's returned home after decades in Silicon Valley, and explores Australia's role in building our current digital world. Bell is an anthropologist who pioneered futurist research at Intel, looking at how different cultures use technology.
This talk is part of the ABC's Boyer Lecture series which sets out to spark national conversations about critical ideas.
It's easy to get seduced by all the potential of the new and the wonder that technology promises. But there's a lot of hype and not so much measured discussion. Many conversations seem to originate in the United States, but I think this is the time and place to have one here in Australia. After all, we are not just passive bystanders in this digital world, we've been active creators of it. So it's time for another conversation about our possible digital and human futures, and about the world we want to make together.

Where do you start? Well I think three ideas underpin our digital worlds. Speed, smartness and connectivity. Sure many of us can be fast, smart and connected. But is the way that we want to be?
8. Is private health insurance a con? The answer is in the graphs
Moving to Australia requires a certain investment of time spent understanding the public vs. private healthcare system, and the various carrots and sticks that promote individuals to take out private health insurance.
Here's a brief background on how the system is set up:
The Hawke government introduced the government's universal public healthcare system Medicare in 1984, at which time 54% of the population held private health insurance; by 1997 it was down to 33%. Medicare is primarily financed by a Medicare Levy of 2% of taxable income over $26,668/year. Those who earn over $100,000 pay an additional Medicare levy surcharge of 1-1.5% if they do not have private health insurance with a recognised provider. Those who do have private health insurance qualify for a rebate of anywhere from 8-35% on their health insurance premiums depending on their income and age. However the real 'stick' is the 'Life Time Health Cover' policy introduced by the Howard government in 2000, which penalises people 2% of their premiums for every year over 30 they weren't in private health insurance. This policy saw the percentage of those in the private health system rise to 46%, which is where it currently remains.
And why people are complaining:
As more government incentives have been put in place for private health insurance, policies with more exclusions and co-payments are becoming the norm. Additionally, the cost of premiums are rising at twice the rate of inflation.
The Guardian reports:
Take away that government-mandated penalty, and people would leave private health in their droves. The free market at play without that government blackmail would likely see many of the 60% of those with health insurance who say it does not deliver value for money leave the system. And you can understand why nearly two-thirds of private health insurance holders think that, given with the latest increase in premiums of 3.95%, the cost of health coverage has far outstripped both overall inflation and wages growth.
9. Australia's place in the Pacific
Between 2006 and 2013, Australia provided A$9 billion in bilateral aid to 16 countries in the Pacific. The US was the next largest donor, followed by China which is also emerging as a prominent donor in the region, but still falls far behind Australia's level of investment.
With concerns of 'bridges to nowhere' and unsuccessful development programmes, this roundtable discussion examines how these funds can improve the lives of the millions of Pacific Islanders, and what China's increasing presence in the region means.
The ABC reports:
The holy grail for Australian aid has been to improve governance in the region; to provide training and capacity building. Chinese aid is popular because they don't try to influence governance. Although often the Pacific countries recognise the importance of good governance, they see quite a lot of Australian aid frankly as wasted by training and capacity building, that doesn't really deliver results. Whereas they can look at Chinese aid and say well look there's a bridge, and we really needed that bridge. It's much more concrete.
10. Breaking free from binary thinking
Coffee Pods is a podcast series from Australian entrepreneur Holly Ransom featuring conversations with inspiring business leaders and change-makers. In this episode, Australian businesswoman Sam Mostyn discusses the key pillar for driving change, the role of sport in society and breaking free from 'binary' world views.
Sam Mostyn has enjoyed a diverse career across business, politics, science and the arts, international development, not-for-profit sector, indigenous reconciliation and sport.  Sam now serves as a non-executive director on the boards of Virgin Australia, Transurban, Mirvac, and chairs Citibank Australia. She is Deputy Chair of the Diversity Council of Australia and for the past 4 years, Sam has been the President of the Australian Council for International Development. In 2005, Sam became the AFL's first ever female Commissioner.